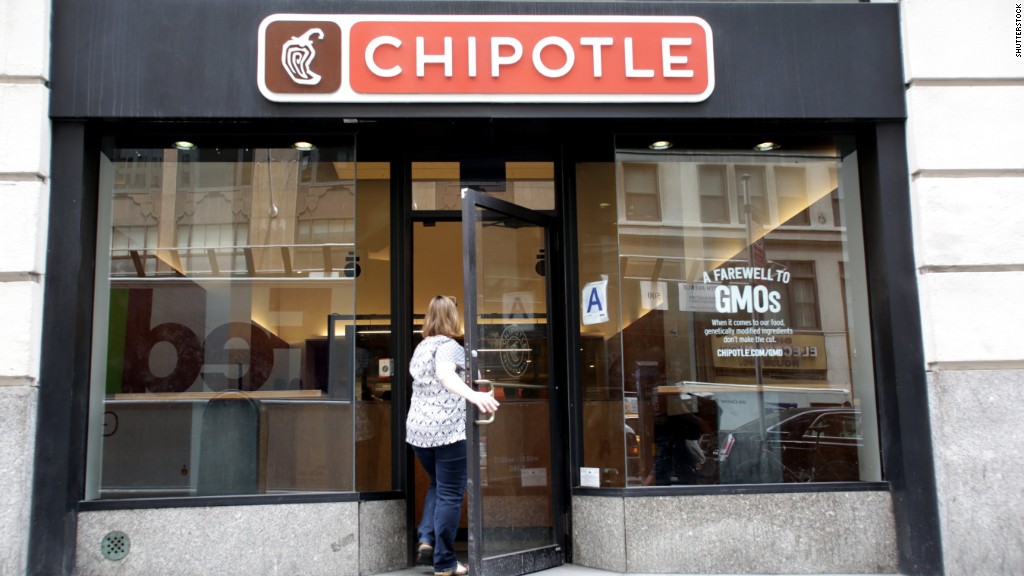 Chipotle is bracing for its first quarterly loss ever due to efforts to win back customers after its recent recent E.coli scare.
The chain's sales have "started to recover" in recent weeks. However, Chipotle warned investors on Tuesday the rebound hasn't been strong enough to offset new expenses.
Chipotle said it's likely to lose $1 per share "or worse" in the first three months of 2016. Wall Street had been bracing for a tiny profit from Chipotle, which hasn't posted a loss since its IPO in 2006.
Shares of Chipotle dropped 6% to $484.00 in after-hours trading, eating into their recent rebound.
Several factors are to blame. Chipotle cited an aggressive marketing campaign aimed at comforting nervous customers as well as labor costs tied to the restaurant's free burrito offer. Chipotle's losses are also being driven by higher legal expenses linked to a criminal investigation from the Department of Justice. The restaurant also faces higher food costs due to additional food safety protocols put into place.
Related: Move over, Chipotle! Meet the new fast casual king
The good news is that sales declines began to moderate in early February. For the month, sales were down 26% from the year before, compared with a 36% plunge in January.
However, the sales improvement was stunted after a Chipotle restaurant in Massachusetts was temporarily closed on March 8 due to concerns several employees may have contracted the norovirus. The Boston location reopened with no customers affected, but Chipotle sales plunged 27% during the week after the norovirus scare.
Related: Big pay cut for Chipotle's bosses
It's the latest evidence of how food safety concerns are hurting Chipotle's business. The restaurant chain suffered a 44% plunge in fourth-quarter profits as its sales declined.
Chipotle has sought to regain the trust of customers by overhauling its safety protocols, highlighted by a food safety meeting in February that closed all locations for four hours. On Tuesday it also announced the hiring of former Kansas State University professor James Marsden as its new executive director of food safety.