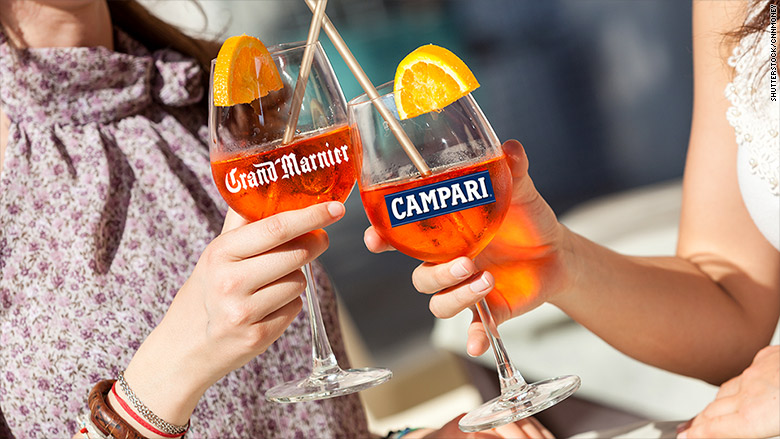 It could be the ultimate cocktail combination!
The Italian company that makes Campari is buying the French producer of Grand Marnier liqueur.
Gruppo Campari said it wants to take advantage of "the revival of classic cocktails, particularly in the U.S."
Campari is a bittersweet red aperitif used to make popular cocktails such as Negroni and Campari Spritz.
Grand Marnier -- made from a blend of cognac and orange -- is used in cocktails such the Sidecar and B-52, and some versions of the Cosmopolitan. It's also a popular ingredient in desserts.
Gruppo Campari already owns a number of global brands such as Skyy Vodka, Wild Turkey and Aperol.
Related: Rich men drink more than anyone else, study finds
Its deal to buy Societe des Produits Marnier Lapostolle values the Grand Marnier maker at 684 million euros ($759 million).
The mechanics of the acquisition are slightly complicated. Campari has bought a 17% stake from the controlling family shareholders, but wants ultimately to take full control and delist the company from the Paris stock exchange.
It is offering 8,050 euros ($8,939) in cash per share, representing a 60% premium over Monday's closing price.
Correction: An earlier version of this story incorrectly reported the value of the offer as 8.05 euros per share.