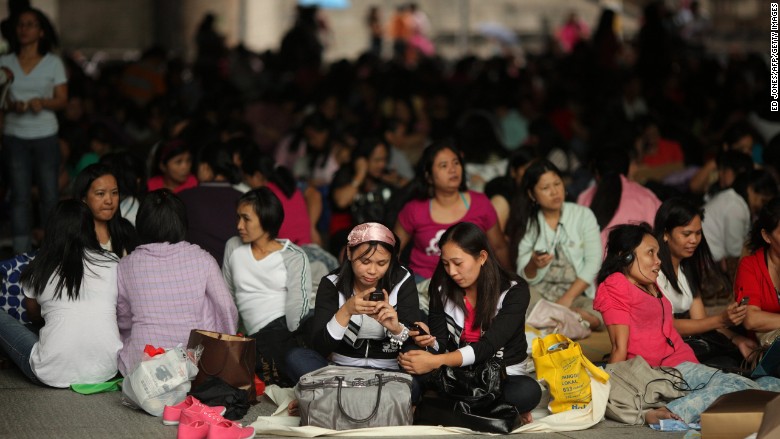 Thousands of domestic workers in Hong Kong are treated little better than modern slaves, according to a new report.
Justice Centre, a non-profit human rights organization, says its study of 1,049 domestic helpers found that one in six are victims of forced labor and face abuses such as physical violence, wage exploitation and deprivation of food and rest. Of those, 14% were trafficked.
Hong Kong is one of the world's richest cities, a financial center packed with shiny skyscrapers, luxury boutiques, and billionaire tycoons. It's also home to 336,600 migrant domestic workers. Based on the report's findings, as many as 56,000 may be in forced labor.
"Hong Kong must come clean; the government can no longer afford to simply sweep these problems under the carpet," said Jade Anderson and Victoria Wisniewski Otero, co-authors of the report, which studied workers from eight countries.
One maid who escaped an abusive employer says she was kicked, punched, fed rotten food and forced to work 20 hours a day for nearly a year.
"I felt very, very scared," Mun, 23, told CNNMoney. "I thought all work in Hong Kong was like this ... [and that] nobody can help me."
Hong Kong started allowing foreign domestic helpers to work in the territory in the 1970s to make up for a shortage of local staff. Many come via agencies direct from their home countries -- Indonesia, the Philippines and other Asian countries -- and don't meet their employer before signing a contract requiring them to live and work in their homes. By law, they're only entitled to one day off a week.
"Migrant domestic workers are uniquely vulnerable to forced labor, because the nature of their occupation can blur work-life boundaries and isolate them behind closed doors," the Justice Centre said in the report.
The Hong Kong government said it was committed to protecting the rights of foreign domestic helpers.
"Our local legislation provides a solid and proven framework to combat human trafficking," a spokesman for the Security Bureau said in a statement emailed to CNN.
Punched, kicked, and slapped
Mun arrived early last year, excited to start a job she hoped would help support her ailing mother back home.
Her monthly wage was HK$4,110 ($530), the legal minimum at the time, and four times more than what she was earning at a restaurant in Indonesia scrubbing dishes and waiting tables.
As required by law, she lived with her employer. Her room was a narrow closet, much smaller than the 80 square feet stated on her contract.
About a month in, the physical abuse started. She was punched, kicked, and slapped by her employer for missing a spot, or putting things back in the wrong place.
Mun, who declined to give her full name because her case is still being investigated by local authorities, said the family she worked for only allowed her to eat food that had gone bad, and she would often get sick as a result. That left her with little energy for the 20-hour days, and her wages were often docked.
But she couldn't leave, she said, because the recruitment agency kept her passport. She also owed huge sums, up to 75% of her monthly wage, as the agency had forced her to take out a loan from a local money lender to repay job placement fees.
One day late last year, after another beating, she finally decided to flee when the family was out, making her way to a local shelter. She weighed only 34 kilograms (75 pounds), and had multiple cuts and bruises all over her body. She showed CNNMoney photographs taken by a friend that day.
Nowhere to turn
Mun is among the group of domestic workers the Justice Centre says are most vulnerable: they're on their first contract, have significant debt linked to their recruitment and were hired outside the city.
The group wants Hong Kong to enact legislation to make forced labor a standalone offense, abolish the requirement for domestic helpers to live with employers, regulate recruitment agencies more closely, stipulate what would be considered appropriate accommodation and food, and set maximum working hours.
Other advocacy groups have made similar appeals, triggered by a major abuse case that came to light in 2014.
Indonesian maid Erwiana Sulistyaningsih was kept prisoner and tortured in the home of Hong Kong housewife Law Wan-tung, who deprived her of food, sleep and payment for long hours of work. Law was later found guilty by a local court of imprisoning and abusing her maid.
The successful prosecution was a rare exception, and many more abuse cases are never pursued, advocates say.
Related: Nestle finds labor abuse among its Thai seafood suppliers
One in three Hong Kong households with children have a maid, according to the Justice Centre. These migrant laborers make up 10% of Hong Kong's working population, and the majority of them are women.
--Vivian Kam contributed to this report