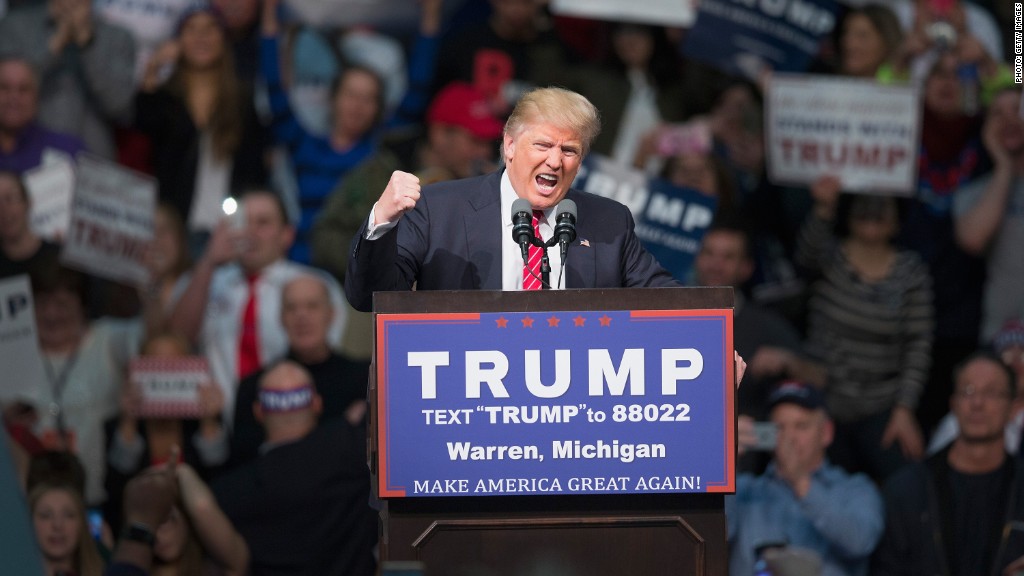 Donald Trump boasts that his net worth is "in excess of $10 billion." But when it comes to the finer details of his finances, we've only gotten a small peek.
In July, he filed a financial disclosure form with the Federal Election Commission for the 18 months ended June 2015. But even at 92 pages, it's still extremely limited.
That's because the government only requires candidates to report income and assets in broad ranges. For example, Trump simply reported income of "over $5 million" for 8 of his assets, including rent at 40 Wall Street and Trump Tower Commercial.
While the forms tend to be "reasonably accurate," Robert Kelner, an attorney at Covington & Burling LLP, says they're not as detailed as a tax return. But so far, Trump refuses to release his.
He did issue a press release stating that his income for 2014 was $362 million. But that is excluding dividends, interest, capital gains, rents and royalties -- in other words, a big chunk of his assets.
Knowing exactly how much Trump took home is virtually impossible, experts say. But CNNMoney tallied up the numbers on the disclosure form with the help of the Center for Responsive Politics and arrived at an estimate of at least $433.6 million.
From brandishing his name on hotels and other buildings to an ice rink in New York City's Central Park, here's what we know about how Trump earned his money between January 2014 and June 2015.
GOLF COURSES & RESORTS: $243.5 MILLION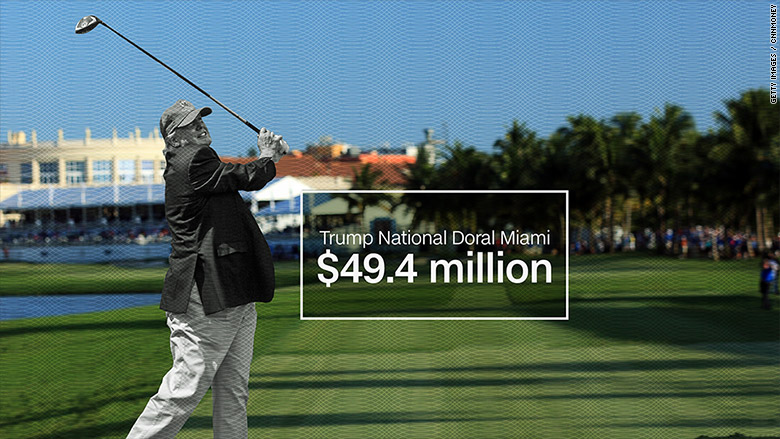 Trump built up his billionaire reputation as a real estate developer, but golf courses and resorts generated over half of his income during the reporting period.
Trump National Doral in Miami, an 800-acre property that includes the Blue Monster championship golf course and a 700-room hotel, was his biggest cash cow by far -- generating nearly $50 million in income.
Trump also got a healthy $27.2 million in revenue from the Trump International Hotel and Tower in Las Vegas, a 64-story condo-hotel-resort with windows that are lined with 24-carat gold.
REAL ESTATE & OTHER PROPERTIES: $135.8 MILLION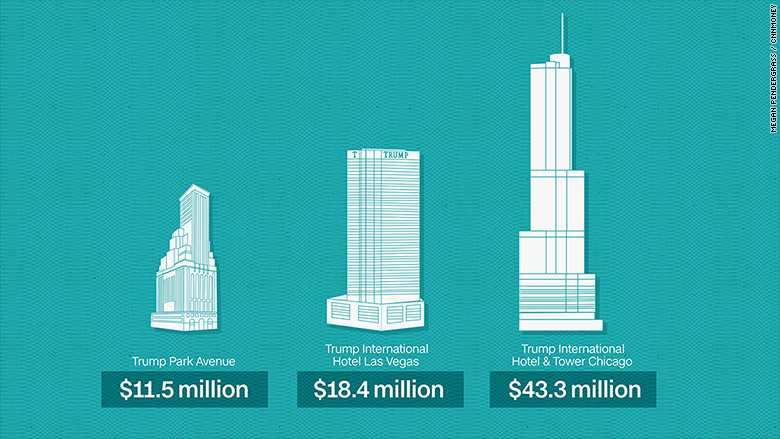 Of course, real estate continues to be one of Trump's prime investments. Over the 18-month period, he raked in $77 million from condo sales alone. More than half of that amount came from the Trump International Hotel & Tower near Chicago's historic Wrigley building. Trump sold one unit in the building for $17 million during the reporting period, according to a Coldwell Banker broker who works in the area. Trump no longer has units to sell in the building, said the broker who didn't want his name published.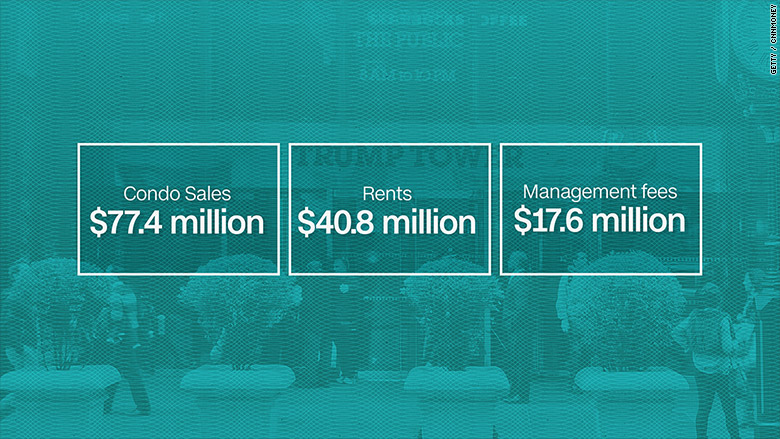 As a landlord, Trump makes out pretty handsomely. He collected some $41 million in rental income from 21 properties and other assets, including his private aircraft.
Trump also reported $17.6 million in management fees from hotels and other assets -- including the Trump Corporation and Trump International Hotel Hawaii.
ENTERTAINMENT & OTHER VENTURES: $28.1 MILLION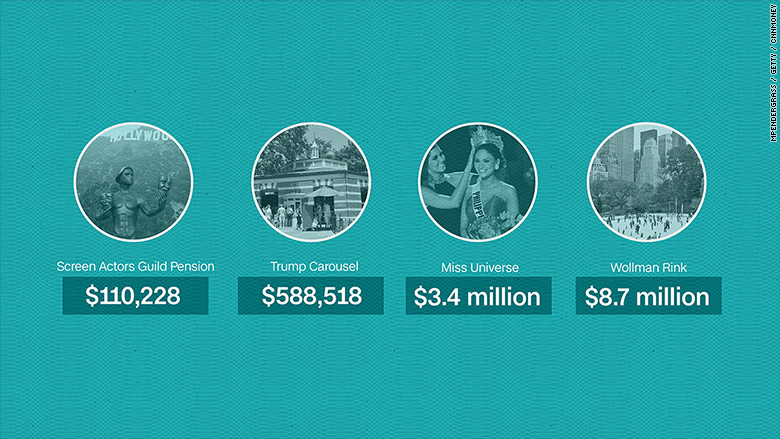 From models to merry-go-rounds, Trump has a portfolio of assorted entertainment holdings that generate a healthy chunk of change. This included $8.7 million from the ice rink in New York City's Central Park and another $600,000 from the nearby Central Park Carousel.
In addition, $3.4 million came from Miss Universe, which Trump sold last fall after his inflammatory statements about Mexican immigrants sparked backlash among the pageant's partners.
Should any of his investments fail, Trump has a little extra cushion. Thanks to the Screen Actors Guild, he's entitled to $110,228 in pension income -- although it's unclear whether this is an annual payout or a total sum.
STOCKS: $15 MILLION
Trump's campaign likes to downplay the role of Wall Street in his portfolio, but his stock holdings contributed substantial sums. His portfolio of hedge funds, mutual funds, and individual stocks yielded more than $15 million dollars in income during the 18-month reporting period.
So what did Trump invest in? Amid the millions of dollars he has put into blue chips like Apple, Caterpillar, Altria and PepsiCo, he also diversified by putting at least $100,000 into gold. But the investment didn't yield any income during the reporting period.
LICENSING THE TRUMP NAME: $9.3 MILLION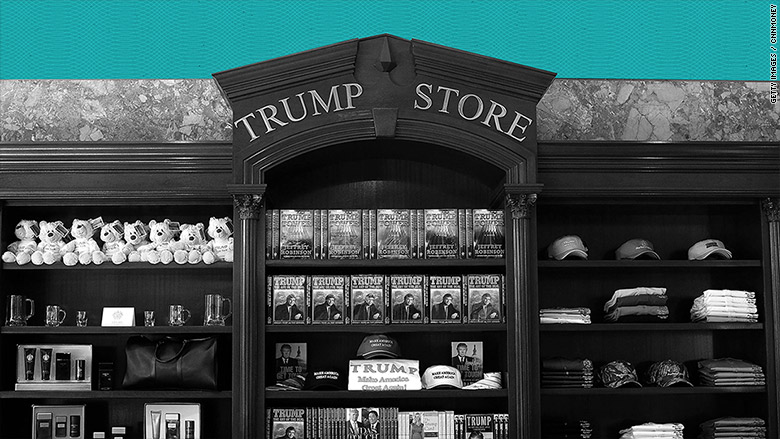 Trump loves slapping his name on everything -- from buildings to men's ties. In fact, of the 515 entities for which he lists himself as chairman, president, vice president, director, partner, member, secretary or treasurer, 276 -- or 54% -- of them have "Trump" in the name.
Several companies that carried Trump branded products, including mattress maker Serta and Macy's, have since cut ties with Trump after his comments about Mexican immigrants. According to the disclosure form, the mattress deal earned Trump between $1 million and $5 million, and Trump Marks Menswear generated between $1 million and $5 million in income.
SPEAKING FEES: $1.75 MILLION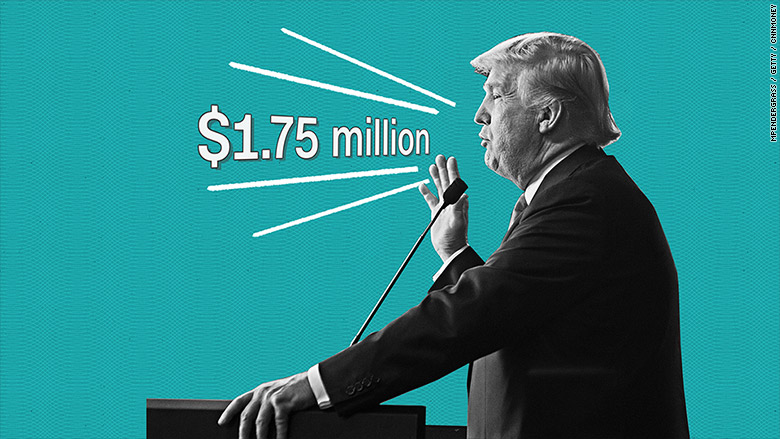 Trump got paid $1.75 million for speaking engagements. About 80% of those fees were from a company called ACN, Inc., which sells a range of services, including high-speed Internet, home security and television, according to its website.
BOOKS: $85,000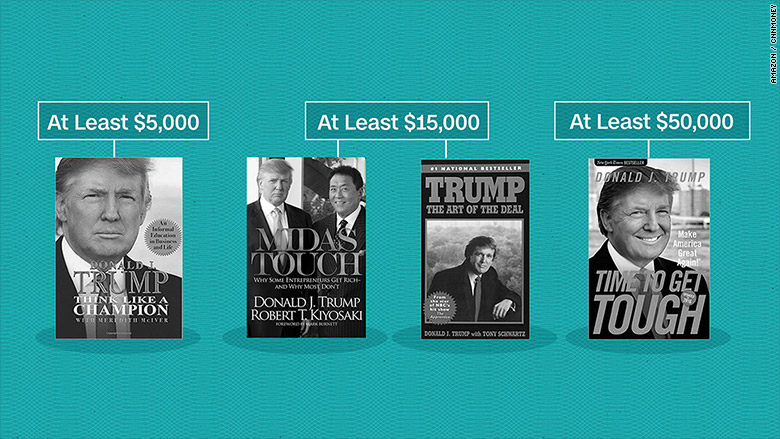 While Trump lists 15 books on his official form, only four generate any income. Combined, Think Like a Champion, The Art of the Deal, Time to Get Tough and The Midas Touch brought in between $85,000 and $215,000.
"I like thinking big. I always have. To me it's very simple: If you're going to be thinking anyway, you might as well think big," Trump wrote in The Art of the Deal, which was first released in 1987.