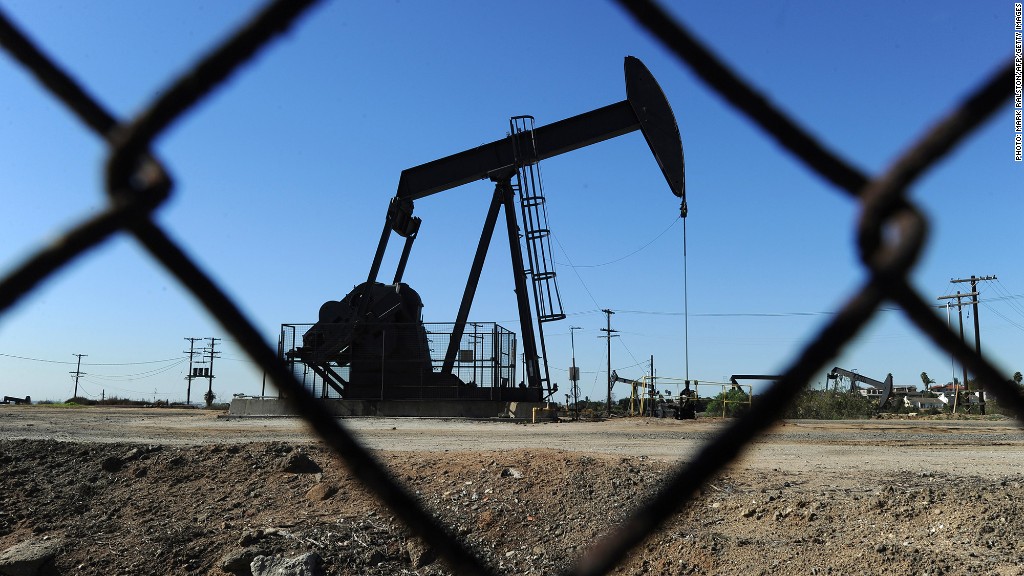 Talk about a stunning turnaround.
The Dow turned positive for the year on Thursday, erasing a scary start to the year that at one point had the index down as much as 1,974 points in just the first three weeks of 2016.
The remarkable rebound has been driven by a spike in oil prices and fading fears of a possible recession in the U.S. Oil has returned to $40 a barrel and the U.S. economy continues to grow, despite the global slowdown.
But just a few weeks ago the markets were in full meltdown mode, with many predicting the bull market was on its death bed.
"That marked the zenith of panic. The market traded to extremely oversold conditions," said Peter Kenny, an independent market strategist. "Since the lows we've seen the market rally in stealth mode. Those who panicked got punished."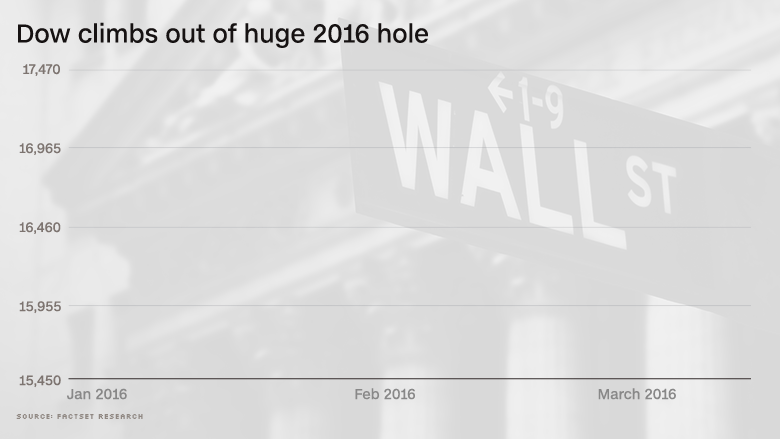 Related: Crude oil spikes 54% from lows to $40
Stocks received a boost this week from the Federal Reserve, which slashed its plans to raise interest rates amid the global market turmoil. The Dow jumped 155 points on Thursday following a modest gain the day before.
Volatility, a hallmark of the first six weeks of the year, has nearly vanished. The closely-watched VIX volatility index has plunged 56% from its February peak. Likewise, CNNMoney's Fear & Greed Index, which uses various market gauges to measure trading sentiment, is now flashing "extreme greed." Just a few weeks ago it was firmly in "extreme fear" mode.
"Recession fears are in the rear view mirror," said Art Hogan, chief market strategist at Wunderlich Securities. "Interest rates are low, inflation isn't a problem, the labor market is in better shape and moderate GDP growth is likely."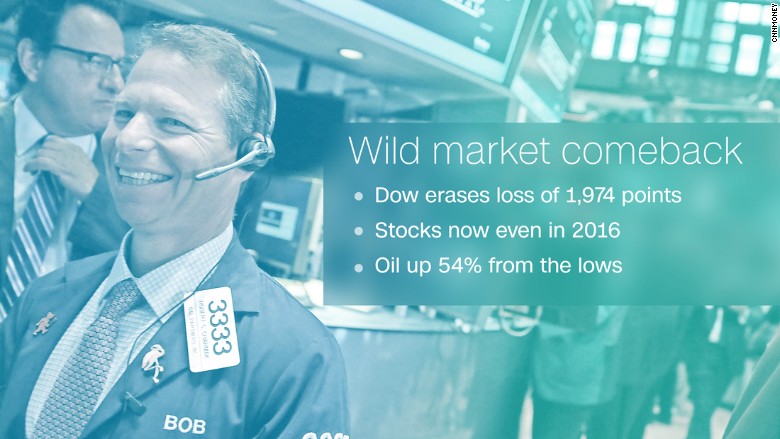 CNN wants to know: What are YOUR investing questions?
The Nasdaq remains in a bit of a hole, still down 5% in 2016. But that's not bad considering it nearly sank into a bear market last month.
Many favorite American stocks are now posting gains on the year, including Apple (AAPL), Facebook (FB), Coca-Cola (KO) and McDonald's (MCD). Others like Netflix (NFLX) and Amazon (AMZN) that surged last year remain down sharply.