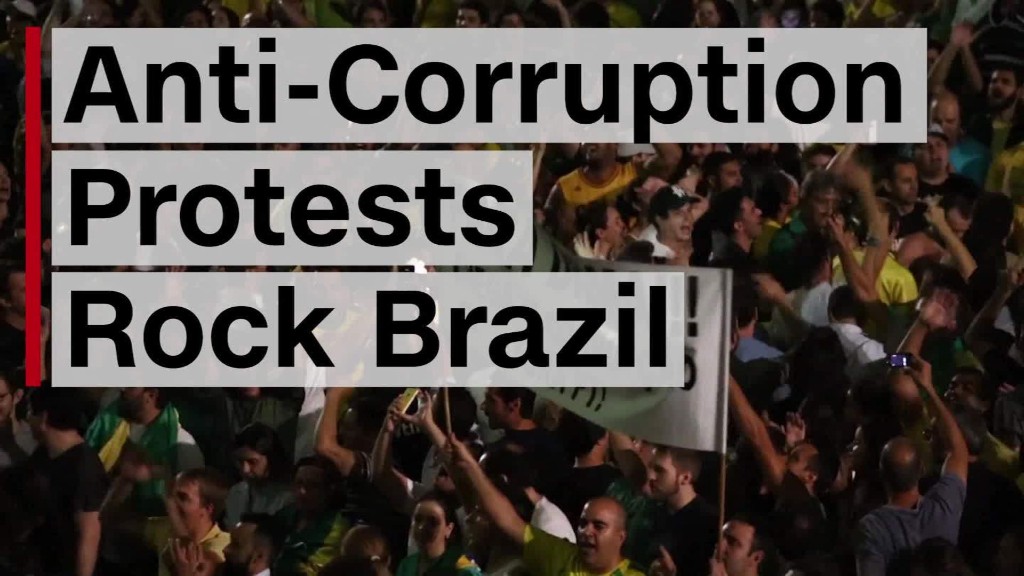 You can't make this stuff up.
A current president shields a former president from investigation by appointing him to her cabinet. Then a judge annuls the appointment.
Billionaires, corporate execs and politicians are jailed in a massive corruption scandal. Huge protests call for the impeachment of the president, Dilma Rousseff. Oh, and the economy is tanking while its stock market is soaring.
This is the story of Brazil.
Once a star economic performer, Brazil is now deep in recession, sparked by the gargantuan bribery scandal at Petrobras, the state-run oil company, and a sharp decline in commodity prices.
Related: Brazil judge suspends Lula's appointment
Unemployment is rising, inflation is up by double digits and the currency lost 32% of its value last year. At the same time, Brazilian stocks are rallying on hopes that Rousseff will be impeached, giving way to a more investor-friendly regime.
It's been a whirlwind couple weeks for South America's largest country. If you're just catching up, here are some key dates.
Thursday, March 3:
Officials announce that Brazil is in its worst recession in 25 years. It's the longest recession since the 1930s.
Friday, March 4:
Police detain wildly popular former president Luiz Inacio Lula da Silva and question him for hours, alleging he had involvement in the bribery scandal that's engulfed Petrobras. Police also raid his home but do not arrest him.
"Lula" as he's widely known, is no ordinary politician. He left office in 2010 with an approval rating over 80%. He led Brazil during its boom years between 2003 and 2010. His populist policies helped lift millions of Brazilians out of poverty.
Friday, March 11:
Prosecutors formally charge Lula with money laundering and identity fraud for covering up ownership of a vacation home. It's alleged that he received the home in exchange for helping a construction company get favorable contracts with Petrobras, which Lula oversaw when he was president. A judge has yet to rule whether there will be a trial on the accusations.
Sunday, March 13:
Hundreds of thousands of Brazilians take to the streets to demand the impeachment of Rousseff, angered by the corruption scandal and spiraling economy.
Tuesday, March 15:
Rumors start swirling that Rousseff might appoint Lula to her cabinet, which would legally protect him from prosecution, except from Brazil's Supreme Court. Officials announce that unemployment averaged 8.5% in 2015, up from 6.8% the year before.
Thursday, March 17:
After more protests Wednesday, Rousseff appoints Lula as her chief of staff. Almost immediately after, a Brazilian judge annuls the appointment. The judge, Itagiba Catta Preta Neto, says his appointment interferes with "free exercise of the Judiciary Power, the operation of the Federal Police and of the Federal Prosecutor's Office."
Another judge in Brazil, Candido Ribeiro, overturned the annulment of Lula's appointment. And at least 10 other requests to annul Lula's appointment have been filed with Brazil's Supreme Court, according to Brazilian state media, Agencia Brasil. These additional requests are still under consideration.
Related: Brazil: world's best stock market
What's next?
Where things go from here gets complicated.
Will Rousseff defy all the judges' demands and keep Lula as her chief of staff? Will prosecutors continue to press charges against Lula? Will Lula's popularity among working class Brazilians save Rouseff from impeachment? Or will the allegations against him push her closer to leaving office? All of that is unclear.
What is clear: the economy is showing no signs of turning around anytime soon. The IMF projects it will shrink 3.5% this year.
And the next few months will be key: it's make or break time for Rousseff's presidency, experts say.
"It is the most volatile, unpredictable thing I've seen in Latin America since I was in Argentina in 2001," says Brian Winter, vice president at Council of the Americas, referring to Argentina's massive default. "It looks like the end game of this Brazilian political crisis."
--CNN's Marilia Brocchetto contributed reporting to this story