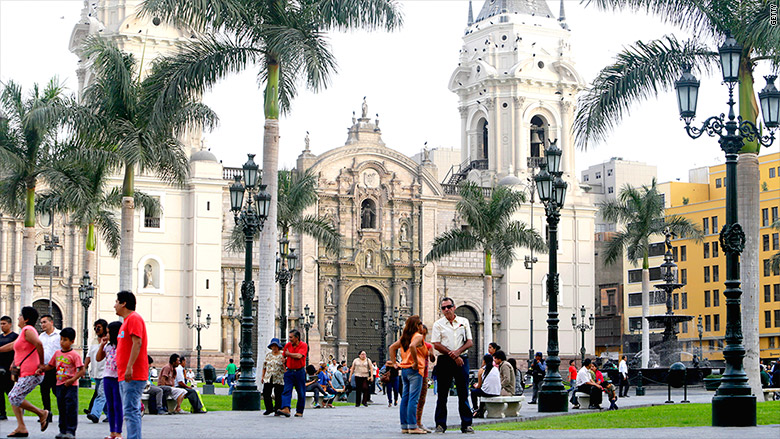 President Obama will visit Peru in November. Chinese President Xi Jinping is expected to be there too. And just a few months ago, Peru hosted a big meeting with the IMF and World Bank.
Peru is having a moment in the sun while it's raining just about everywhere else in Latin America.
Its economy grew more than any other in Latin America last year: 3.3%. And it could be the top performer again in 2016, according to IMF projections.
Peru's growth stands in stark contrast to the historic recessions underway in Venezuela, an oil powerhouse, and Brazil, the biggest economy in the region. Both are suffering under political instability, rising inflation, populist policies and public outcry for new leadership.
"Their models didn't work. [There's] a shift away from populism," in Latin America, Peru's finance minister, Alonso Segura, told CNNMoney recently.
Related: Brazil: mass anti government protests
Argentina is still struggling with double-digit inflation. Mexico's currency is hovering near an all-time low. Colombia is showing resilience but unemployment is rising.
Peru doesn't have those problems, and in many ways it is idealistically the opposite of Brazil and Venezuela. It leans towards capitalism; it doesn't have any major corruption scandals; and its currency, the sol, has gotten stronger against the U.S. dollar so far this year.
"We expect economic growth [in Peru] to remain robust this year," says Adam Collins, an economist at Capital Economics.
Peru doesn't have a lot of debt either: Peru's share of debt compared to its economic growth is only 7%. In Brazil, Mexico and Colombia, the debt-to-GDP ratio is 40% or higher, according to the IMF. That means they have more to pay back and their balance sheets are weaker.
The good times come while Peru is inching towards the center of the international stage.
Last October, Peru hosted the IMF's annual meeting -- a status symbol of a rising economy. This November, President Obama and several heads of state will travel to its capital, Lima, for the Asia Pacific Economic Cooperation forum.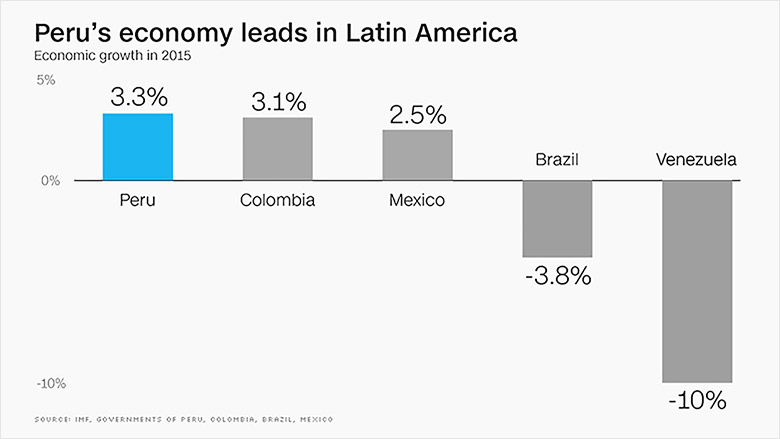 Related: Argentina ends 15-year debt saga with holdouts
Peru is also leading a relatively new group in Latin America, the Pacific Alliance. It includes Mexico, Chile, Colombia and Peru -- the top performers in the region, which have split from the populism of Brazil and Venezuela.
Unlike the protests and talks of impeachment in Brazil, Peru is holding peaceful presidential elections. The lead candidate, Keiko Fujimori, attended Columbia's University's business school and wants to keep most economic policies in place.
Peru has had its problems. It's a major commodity producer, and prices for all types of commodities like oil, copper and iron have crashed in the last two years. In 2014, Peru's economy slowed down, only growing 2.4%, half the growth from the previous year.
But Peru's big exports -- copper and iron ore -- may have turned the corner this year. In the last two months, copper prices rose 15% and iron ore prices have soared nearly 50%.
Other good signs for Peru: its unemployment rate has been trending down the last couple of years and its manufacturing sector has picked up momentum over that time too.
"Look at the resilience of the economy. We've suffered the deepest external shock in decades," says Segura, referring to commodities. Yet still: "The economy is accelerating."