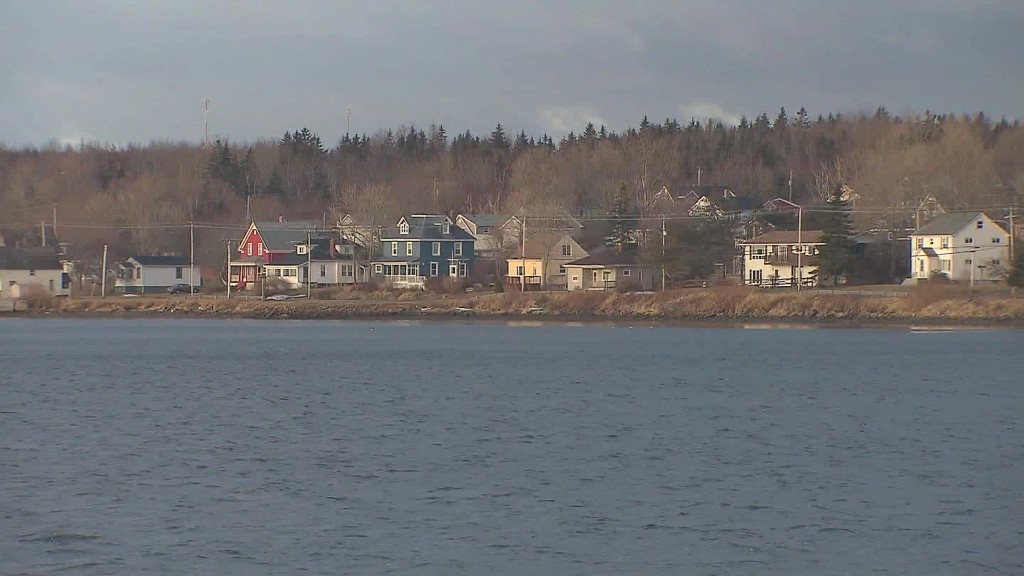 Call them "Trump refugees."
Americans have a history of pledging to move to Canada during fierce elections. But the phenomenon has hit a fever pitch thanks to GOP frontrunner Donald Trump.
Searches for "how can I move to Canada" spiked 350% as Trump swept Super Tuesday on March 2, according to Simon Rogers, a data editor at Google (GOOG).
And the trend is gathering strength. Searches for "how to move from the U.S. to Canada" -- and similar phrases -- have spiked exponentially for the month of March so far, up 455% from February, according to data up to March 17.
Related: Serene Canadian island courts 'Trump refugees'
There was similar buzz when George W. Bush started his second term in 2005. But there's little evidence that many Americans actually followed through.
That's probably at least in part because it's not easy to make the move.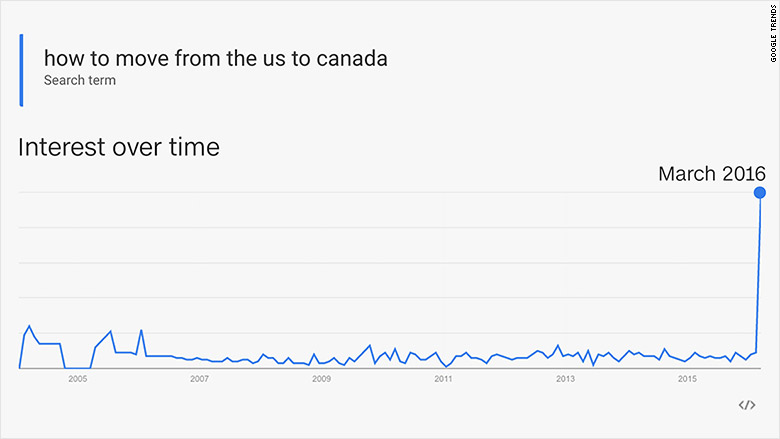 It takes time, money and extensive paperwork to become Canadian, assuming you don't have a parent or child that has citizenship. A lawyer can help, but that will run between $4,000 and $6,000 (USD), according to immigration attorney Bruce Allen.
Still, it's not impossible -- Canada plans to accept 305,000 new immigrants in 2016. Here are a few routes you can take.
1. Get a job offer & work permit
Cost: $191, and $116 per additional family member
How long it takes: About 3 months
How many in 2015: about 200,000 people
Free health care: Yes, if you apply separately for a Canadian social insurance number
Right to vote: No
The fastest way to move north is to lock down a job offer.
And if it's covered by the North American Free Trade Agreement, you can get a work permit on the spot at the Canadian border.
Those jobs include accountants, computer systems analysts or engineers. According to Allen, professional honeybee keepers are also on the list.
If the position isn't covered by NAFTA, Canada's immigration office says it processes applications in about three months, after assessing factors including whether a Canadian can do the job.
But finding an employer willing to take on all that expense and red tape won't be easy, especially with Canada's unemployment rate at a three-year high.
2. Have a skill? Compete for a spot
Cost: $761, plus $112 per child and $412 for a spouse
Move: 6 months or more
How many in 2015: 23,669 people invited to apply
Free health care: Yes
The right to vote: No
Don't have a job offer? A new program dubbed Express Entry essentially lets people compete for legal permanent residencey.
Instead of granting applications on a first-come-first-served basis, Canada takes applications from skilled workers and then ranks them against each other.
Factors include level of education, income and work experience. The best candidates are then invited to apply.
The ideal person is "someone in their 20s that's very proficient in one of Canada's official languages [English and French], and is highly educated, likely at a master's [degree] level," said Colin Singer, an immigration lawyer who is also the managing partner for the website immigration.ca.
A criminal record -- including DWIs and DUIs -- will definitely hurt your chances.
3. Get hyper-local
Cost: About $750, plus fees for spouse and children
Move: 6 months or more
How many in 2015: 120,000 people
Free health care: Yes
The right to vote: No
Each of Canada's 10 provinces and three territories have their own programs to let employers nominate a foreigner for permanent residency.
"It's the best option if there's a province that's looking for workers with your skill set," said Singer.
For example, medical professionals and nurses are in high demand in Quebec, and the province is currently looking for 5,000 applicants in that sector.
4. Self employed? Starting a company? Super rich?
Cost: $786, plus $112 per child and $412 for a spouse
Move: 7 to 8 years
How many in 2015: 6,453 people
Free health care: Yes
The right to vote: No
People who are self-employed, launching a startup or just plain super-rich can apply using Canada's "economic immigration" options. Typically athletes, artists, actors and farm managers come through what's called a "self-employed" program.
To get a startup visa, an applicant will need a business idea that's backed by one of 14 designated investment organizations.
And if you have a net worth of $400,000 or more, there are lots of options, Singer said.
Richer than that? Investors who have made at least $7.4 million "through lawful profit-making business or investment activities" can qualify for an investor's visa.
The bottom line
Canadian immigration isn't simple, but Canada is a country that relies a great deal on immigration, said attorney Bruce Allen. He adds that immigration is not a divisive issue in the country.
"Everybody [in Canada] is in favor of immigration," he said.
Editors note: Most dollar amounts included in this article are based on current exchange rates for USD and CAD.