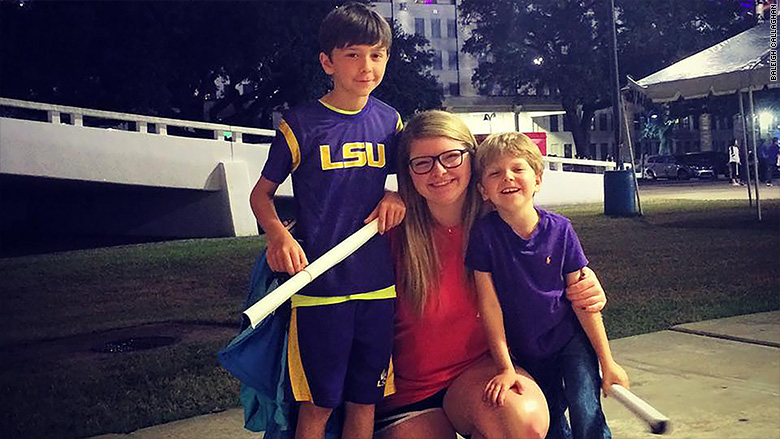 Nearly 47,000 Louisiana students go to college tuition-free because of a state scholarship program. But that could soon change as a massive budget shortfall puts its funding in jeopardy.
Another 3,000 students get a partial scholarship from the state program, known as TOPS. But none of them can know for sure if they'll be getting that money again next year.
"We're all freaking out about it. I personally would have to move back home if we lost the TOPS scholarship," said Baleigh Callaghan, a sophomore at Louisiana State University.
The commute from her parents' home in New Orleans would be more than an hour to the Baton Rouge campus.
Callaghan's scholarship covers the cost of tuition, but not things like books (which cost her $600 this semester), student fees, rent and food. She has an on-campus job at the student ID office to help with some of those expenses, and student loans cover the rest.
"The TOPS scholarship is basically carrying me through college," she said.
Relate: Americans are moving to Europe for free college
The scholarship program has already been cutback. In February -- midway through the school year -- the state said it could fund only 80% of each scholarship it already awarded to students. Colleges are covering the rest so students like Callaghan haven't been impacted, yet.
More than half of LSU's 26,000 undergrads get a TOPS scholarship, totaling about $58 million. The school is expecting to have to cover the remaining 20% this year.
But an even bigger cut is expected for the fall semester. Lawmakers are faced with closing an estimated $800 million shortfall for next year.
Governor John Bel Edwards has said there won't be enough money to adequately fund the scholarship program, even though it's a "critical" priority. Funding for health care, K-12 schools, and public colleges is also on the chopping block.
Related: Illinois paid lottery winners before college students
The scholarship is currently available to any student who meets the academic requirements: earning at least a 2.5 GPA in high school and scoring at or above the state average on the ACT or SAT. You're eligible no matter how much your family earns.
Those who attend a public school get enough money to cover the full tuition bill, plus up to $800 extra a year for students with higher grades and test scores. Students who go to a private college are also eligible, but the scholarship probably won't cover the entire tuition bill.
Related: America's most expensive college is a bargain
In order to cut costs, lawmakers have introduced 17 different bills that would make it harder to be eligible for the scholarship. Some would raise the test score and GPA minimum. Others would restrict the funding to those students going to public colleges only, and require students to pay back the state for the scholarship if they don't keep up their grades.
Related: What college costs this year
None of the proposals have been voted on yet. A three-week-long special legislative session wrapped up last week, but the current budget shortfall was not completely fixed. The regular session started Monday and lawmakers have until June to balance next year's budget.
It puts students in a tough position. Callaghan already signed a lease on her apartment for next year, but doesn't know if she'll be able to afford the rent.
"The not knowing is throwing everyone for a loop," she said.
Are you a Louisiana college student who's afraid of losing a TOPS scholarship next year? Share your story with CNNMoney by emailing Katie.Lobosco@cnn.com.