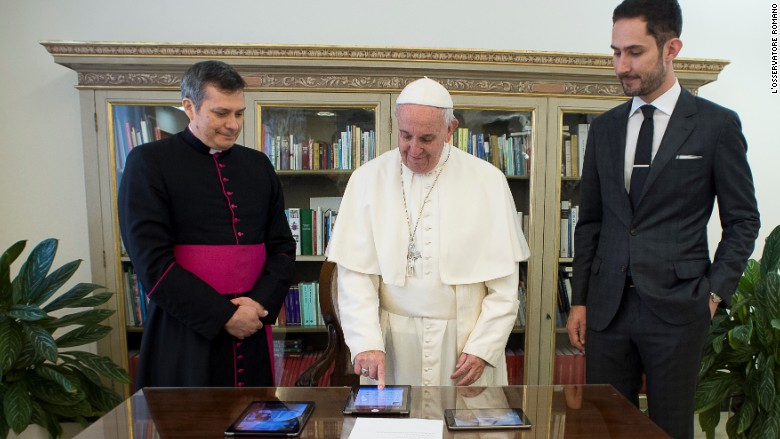 Pope Francis hit one million Instagram followers within 12 hours of launching his account.
Pope Francis' new account was christened on Saturday with a photo of him kneeling in prayer. The accompanying message said "pray for me" in 9 languages. It was not a selfie.
His new account broke a record for getting one million followers -- the previous record was 24 hours held by David Beckham.
The Pope's Instagram handle is "Franciscus." While the account will be separate from the official Vatican account, it will be maintained by members of the Vatican -- his Twitter account is also maintained by other people.
News of the Pope's plans to join Instagram broke Thursday and came just weeks after his meeting with Instagram CEO Kevin Systrom.
During their meeting in late February, the two discussed "the power of images to unite people across different cultures and languages." They also talked about the possibility that the Pope would join the image-based social media platform, according to a spokesperson from Instagram.
Related: Apple CEO Time Cook met with Pope Francis at the Vatican
Systrom was on hand when the Pope's first Instagram photo went live.
The CEO also commemorated the moment with a photo -- of him shaking hands with the Pope.
He included this message: "Watching Pope Francis post his first photo to Instagram today was an incredible moment. @franciscus, welcome to the Instagram community! Your messages of humility, compassion and mercy will leave a lasting mark."
Saturday's post comes on the third anniversary of Pope Francis' papal inauguration.
His time as Pope has been marked by an embrace of social media as a way to communicate with Catholic followers around the world.
Joining Instagram was a particularly smart move since, according to a spokesperson, the platform has been quickly gaining popularity in countries with a large Catholic presence such as Mexico, France, Italy and Brazil.
And users were engaging with the Pope on the platform long before he launched his account. According to Instagram, his visit to the U.S. in the fall of 2015 generated 21 million posts, likes and comments from nine million people.