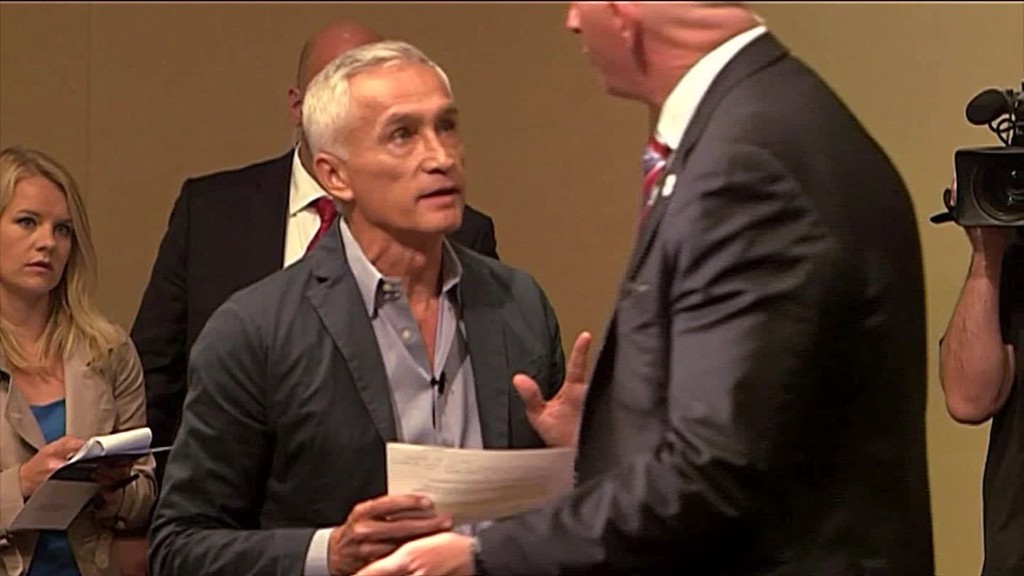 More than a month ago, Donald Trump said he was ready to be interviewed by the influential Univision anchorman Jorge Ramos. 
"We're going to do an interview with Jorge," Trump said on February 12, one day after settling an unrelated lawsuit against Univision.
But the interview has not yet materialized.
"I'm still waiting," Ramos said on CNN's "Reliable Sources," sounding a tad frustrated that Trump hasn't said yes yet.
Univision is America's dominant Spanish language broadcaster, so a snub of Univision can be perceived as a snub of Spanish speaking Hispanics.
The Trump campaign says it's simply a matter of scheduling. The campaign's press office is deluged by requests for television sit-downs and other interviews.
"Mr. Trump looks forward to sitting down with Mr. Ramos in the future," campaign press secretary Hope Hicks said Sunday.
Ramos is hopeful for the interview, but has his doubts.
"Whenever he wants to talk, we're ready to talk. Maybe he thinks that he can get the nomination without talking to us," Ramos said. "Maybe he doesn't want to risk it."
Ramos has repeatedly asserted that the country's growing Hispanic population has generated a "new rule" for politicians. "No one can make it to the White House without the Hispanic vote," he said. "That's the new rule. Even Donald Trump."
Ramos's comments echo what some prominent Republicans have said: that having Trump at the top of the party's ticket would imperil the GOP in a general election.
The Republican National Committee's so-called "autopsy" after losing the presidential election in 2012 put an emphasis on outreach to Hispanic communities.
Trump has said in the past that "Hispanics love me." As recently as this weekend, he invited a woman on stage in Arizona who was holding a sign that said "Latinos Support D. Trump."
Related from February: Trump says he'll do an interview with Ramos
Ramos refuted that, citing studies that show relatively low levels of support for Trump among minority groups.
"Most of the things that he's been saying about Latinos, and his support from the Latino vote, is wrong," Ramos said.
Ramos has interviewed a number of other prominent politicians, including President Obama. He recently co-moderated a Democratic presidential candidate debate on Univision and Fusion, simulcast by CNN.
Related: New Univision initiative urges voter registration
Trump and Ramos famously tussled last August when Ramos tried to question the candidate without being called on at a press conference. Ramos said he resorted to the press conference tactic because Trump had refused his numerous interview requests.
"Go back to Univision," Trump told him. Ramos was escorted out of the room, then allowed back in about 10 minutes later for an argumentative exchange with the candidate.
For a while Trump's campaign asserted that Univision had a conflict of interest because Trump's company was suing Univision over a Miss USA pageant broadcasting contract.
After the settlement of the suit, Trump invoked Ramos's name at a campaign rally and said "I'll do an interview."