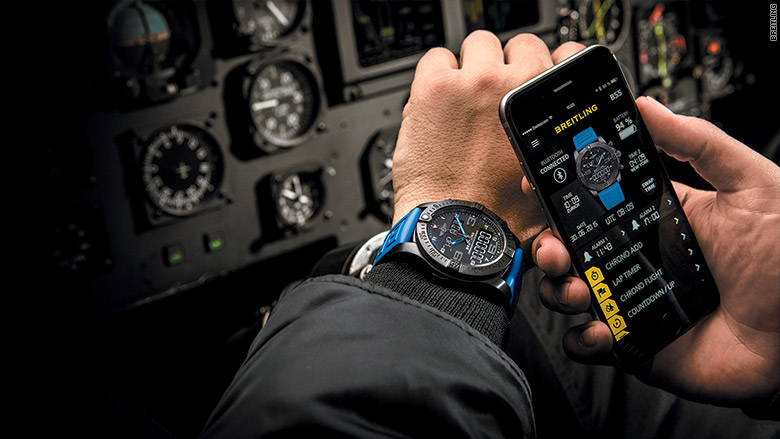 Smartwatches are more than just gadgets. They're fashion statements that can signal your standing in society.
So top traditional watchmakers are getting in on the game, showcasing their newest smartwatch designs at the high-end luxury watch show, Baselworld.
Unlike Apple (AAPL), which just announced it is cutting the price of its Apple Watch to $299, these companies are going for upscale clientele with plenty of disposable income.
The lavish Samsung Gear S2 by de Grisogono features over 120 white and black diamonds and is priced around $15,000. The limited-edition smartwatch was unveiled at Baselworld and will be available for purchase starting this summer.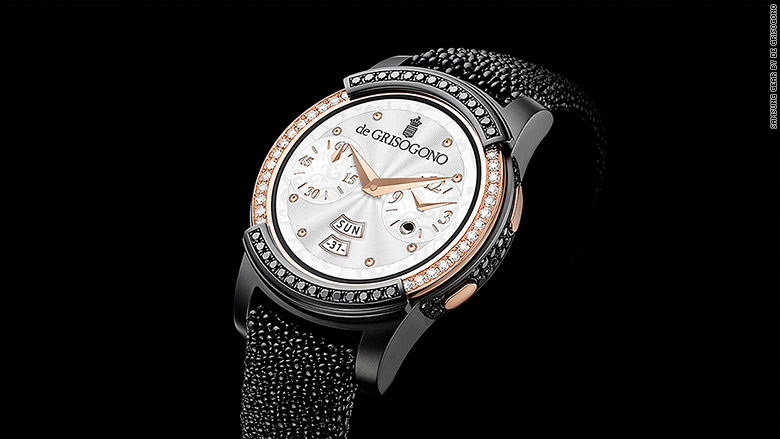 LVMH (LVMUY) brand Bulgari debuted a new watch at Baselworld that incorporates MasterCard (MA) and WISeKey technology, allowing the wearer to make secure payments at retailers that accept MasterCard contactless technology. It's expected the Diagono Magn@sium smartwatch will soon also let users open some car doors and hotel doors.
Bulgari went to great lengths to ensure customer data was safe. It said the watch will give owners access to their encrypted data, which is stored in a secure cloud server that's operating inside a secret military bunker in the Swiss Alps.
The company said the watch will go on sale by the end of 2016 and will be priced between $4,600 to $5,100.
Breitling's new $8,900 Exospace B55 Connected watch is not just a smartwatch, it's a "connected chronograph," according to the Swiss company.
Breitling's timepiece and a connected smartphone are designed to complement one another, tracking different time zones, setting alarms and accepting notifications.
But that's just the start. The Swiss company prides itself on creating high-end watches for pilots, so the new smartwatch also offer a "chrono flight" option, designed to track flight times, takeoff times, landing times and even airport codes, which can then be downloaded onto a phone.
The company is beginning to sell the smartwatch globally this year after originally unveiling it in December in New York.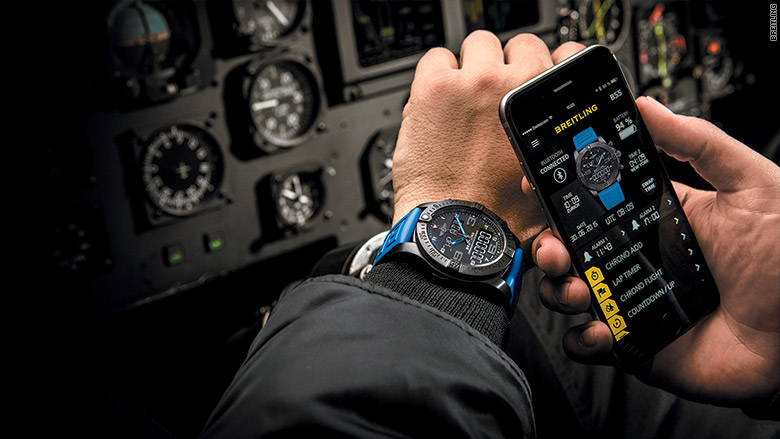 Swiss watchmaker Frederique Constant just updated its Horological Smartwatch after selling more than 16,000 of these devices over the past year.
It looks like a normal analog watch, but in addition to keeping time, it tracks a user's activity and sleep, much like a Fitbit (FIT) device. It also adjusts to different timezones during long-distance travels and the battery runs for 2.5 years without needing a charge.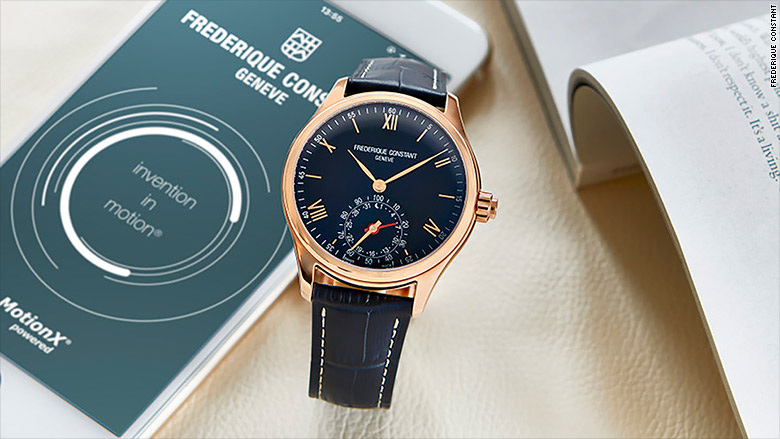 "The watch retains it's natural classical beauty while delivering the benefits of the quantified self without ever having to recharge a battery," said Frederique Constant in a statement.
The updated watch will be available in Europe in the spring and will cost about $1,300.