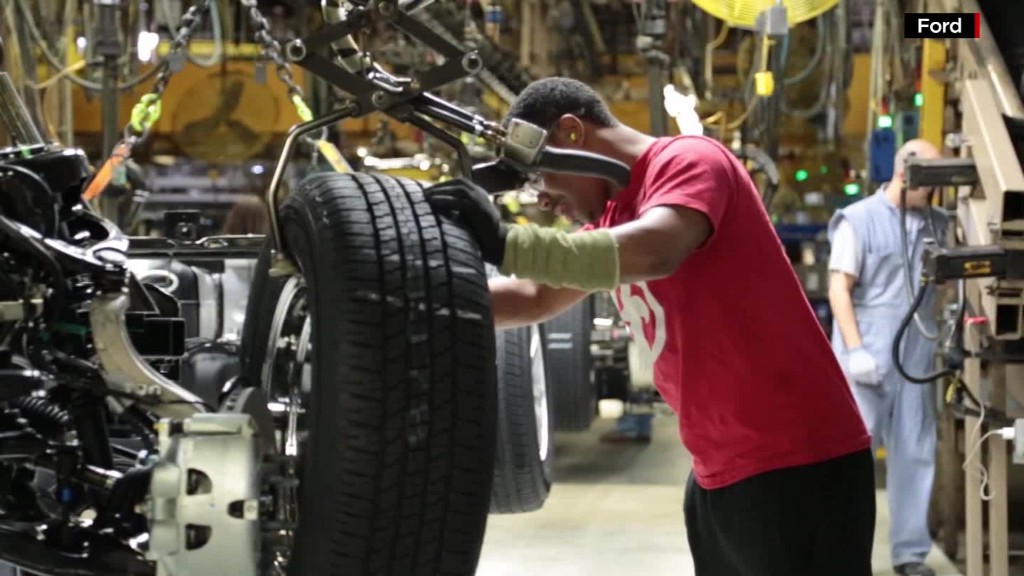 Ford Motor's boss has a message for Donald Trump: Ford is committed to investing in the U.S.
Trump has repeatedly accused the company of outsourcing jobs to other countries and taking jobs away from American workers.
CEO Mark Fields responded to Trump's criticism in a recent interview with CNN's Poppy Harlow. He said Ford is committed to adding jobs in the U.S.
Last July, Trump blasted Ford for having manufacturing operations in Mexico. "What does that do? We don't get anything. Does Mexico come here and build factories here? We lose a fortune with every deal" that adds jobs overseas, Trump claimed.
Fields defended Ford's track record on supporting American jobs.
"We've created 25,000 jobs [in the U.S.] since 2011, and going forward over the next four years we've agreed to either retain or add another 8,500 jobs," Fields said. "The amount of money that we invest in [research and development] here is more than companies like Apple."
Ford invested nearly $7 billion in R&D in the U.S. in 2014 alone, Field said.
Related: Elizabeth Warren says Trump is right about one thing
The Republican presidential frontrunner's criticism of Ford largely centered around Ford's plans to invest $2.5 billion in its Mexican operations.
Then in October, Trump took credit for Ford supposedly canceling those plans and opening a new factory in Ohio instead.
In fact, Ford said it planned to go forward with its $2.5 billion expansion in Mexico. And its decision to move production of a line of trucks from Mexico to Ohio was made four years ago during union negotiations.
Related: Ford reveals Lincoln Navigator of tomorrow
For his part, Fields said while Ford will continue to invest in the U.S., the company also will embrace foreign expansion.
"We are absolutely proud of what we do to contribute to economic development in our home country," Fields said. "At the same time, we're a multinational company and it's really important for us to be competitive around the world."
Fields said he and Trump have exchanged letters on the issue. He says Trump responded by saying: "Thanks for your note."