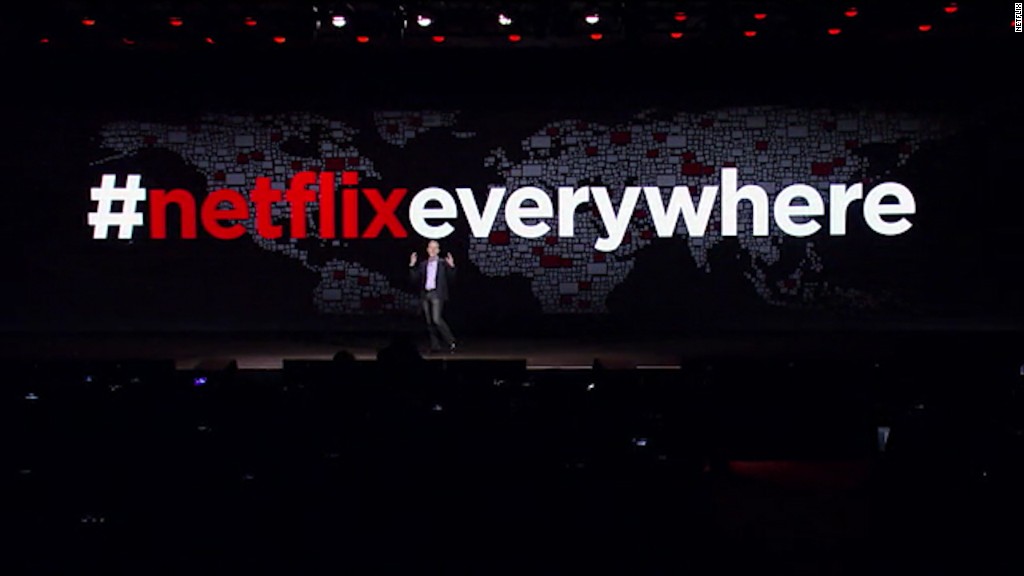 Netflix has been capping its mobile speeds for years.
Relax. It's a good thing.
In a blog post this week, Netflix revealed that it has been delivering video at just 600 kilobits per second over mobile networks. That's roughly 10 times slower than the 7 megabits per second speed offered over Wi-Fi networks.
That means picture quality on 4G networks is far worse than over Wi-Fi.
Netflix's rationale for its speed throttling is that it doesn't want customers to blow through their monthly data cap in a single movie. Netflix streams HD videos at about 3 GB per hour.
"In an effort to protect our members from overage charges when they exceed mobile data caps, our default bitrate for viewing over mobile networks has been capped globally," Netflix spokeswoman Anne Marie Squeo said in the blog post. "It's about striking a balance that ensures a good streaming experience while avoiding unplanned fines from mobile providers."
That's perfectly sensible. In fact, if it didn't throttle speeds, customers would be outraged when surprise overages landed on their bills after watching a single episode of "House of Cards." You should want Netflix to throttle your mobile speeds.
And Netflix says its research confirms that. Customers say they don't need nearly the same resolution on a tiny smartphone screen as on a large TV.
Still, there has been a backlash to news that Netflix is throttling mobile speeds. The Washington Post called it a "stunning" admission, and AT&T said it was "outraged."
"We're outraged to learn that Netflix is apparently throttling video for their AT&T customers without their knowledge or consent," said Jim Cicconi, AT&T's (T) senior executive vice president of external and legislative affairs, in a statement.
It's true that Netflix has been throttling speeds for customers with unlimited data plans. But how could it know which AT&T customers have unlimited plans and which don't?
Related: Netflix renews 'Fuller House' for second season
The good news for unlimited data customers is that Netflix is working on a way to let them choose the quality of their video streams.
In May, Netflix (NFLX) says it will introduce a "data saver" feature, which will give customers control over the speed and quality of the video that Netflix delivers over their mobile network.
"We believe restrictive data caps are bad for consumers and the Internet in general, creating a dilemma for those who increasingly rely on their mobile devices for entertainment, work and more," Squeo said. "However, we recognize some members may be less sensitive to data caps or subscribe to mobile data plans from carriers that don't levy penalties for exceeding caps."
Sprint (S) and T-Mobile (TMUS) offer unlimited plans, and AT&T recently brought its unlimited plans back from the dead as a special offer for DirecTV customers. Verizon (VZ) only offers unlimited plans to those who were grandfathered into its older plans.
Each of the carriers throttles speeds for unlimited customers when they exceed a certain monthly data threshold.