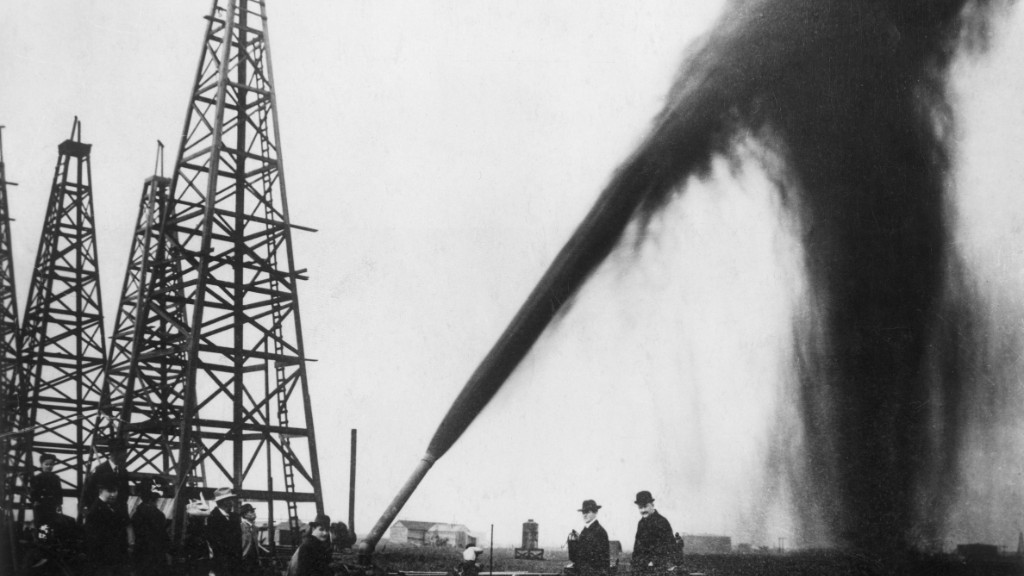 People in parts of Texas and Oklahoma now face the same earthquake risk as those in California.
Government scientists believe these quakes are mostly triggered by human activity, primarily the disposal of waste water as part of oil and natural gas drilling.
About 7.9 million people are now at risk from these man-made earthquakes, including certain regions in Oklahoma, Kansas, Colorado, New Mexico, Texas and Arkansas, the U.S. Geological Survey said this week. Even though these earthquakes don't factor in building-code maps, they create a hazard to buildings, bridges, pipelines and other key structures, according to the government agency that studies the U.S. landscape.
This is the first time the government has created maps that show the risk of so-called "induced" earthquakes. The agency defined these as tremors in a region with increased earthquake rates attributable to "human activities, such as fluid injection or extraction."
Fluid injection is a controversial tactic tied to hydraulic fracturing, the drilling technique known as "fracking" that has dramatically increased U.S. oil and gas production. When oil and gas is pumped out of the ground, salty water often flows out with it. This water is typically injected back under high pressure into disposal wells -- a practice that the geological agency has said can induce earthquakes.
Related: Fracking now makes up half of U.S. oil production
Despite environmental concerns over contaminated water and earthquakes, fracking activity has skyrocketed. The U.S. had 300,000 fracking wells last year, up from just 23,000 in 2000, according to the Energy Information Administration.
Seismic activity is also on the rise in certain energy-intensive states after a relatively stable period of about 30 years. Earthquake rates have "recently increased markedly" in multiple areas of the Central and Eastern U.S., especially since 2010, the report said. Its 2014 model of seismic risks did not consider man-made quakes.
The agency said several damaging quakes have occurred recently near injection wells. For instance, a magnitude 5.6-earthquake caused minor injuries and damage to homes in 2011 near Prague, Oklahoma. Other tremors in these fracking regions include a 5.3-magnitude quake near Trinidad, Colorado in 2011 and a 4.8-magnitude quake near Timpson, Texas in 2012.
Oklahoma City and the surrounding region face a 5% to 12% chance of damage from an earthquake in 2016, the report said. That is higher than virtually anywhere else in the mainland U.S. other than parts of California that are estimated to face the same risk -- but only for natural reasons.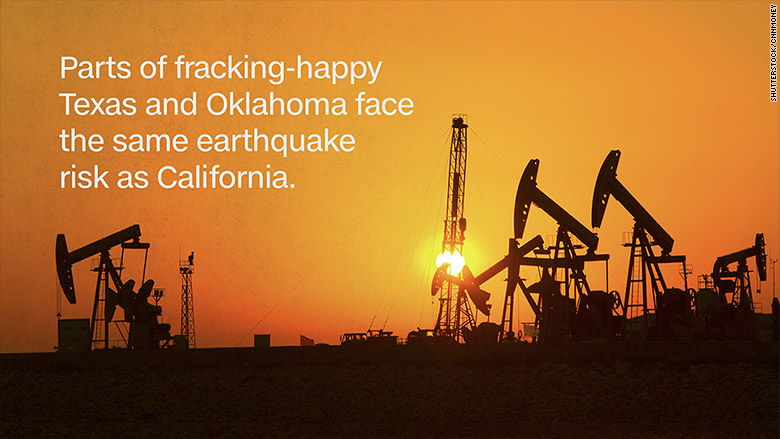 Related: Hidden force behind oil's rise: sabotage by terrorists
Of course, man-made earthquakes are very hard to predict. The Geological Survey acknowledged high levels of "uncertainties" in its forecast, noting that man-made quakes "can vary rapidly in time and space" based on changes in "industrial activity."
The agency also said its forecast did not explore the causes of increase seismic activity and stressed that more research is needed in that area. It noted that some natural quakes could be scattered throughout its list of suspected man-made ones.
An energy industry funded research group pointed out that the geological agency never directly referenced fracking in the report.
"The vast majority of injection wells are not associated with induced earthquakes," said Seth Whitehead, a researcher at Energy In Depth, which is sponsored by an oil and gas drilling trade group. "This is an issue that scientists say -- with near uniformity -- can be effectively managed."
A spokesperson for the American Petroleum Institute, which represents Big Oil companies, said it is "reviewing" the report.