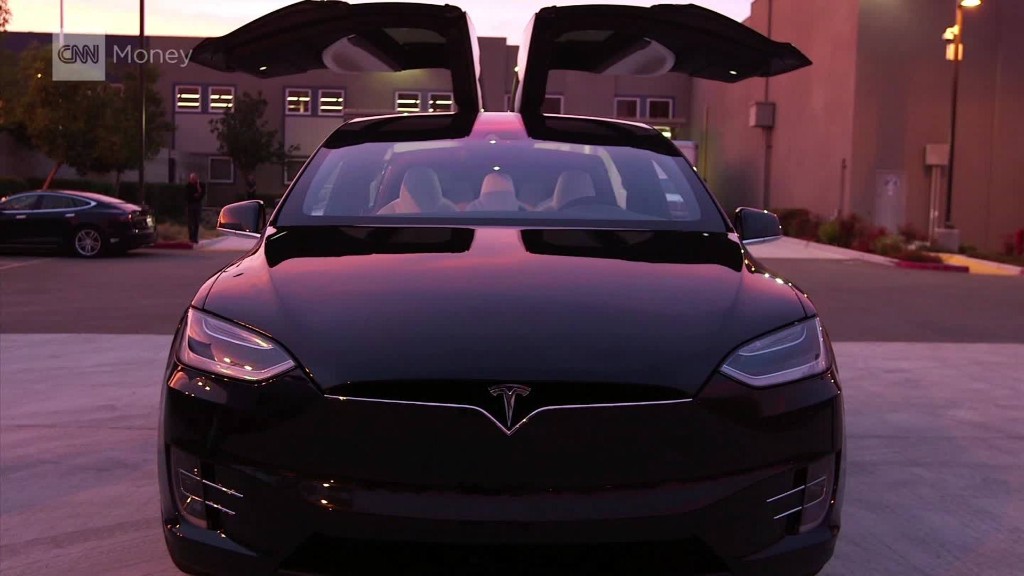 The long wait for Tesla's new Model 3 is almost over.
Tesla (TSLA) CEO Elon Musk will unveil the company's first car for the masses Thursday night. Tesla fans who can't afford the Model S, which costs between $70,000 and $140,000, have eagerly awaited this day for years. The Model 3 will be priced at about $35,000.
Tesla will start taking $1,000 deposits from buyers in stores Thursday morning, and online at 10:30 p.m. ET that night, which is when the car will be unveiled.
But there are still more questions than answers about the Model 3. Here's what we do -- and don't -- know about the car.
When can buyers actually get one?
Tesla expects to start delivering the Model 3 in "late 2017." So even if you're one of the first to reserve one, it'll still be a long wait. And ramping up production can take a while, so it could easily be 2018 before even early buyers can get their hands on a car.
What will it look like?
The Model 3 will be more like Tesla's Model S sedan than its Model X crossover. But the company has kept the design under wraps. It definitely won't have the distinctive falcon wing doors of the Model X.
How far will it go on a charge?
The base model Model S has a minimum range of 240 miles, but the Model 3 probably won't go quite as far. The Model 3's battery will be smaller and lighter in order to keep the cost of the car down, and the size of the battery pack is what determines range.
Musk has been quoted as saying 200 miles should be the minimum range for any all-electric car.
What will it cost?
At $35,000, the Model 3 will cost about half the price of the base version of the Model S. And buyers will get tax breaks -- there's a $7,500 federal deduction, and some states offer as much as $2,500 in credits. The average price of all new cars today is about $34,000, according to Kelley Blue Book.
What options will it offer?
Musk said in February that Tesla might hold back on some features for the Model 3 to get the car to market faster, having learned a lesson with the much delayed Model X SUV.
"In retrospect, it would have better to do fewer things with the first version of Model X, and then roll in ... new technologies over time," Musk said. "I do think that there was some hubris there with the Model X."
Of course, some of the most talked-about Tesla features cost thousands of dollars. If they're available for a Model 3, they could quickly end the car's claim of being a moderately priced for those who add them.
For example, the "ludicrous mode" that lets the car to go 0 to 60 in only 3 seconds, adds $10,000 to the price of a Model S, and it requires all wheel drive, which adds another $5,000, as well as high performance motors that add $20,000. Autopilot features add another $2,500.