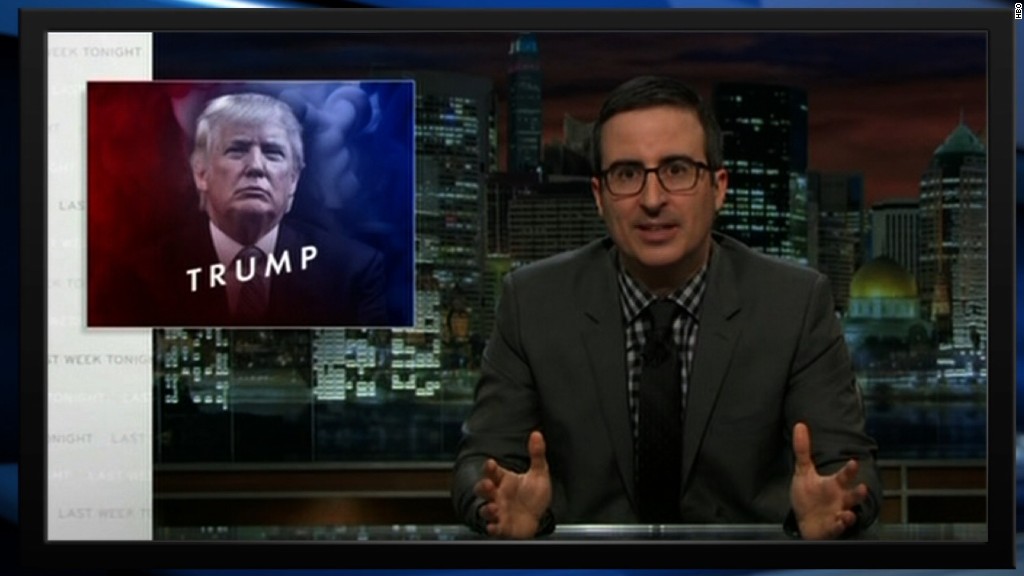 Even John Oliver is benefiting from the Donald Trump ratings bump.
Oliver's one-month-old Trump take-down has become the most popular episode in the 65-episode history of "Last Week Tonight."
And not by a little. The "Donald Drumpf" segment is Oliver's most popular video by far, with 23.3 million YouTube views so far.
It has almost doubled the previous record-holder on Oliver's YouTube page, a dissection of the FIFA scandal, which has 12.5 million views. Five other episodes have cracked the 10 million mark.
On Facebook, it has received 62 million views to date.
With 85 million video views combined, "this is a record for any piece of HBO content," according to a network spokesman.
Related: How the media missed Trump
Oliver's late February episode urged viewers to "make Donald Drumpf again" -- a reference to what one biographer said was the Trump family's original last name.
The data shows how the scathing Trump critique went viral. Oliver's in-depth look at abortion laws, one week before the Trump episode, has 2.9 million views, according to Facebook's counting method, and 4.7 million according to YouTube.
Web video views are not analogous to Nielsen's TV ratings. Facebook counts a video as being "viewed" after only three seconds. On YouTube, about 30 seconds of playback counts as a view.
TV ratings, on the other hand, are an average of the per-minute viewership of the entire episode. Oliver's segments are about 20 minutes long.
HBO adds up "live" TV viewership (when the episode premieres) plus weeks of DVRing and VOD playback. By that standard, the Trump episode "had the largest gross audience" of any "Last Week Tonight" episode -- about 6 million TV viewers.
Related: A Republican debate again outdraws Democrats
When the episode is stripped out of the season average, the rest of Oliver's episodes have averaged 4.7 million viewers each via TV.
In the episode, Oliver acted reluctant to talk about Trump, commenting that "every time his name is said out loud, he has a shattering orgasm."
He noted that "we have mostly ignored Trump on this show," but said it was time to talk about the candidate because he was starting to rack up delegates in early primary states.
"At this point," Oliver said, "Donald Trump is America's back mole. It may have seemed harmless a year ago, but now that it's gotten frighteningly bigger, it is no longer wise to ignore it."
Oliver followed up a few weeks later with an episode about Trump's pledge to build a border wall. It has scored about 6.5 million views on YouTube in 10 days -- Oliver's second most popular episode since last fall.