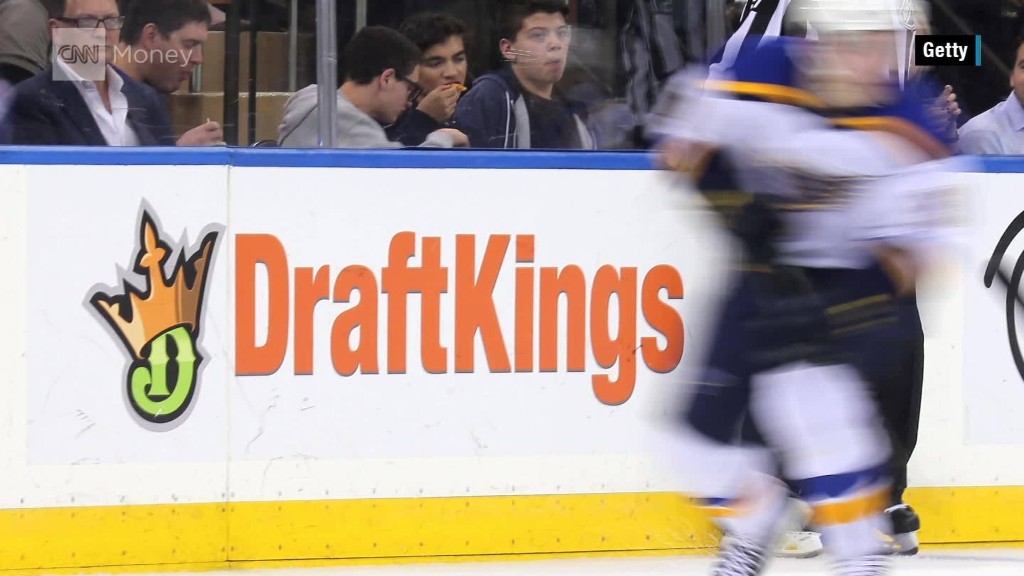 The latest blow to the daily fantasy sports business came Thursday when DraftKings and FanDuel announced they'll stop operating games based on college-level sports on Saturday, just as March Madness wraps up.
The National Collegiate Athletic Association went after the companies, and now DraftKings and FanDuel have agreed to "voluntarily and indefinitely suspend college sports contests in all states," DraftKings said in a statement.
"There are many passionate DFS players who love college sports, but after a productive dialogue with the NCAA, their member institutions, and lawmakers, we feel that this is the best path forward for the industry at this time," the company said. DraftKings spokesperson Sabrina Macias said college sports contests account for just 5% of the company's overall business.
FanDuel issued a separate statement Thursday, saying "It is clear that this is an issue that matters to a variety of constituencies and we feel that the best path forward is to suspend offering these contests pending resolution on the issue within state legislatures." College-based games also represent 5% of FanDuel's business.
At press conference Thursday, NCAA President Mark Emmert explained that the NCAA labels "any game, including fantasy sport game, in which there is an exchange of things of value, as sports wagering."
He said the organization sent a letter to DraftKings and FanDuel "asking them to cease and desist games that involved student-athletes" last fall after the DFS sites garnered national attention with new ad campaigns.
Related: FanDuel and DraftKings to leave New York state
DraftKings and FanDuel are the two largest daily fantasy sports sites. Though they are business competitors, the companies have stood side-by-side to face a number of legal and regulatory challenges to their industry over the past few months.
The controversy centers around whether or not daily fantasy games constitute sports betting.
DraftKings and FanDuel argue that daily fantasy games are skill-based and not a form of gambling, but critics argue that daily fantasy games rely primarily on chance.
The sites have already been ousted from New York and Nevada after state officials argued that daily fantasy games should be considered a form of gambling, and they are facing potential bans in Illinois and Texas.
DraftKings and FanDuel have staunchly defended their businesses as legal under current statutes. They've also urged state legislators to adopt a regulatory framework for the DFS industry, rather than banishing it. Indiana and Virginia have answered that call in recent weeks by passing regulatory legislation.
DraftKings and FanDuel said they plan to work with lawmakers on regulations that legalize pro sports contest but prohibit DFS for amateur sports.