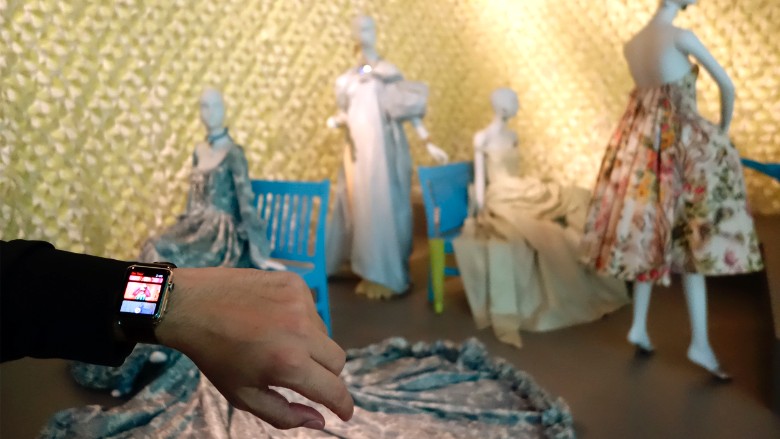 Museums may be filled with antiquities, but they're increasingly adopting the latest consumer technology to keep visitors engaged.
Now, museums are getting into wearables.
The de Young Museum in San Francisco is experimenting with a new way for visitors to experience art. Starting Thursday, anyone with an Apple Watch will be able to go through the museum and hear recordings about the nearest display when alerted by a vibration on their wrist. Made by the startup Guidekick, it's an expansion of the museum's recent iPhone app.
When you walk up to one of the elaborate gowns in the Oscar de la Renta retrospective, the Apple Watch vibrates to let you know there's an audio component. Tap the watch and Andre Leon Talley or de la Renta himself will discuss the influences behind the piece.
Related: Robots help the bedridden visit museums
The de Young is one of the first museums to use a wearable this way. The idea, says de Young's active director and COO Richard Benefield, is for the watch to act as an invisible tour guide, delivering information in real time so visitors don't have to to look away from the art itself.
Audio tours aren't new, but they typically involve renting a bulky museum headset and punching in numbers or following a set tour. Advances in location-aware smartphone technology mean an app can now pinpoint exactly where a person is inside a museum.
The actual experience still has a few kinks to work out. Recordings can take too long to load, a common issue in thick-walled buildings where cell service isn't great. But the idea, an invisible docent tapping you on the shoulder to share some background, is appealing to art lovers.
Related: Turning the Apple Watch into a seizure detector
Museums have been racing to embrace the smartphone, including relaxing rules against photography. Located in the middle of San Francisco, the de Young has been working hard to test out new ideas.
"I've made it known to Silicon Valley, our museum is your laboratory," said Benefield.