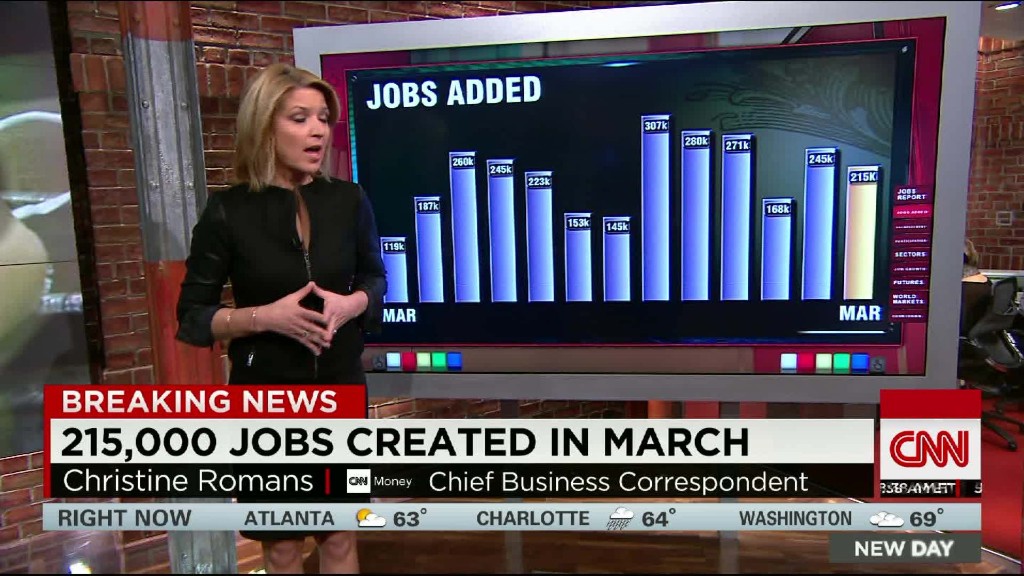 Lots of jobs, but not much wage growth.
That's been the narrative of America's job market for years and it bore true again on Friday.
The U.S. economy added 215,000 jobs in March, a healthy gain. Economists surveyed by CNNMoney had predicted there would be 199,000 new jobs.
"Employment growth remains strong," said Jim O'Sullivan, chief U.S. economist at High Frequency Economics, a research firm.
But wages grew a mere 2.3% compared to a year ago. It's especially disappointing because the economy has added millions of jobs in the last two years. When job growth increases, wages tend to follow with it. Wage growth had started to pick up by as much as 2.6% last year, only to lose momentum this year.
"Wages are the unfinished business of this recovery," U.S. Deputy Secretary of Labor Chris Lu told CNNMoney. "Clearly we need to do more on that front."
Related: Are you seeing job losses in your town?
The unemployment rate ticked up to 5% from 4.9%. Sometimes that means more people are coming back to the job market, which is a good sign.
One reason for mediocre wage growth is the number of Americans who want full-time work but can only find part-time jobs. The number of "involuntary" part-time workers rose a little in March to 6.1 million from 6 million. That's a key reason why underemployment -- which combines unemployment and people looking for better jobs -- remains high.
Before the recession, there were only about 4.2 million such workers. Federal Reserve Chair Janet Yellen said Tuesday that the high level of part-time work is among her chief concerns for the U.S. economy.
That high level is also a key reason why underemployment -- a combination of both jobless and employed people looking for better jobs -- remains high.
"The trend in the underemployment rate has been coming down sharply but it's still high," said Phil Orlando, chief equity strategist at Federated Investors. Underemployment is at 9.8%; before the recession started in 2007, it was at 8%.
There were other pockets of concern on Friday. The manufacturing sector lost 29,000 jobs last month, reflecting an industry in recession in recent months. It was the biggest one-month loss for manufacturing since 2009, shortly after the recession ended. The mining industry lost another 12,000 jobs, hurt by low oil prices.
But other sectors more than made up for those losses. Construction and health care each added 37,000 jobs. Retail businesses also added 48,000 jobs.
Related: How I got an $11,000 raise
Still, more Americans are feeling confident about finding a job and they've started looking. The participation rate ticked up a bit in March, hitting its highest mark in two years. It's been inching up since September. Until recently, participation has mostly fallen since 2000 for a range of reasons, such as Baby Boomers retiring and workers feeling discouraged after the Great Recession.
Many experts believe job growth will slow at some point this year. Unemployment typically does not go much further south. In fact, 5% is a rate that is considered by many to mean that the economy is at full employment.
But March's gains show this jobs rally still has room to run.