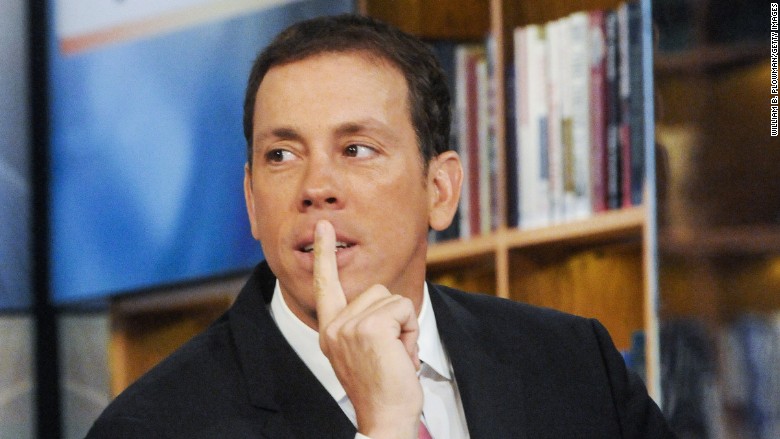 Politico's impending leadership exodus is coming earlier than expected.
Jim VandeHei, the site's co-founder and CEO, will leave the company next week, despite a previous announcement that he would stay through the year. Kim Kingsley, the chief operating officer, and Roy Schwartz, the chief revenue officer, will also leave this spring, which is earlier than planned.
Mike Allen, the author of Politico Playbook, is still intending to stay on through the election. Executive Vice President Danielle Jones, who was scheduled to leave the company, will now become a consultant advising on personnel and recruitment.
The shakeup, which CNNMoney first reported on in January, wasn't expected to take place until after the 2016 presidential election. Still, Politico staffers who spoke to CNNMoney weren't totally shocked by the news: VandeHei, who had committed to staying through the election, has been out of the office for weeks, they said.
For now, the rest of Politico's transition plan remains in place: Susan Glasser, Politico's top editor, will step down after 2016 and take on a strategic role from Jerusalem, where she is moving with her husband.
Related: Politico's Susan Glasser in talks with New York Times
"From the moment that Jim announced his departure, the mutual goal was a smooth transition that worked in the best interests of the publication and its new leadership team," Politico spokesperson Brad Dayspring told CNNMoney. "Having met these goals, Jim and John discussed it and agreed that it was appropriate to wrap up his time at Politico this spring, and others on the departing business team reached similar conclusions on their own individual timelines."
VandeHei could not be immediately reached for comment.
John Harris, the editor-in-chief who co-founded Politico with VandeHei in 2006, has taken over the transition process. In a memo to staff, he said that he and owner Robert Allbritton "have been making good progress on some important fronts, including filling out our business team and, in the newsroom, finding a replacement" for Glasser.
"In the two months since this transition began, I've been impressed anew by the efforts of all parts of this enterprise -- the power of our newsroom to own big stories, the passion of our business, finance, technology and strategy teams to meet the challenges of this era of nonstop disruption," Harris wrote in his memo. "This is what great publications do."
Whatever Politico's next iteration looks like, it's fair to say that the departure of VandeHei, Kingsley, Schwartz and Allen brings an end to an era. That team, along with Harris, was responsible for building Politico into one of the most aggressive and robust political news organizations in the country. In recent years, it has expanded those efforts into Europe and around the United States.
But, as CNNMoney reported in January, Politico has recently been plagued by what several insiders describe as a crisis of vision and a leadership void. During Glasser's tenure as editor, dozens of staffers left the company to join other news organizations. VandeHei clashed with Politico publisher Robert Allbritton over budget issues and expansion efforts. And founding leaders, including Harris, largely receded to the background as they became more involved in Politico's expansion to Europe.
Full disclosure: This reporter was a Politico employee until joining CNN in September 2015.