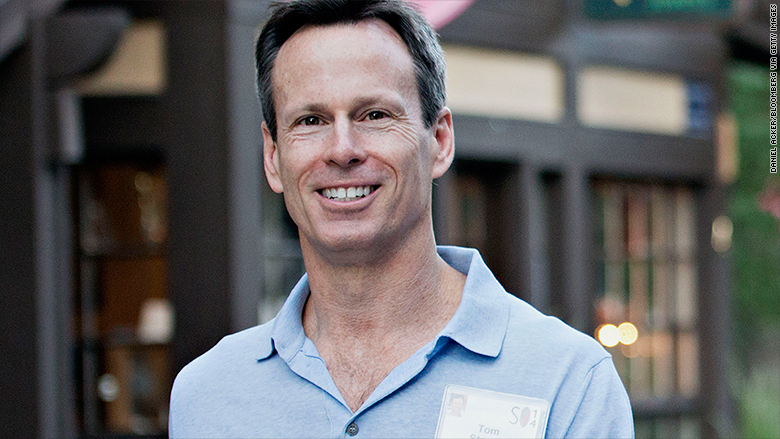 Thomas Staggs, the heir apparent to Disney chairman and CEO Bob Iger, has abruptly decided to leave the company, throwing Disney's succession plan into disarray.
Staggs, who was promoted to No. 2 executive last year, was widely seen as first-in-line to replace Iger when he steps down in 2018. He was also an instrumental figure in Disney's ambitious Shanghai Disneyland project.
In a statement, Disney (DIS) said it would "broaden the scope of its succession planning process to identify and evaluate a robust slate of candidates for consideration."
Disney stock fell 2% in after-hours trading on Monday.
Finding a replacement for Iger was always seen as an enormous challenge for Disney, given how much he has shaped the company during his 11 year tenure as its top executive.
Related: Disney names potential successor to CEO Iger
The stock is up 314% during Iger's tenure as CEO, crushing the S&P 500's gain of 68% over that same period. Last year, Disney posted an $8.4 billion in profit. Much of that is due to major acquisitions overseen by Iger, including of Marvel Entertainment, Lucasfilm and Pixar Animation.
Staggs, 55, was initially seen as the best-qualified to continue Iger's vision, and was promoted to second in command last year.
On Monday, Staggs called it "a privilege" to work with Disney and "a great experience to work with Bob during this dynamic era of unprecedented growth and transformation. I remain grateful for that opportunity, and I'm confident that Disney's future will be just as exciting as its legendary past."
Staggs will remain as a "special adviser" to Iger through the end of this fiscal year, Disney said.
Iger called Staggs "a great friend and trusted colleague."
"He's made important contributions to this company, earning wide respect across the organization for his achievements and personal integrity," Iger said. "I'm proud of what we've accomplished together, immensely grateful for the privilege of working with him, and confident that he will be enormously successful in whatever opportunity he chooses."
The news of Stagg's departure was first reported by The New York Times, just moments before Disney released its statement.
CNNMoney's Matt Egan contributed to this report