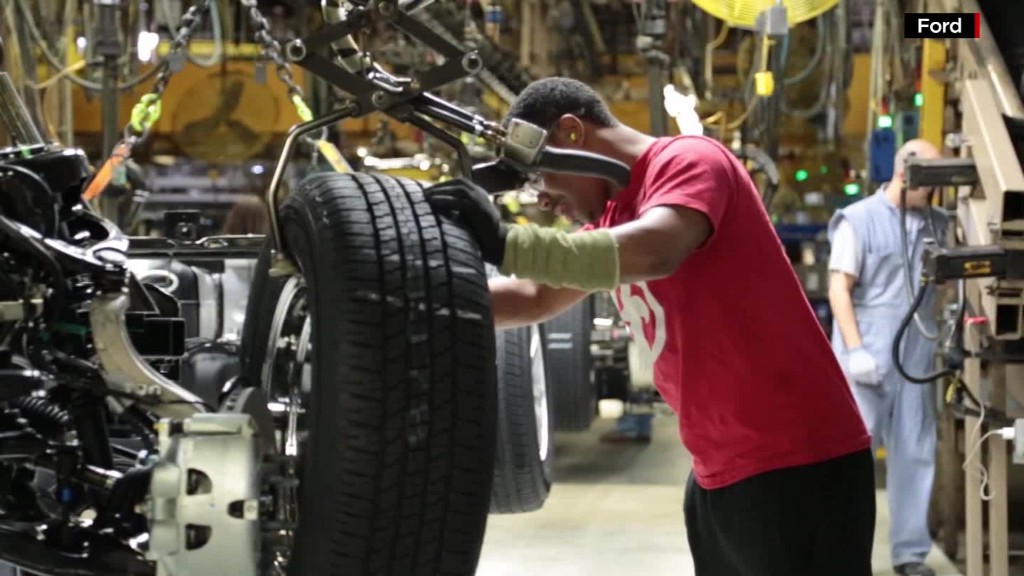 Ford announced plans Tuesday to build a new plant in Mexico, investing $1.6 billion in the facility that will employ 2,800 workers.
Ford insists that there will not be a loss to U.S. jobs.
Still, the move is sure to stir up criticism.
Donald Trump, who has repeatedly criticized Ford for its investments in Mexico, called the announcement "an absolute disgrace" and said the North American Free Trade Agreement needs to be renegotiated.
"When I am president, we will strongly enforce trade rules against unfair foreign subsidies, and impose countervailing duties to prevent egregious instances of outsourcing. This will continue until we can renegotiate NAFTA to create a fair deal for American workers," Trump said.
Trump has previously threatened to impose steep taxes, known as tariffs, on cars Ford tries to import from Mexico to the United States. Such taxes are not currently allowed under NAFTA. Cars made at the Mexican plant would be primarily for U.S. car buyers.
Ford had not said which cars will be built there. But it has previously said that two small cars -- the C-Max and the Focus -- will be moved out of a plant in Wayne, Michigan by 2018, about the time the Mexican plant is due to open.
The 3,900 hourly workers at the Wayne plant, all members of the UAW, have been promised that two new vehicles will begin production there.
"There is not going to be any U.S. job effect as a result of this move," said Joe Hinrichs, president of Ford's operations in North and South America. "The Wayne plant will be in good shape as a result of the new product."
He said the UAW was aware of Ford's Mexican investment plans during last fall's labor negotiations.
Related: $75 a day vs. $75,000 a year - How we lost jobs to Mexico
It is expected that the Wayne plant will get a truck, SUV or crossover to replace the Focus and C-Max, any of which would be more expensive and have better profit margins for Ford.
Ford sales have been growing steadily since 2009, adding 1 million in U.S. sales since falling to a low point during the recession. Ford agreed to invest $19 billion in U.S. plants in the last two labor contracts.
Employment at Ford's U.S. plants has been rising steadily. Ford has added 16,000 U.S. factory workers since 2009, and now has 55,300 workers.
Hinrichs said the company now has the most U.S. factory workers in the auto industry for the first time since the 1930s.
Ford CEO Mark Fields recently defended the company's global investment to CNN's Poppy Harlow. "We are absolutely proud of what we do to contribute to economic development in our home country," Fields said. "At the same time, we're a multinational company and it's really important for us to be competitive around the world."