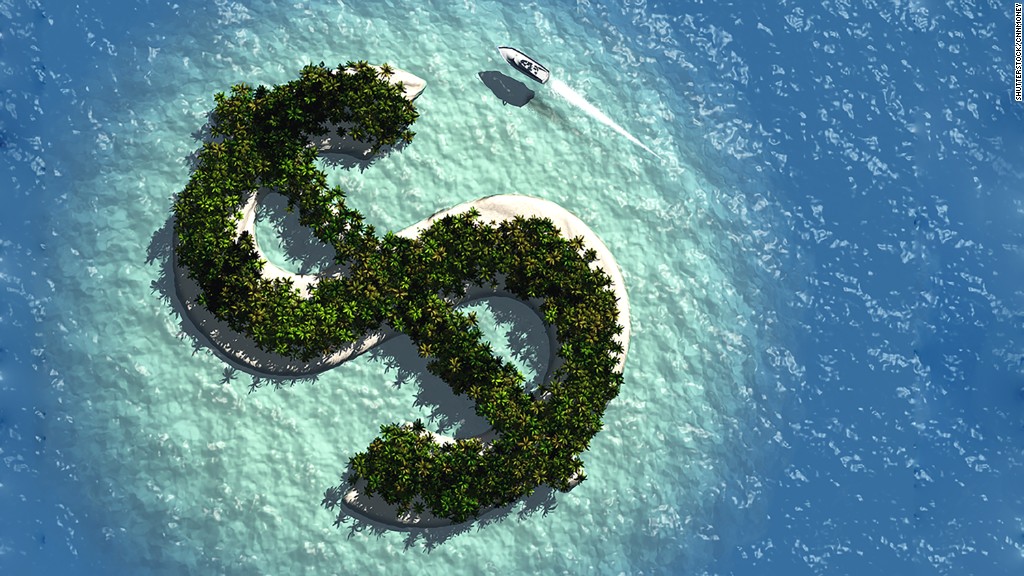 Global banks have rejected reports that they helped their clients hide money from tax authorities.
The International Consortium of Investigative Journalists said its analysis of a huge data leak from a Panama-based law firm show how "major global banks work hand-in-glove with other players in an offshore industry that helps the super rich, politicians and criminals keep their assets under wraps."
The ICIJ report is based on more than 11 million documents, emails and client reports leaked from Mossack Fonseca, the Panamanian law firm that allegedly helped world leaders, officials and celebrities hide billions of dollars in shell companies and offshore accounts.
The firm said the information published about it was false. In a statement to CNN, the firm said it had done nothing wrong. It also denied many of the people named by the reports were its clients.
ICIJ said more than 500 banks, their subsidiaries and branches registered nearly 15,600 shell companies with the firm.
Six big international banks are named in the report: HSBC (HSBC); UBS (UBS); Société Générale (SCGLY); the Royal Bank of Canada (RY); Commerzbank (CRZBF); and Credit Suisse (CSGKF). None of the banks commented on their alleged involvement with Mossack Fonseca.
HSBC
HSBC said Tuesday it works closely with the authorities to fight financial crime.
"Our policy is clear that offshore accounts can only remain open either where clients have been thoroughly vetted, where authorities ask us to maintain an account for the purposes of monitoring activity, or where an account has been frozen based on sanctions obligations," the bank said in a statement sent to CNNMoney.
The ICIJ report claims the British bank and its subsidiaries registered more than 2,300 companies with Mossack Fonseca, and that the law firm agreed to give HSBC clients "special treatment," which included softer due diligence process.
Related: Rich and powerful respond to claims they hid billions offshore
This is not the first time HSBC found itself under the spotlight because of offshore finance. Swiss authorities raided two HSBC offices in Switzerland in February 2015, after the bank was accused of using its private Swiss arm to shield accounts worth more than $100 billion.
In a statement provided to the ICIJ in 2015, the bank said: "We acknowledge that the compliance culture and standards of due diligence in HSBC's Swiss private bank, as well as the industry in general, were significantly lower than they are today."
Credit Suisse
Credit Suisse said in a statement on Tuesday that it is committed to a "tax compliant business and conducts its cross-border banking business in strict compliance with all the applicable laws, rules and regulations in the markets in which it operates."
"For Credit Suisse it is key that its clients use structures only for legitimate purposes," it added.
The reports said Credit Suisse registered 1,105 shell companies with the Panamanian law firm.
Credit Suisse too has a history of being implicated in tax evasion cases. The Swiss bank pleaded guilty in 2014 to federal charges that it illegally allowed some U.S. clients evade their taxes. It agreed to pay $2.6 billion fine to the federal government and New York financial regulators as part of a settlement.
Attorney General Eric Holder said the bank "engaged in an extensive and wide- ranging conspiracy to help U.S. taxpayers evade taxes."
UBS
UBS said Tuesday it "conducts its business in compliance with applicable law and regulations." The ICIJ reports claim the Swiss Bank worked with Mossack Fonseca until 2010, when it decided to stop setting up companies for its customers.
Related: China censors searches for Panama Papers
The ICIJ said the UBS registered 1,100 companies with Mossack Fonseca.
UBS has a sorry history when it comes to offshore financing. In 2009, the bank admitted to helping U.S. taxpayers hide money oversees. It agreed to pay $780 million in fines and restitution, and to turn over account information.
Societe Generale
Societe Generale rejected claims that it was helping disguise the identities of its clients. It said it not only knows the identities of the beneficial owners of offshore companies, but that it is also willing to share this information with regulators and tax authorities under relevant international agreements.
Related: A look at the group behind the Panama Papers
The ICIJ report said it identified 979 companies registered by the bank with Mossack Fonseca.
The French bank said on Tuesday it closed its operations in countries identified as non-cooperative or blacklisted by the international money-laundering watchdog, the Financial Action Task Force.
"Societe Generale has closed its establishments in the countries which were on this grey list, but also in those which were included on the list of Non-Cooperative States, which, in practice for us, meant Panama," the bank said in a statement.
The Royal Bank of Canada
The Royal Bank of Canada and its subsidiaries are named in the ICIJ report in connection with 378 offshore companies registered with Mossack Fonseca.
RBC said it works within the legal and regulatory framework of every country in which it operates.
"Tax evasion is illegal, and we have established controls, policies and procedures in place to detect it and prevent it occurring through RBC," the bank said in a statement sent to CNN on Tuesday.
-- Chris Liakos contributed to this article.