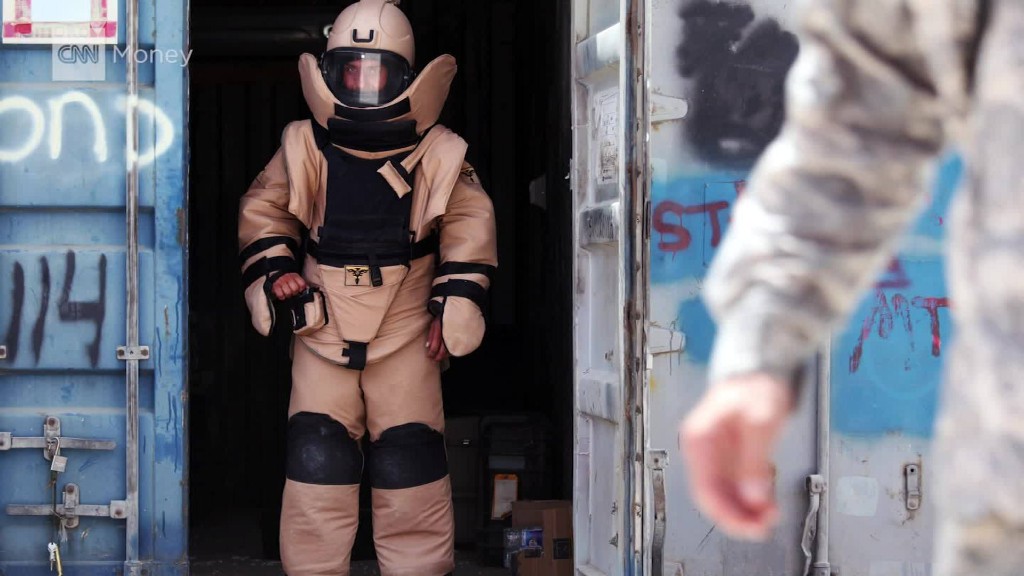 Business is ramping up for bomb suits as the world becomes a scarier place.
Sales are surging for companies that make Explosive Ordnance Disposal suits, those bulky EOD suits depicted in the Oscar-winning 2008 movie "The Hurt Locker."
"We're experiencing a lot more requests than normal simply because of what's going on in the world," said Tony Tanner, president and owner of Kejo Limited Company, a small business in Clearwater, Florida that makes the suits.
Tanner said inquiries have jumped 75% since the end of last year. He sells the suits, at $16,000 to $19,000 each, to the U.S. Army, Marines, Navy and Air Force, as well as to sheriff and police departments around the country.
Tanner served in the Rhodesian Army during the Bush War from 1967 to 1980, in what is now Zimbabwe. "Having experienced terrorism, it's good to share the experience with people who are currently fighting a terrorist war," he said. Tanner started his business in 1999.
Kejo employs just four people but produces about 100 suits per year by outsourcing manufacturing to U.S. factories.
Related: Cleveland gears up for RNC with riot armor, batons
Kejo's Saviour brand armor looks like something an astronaut or a deep sea diver would wear. It takes at least six minutes to put on, with the help of two people, and protects against shock waves from explosions, as well as fragmentation, heat and fire.
First Defense in Dana Point, California, is a bigger player, with nearly 6,000 employees. The company sold 4,871 EOD suits last year and is outpacing that with 2,306 sold so far this year, said Steve Hodges, who handles government contracts.
"The level of activity has increased due to the fact that now so many IEDs [improvised explosive devices] and bombs have been used and made by the terrorists," said Hodges. "Bombs are easy to construct."
Hodges said First Defense sells the suits to the U.S. government, as well as the United Nations, with prices ranging from $9,000 to $20,000.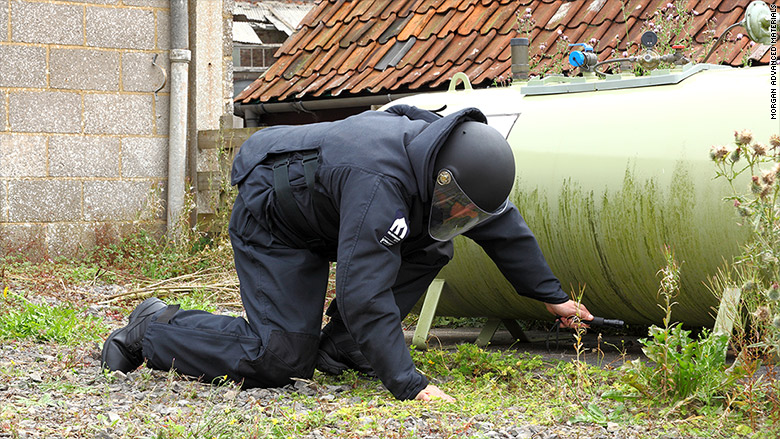 The MED-ENG EOD 9 bomb suit depicted in "The Hurt Locker," which was about a U.S. Army bomb disposal team in Iraq, is made by a Canadian company called The Safariland Group
The British company Morgan Advanced Materials is one of the largest EOD companies, with more than 10,000 employees in 50 countries.
It sells several hundred Silverback-brand suits per year, according to Duncan Eldridge, who is president of the body armor unit. He said the price ranges from about $5,000 to $20,000, and sales are rising.
"It is an unfortunate and saddening reflection that the rise in terrorist activity on a global scale is increasing the need for EOD suits," said Eldridge.
Related: Should civilians be allowed to wear bulletproof vests?
Tanner of Kejo said he never sells his EOD suits to people who are not involved in government, military or law enforcement.
"Individuals don't buy them," he said. "We would never sell one to an individual."