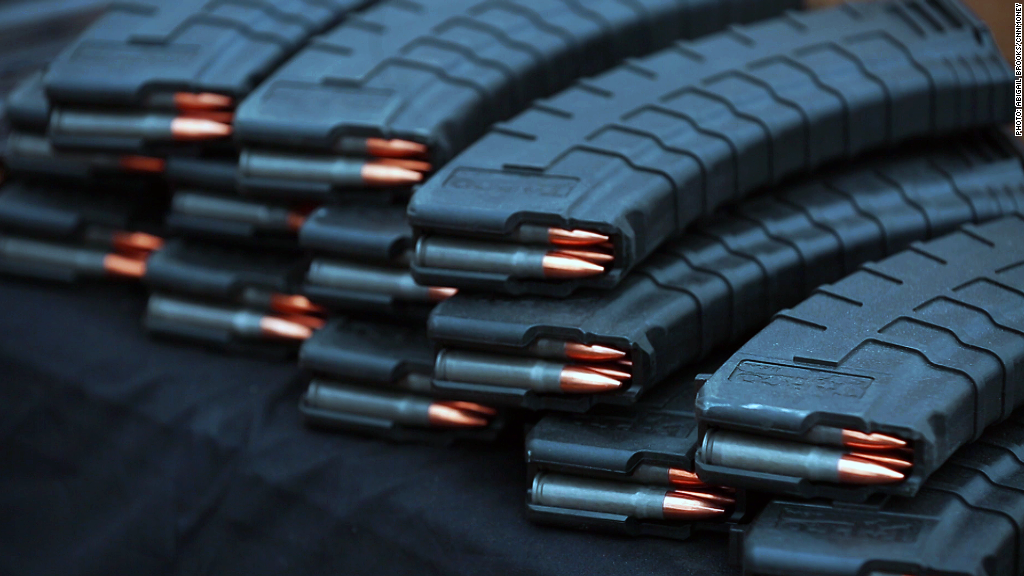 FBI background checks for gun purchases have surged by more than a third this year, compared to the first quarter of 2015.
This puts 2016 is on track to surpass last year's record of 23 million background checks.
The FBI reported record monthly tallies for March, February and January. Background checks, also known as NICS, for National Instant Criminal Background Check System, totaled 7,682,141 in the first quarter this year.
That's an increase of 36% from the same period last year, when there were 5,644,866 background checks.
Gun sales are still being propelled by last year's mass terrorist shootings in France and California, according to Rommel Dionisio, a gun industry analyst with Wunderlich Securities.
Related: Senator Schumer questions legality of folding iPhone gun
"The NICS background check data began to accelerate sharply in December, after the San Bernardino and Paris incidents," Dionisio said. He added that the spike in checks was driven primarily by purchases of handguns, as opposed to rifles and shotguns.
Political rhetoric from the presidential campaign is also spurring as Hillary Clinton pushes for stronger gun control.
"As the general election draws closer, we believe fear [about second amendment rights] will be maintained, said BB&T Capital Markets analysts Brian Ruttenburg and Corbin Allen, who expect 2016 to be a banner year for firearms sales.
Related: Gun sales drive demand for high capacity magazines
NICS background checks are a loose indicator of sales, but they aren't the same thing as sales. A background check is conducted whenever someone tries to buy a gun from a federally licensed dealer.
Additionally, one background check doesn't necessarily equal just one gun purchase, since a single check is conducted even if someone buys multiple guns at the same time.