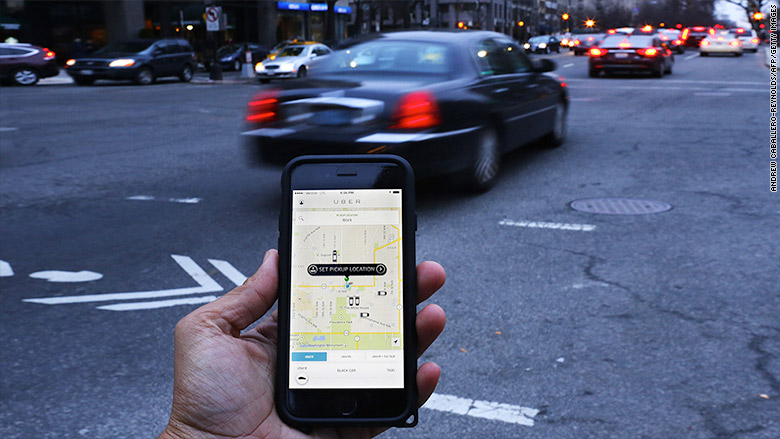 Uber will pay the cities of San Francisco and Los Angeles up to $25 million as part of a lawsuit that accused the startup of misrepresenting its background checks.
In 2014, district attorneys brought the suit against Uber for not vetting its drivers thoroughly while claiming its background checks were the "gold standard" in the industry. The cities said Uber's system was actually not as thorough as those used by taxi companies, which require fingerprints.
As part of the settlement announced Thursday, Uber has agreed not to use certain language to describe its services, such as claiming to be the "safest ride on the road." Uber had already stopped making many of those claims earlier this year, as part of part of a separate $28.5 million class action lawsuit.
Related: Sex offenders, convicted murderer find jobs at Uber
It will also only service airports in the state when it has permission from the port authority. The company already agreed to stop charging "airport fees," which were not actually paid to any airports, as part of a $1.8 million class action lawsuit settled in November.
Uber also agreed to continue work closely with the Division of Measurement Standards, which reviews transportation companies' calculation methods to ensure pricing is fair. Previously, Uber had refused to submit its app to the agency. It began cooperating after the lawsuit began, and the DMS approved its app in August.
"We're glad to put this case behind us and excited to redouble our efforts serving riders and drivers across the state of California," Uber said in a statement
Related: Uber says it will toughen background checks
Uber has agreed to pay up to $25 million in penalties. The first $10 million is due in the next two months, but the remaining $15 can be waived if Uber complies with the terms of the lawsuit.
Lyft settled a similar suit with Los Angeles and San Francisco in 2014 for $250,000.
"It sends a clear message to all businesses, and to startups in particular, that in the quest to quickly obtain market share, laws designed to protect consumers cannot be ignored," said San Francisco district attorney George Gascón. "If a business acts like it is above the law, it will pay a heavy price."