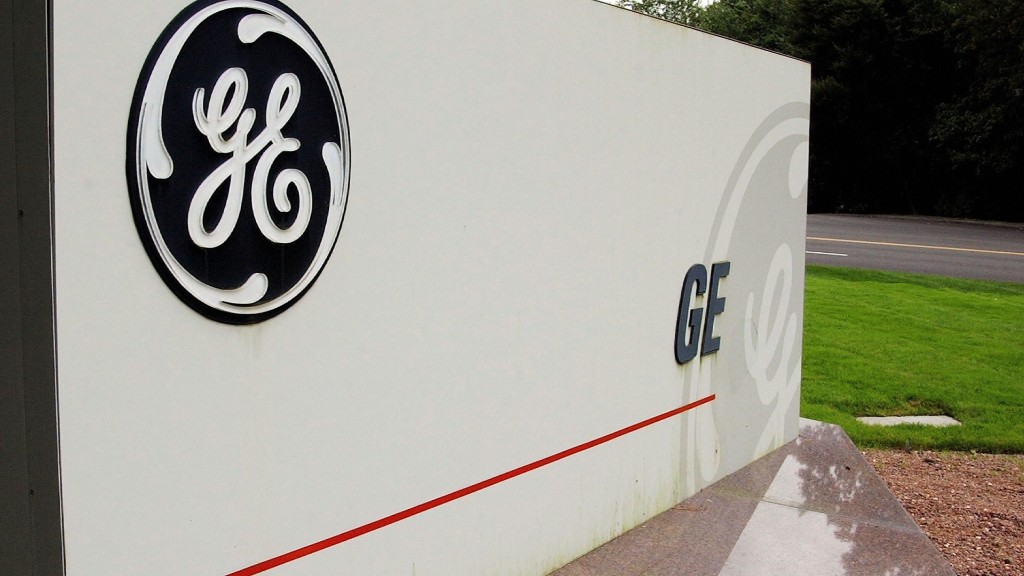 If there's one thing that candidates as diverse as Bernie Sanders and Donald Trump can agree on, it's that some business practices are destroying American jobs and hurting the middle class.
"I think that the anti-business climate is as toxic as I've ever seen," said Greg Valliere, chief strategist of Horizon Investments. "It's something that has united both parties. How's that for a twist?"
With a decade of stagnant wage growth as corporate profits soar to new heights, Americans are feeling the burn (and the Bern). They're taking out their anger on Big Business, the piñata of choice during the campaign season.
Economist Douglas Holtz-Eakin, president of the America Action Forum and former campaign adviser to John McCain, said the candidates -- even President Obama -- are responding to an increasingly angry electorate.
"People are saying, 'I'm not getting a raise,'" he said. "Sanders is saying the system's rigged, and Trump is saying the same thing. If we were getting healthy wage increases, maybe that message wouldn't stick as well."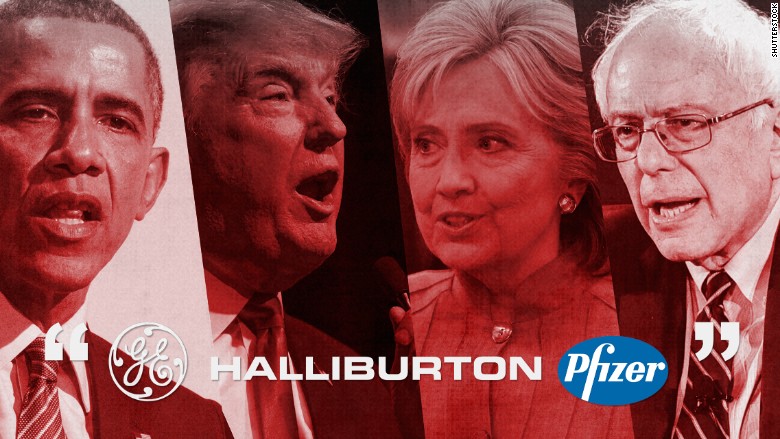 Obama vs. Pfizer
The Treasury Department issued new regulations last week that were designed to crack down on corporate tax avoidance. The new rules effectively smacked down Pfizer's plans for a $150 billion merger with Allergan -- a deal that Obama has been criticizing for months.
Obama called the kind of deal Pfizer sought "unpatriotic," because it shifts a company's headquarters overseas for the sole intent of paying a lower tax bill.
Companies have argued that America's tax code is archaic and Congress should act to fix it. There's bipartisan support for tax reform, but little action so far.
Sanders vs. General Electric
Sanders told the New York Daily News that GE is "destroying the fabric of America" by shipping jobs to Mexico, shutting down American factories and working hard to minimize its tax bill.
That earned Sanders a sharp rebuke from General Electric CEO Jeff Immelt: "We've never been a big hit with socialists."
Trump vs. Ford
Trump has repeatedly criticized Ford for its investments in Mexico, called Ford's latest plans to invest there "an absolute disgrace."
Ford plans to spend $1.6 billion on a new facility that will employ 2,800 workers, and the company says it is not cutting U.S. jobs as a result.
Trump said the NAFTA trade deal needs to be renegotiated.
Clinton vs. Oreos
Hillary Clinton, Trump and Sanders have all spoken out against Mondelez International's (MDLZ) plan to cut 600 jobs at a Chicago Oreo cookie factory, and move many of those positions to Mexico.
In response, Clinton last month proposed clawing back tax incentives from companies that receive U.S. tax benefits and then shift jobs overseas.
Cruz vs. TPP
Ted Cruz does not support the Trans-Pacific Partnership, a landmark trade deal that Obama struck with 12 Pacific Rim countries.
Republicans typically support such deals, and Obama got the deal done mostly with help from the Republican-controlled Congress.
Cruz isn't alone in his dislike for the TPP: Clinton, Sanders and Trump have also all denounced the agreement.
Trump vs. Bezos
Trump has often criticized Amazon (AMZN) CEO Jeff Bezos for buying the Washington Post in order to avoid taxes and influence the government to set laws that are favorable to Amazon.
Though Trump was wrong on his facts (Amazon does pay taxes), the company does benefit from the lack of an Internet sales tax in many states.
In December, Bezos responded by offering to send Trump into space on his Blue Origin rocket.
Obama vs. Halliburton
President Obama's Justice Department, which has been relatively friendly to corporate mergers, sued to block the proposed merger of Halliburton and Baker Hughes.
The deal would have merged two of the three largest providers of oilfield services in the world. The Obama administration said the deal would have hurt the U.S. economy and global competition.