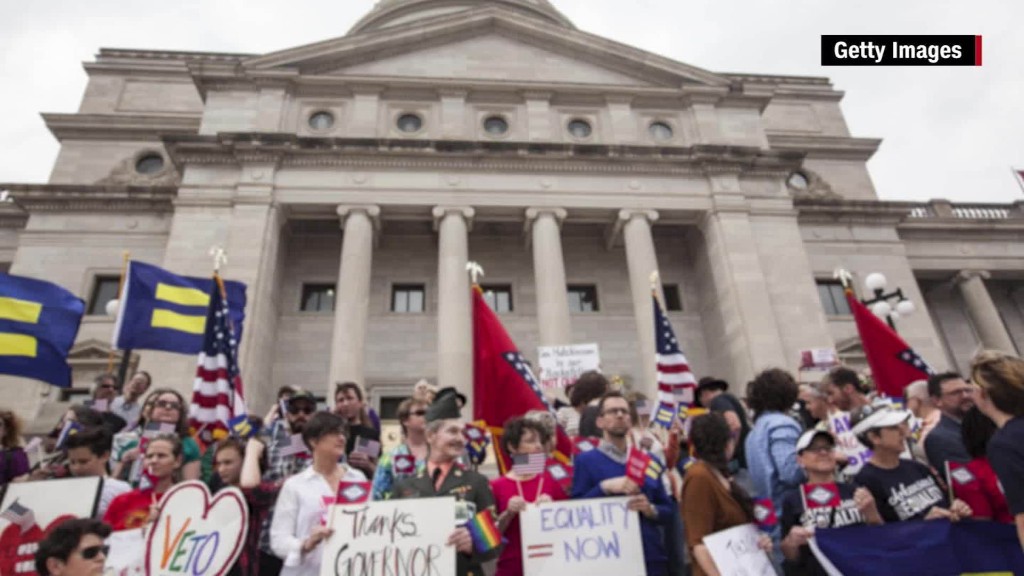 Jimmy Buffett said he's going to perform in North Carolina as scheduled despite the "stupid law" against the LGBT community.
"Now another stupid law, based on stupid assumptions, has sprung up like kudzu in North Carolina, where we are scheduled to play shows next week in Raleigh and Charlotte," wrote Buffett in a blog post.
"These shows were booked and sold out long before the governor signed that stupid law," he said. "I am not going to let stupidity or bigotry trump fun for my loyal fans this year."
Buffett is scheduled to play the Walnut Creek Amphitheatre in Raleigh on April 21 and the PNC Music Pavilion in Charlotte on April 23.
"As for the future of shows in North Carolina, it would definitely depend on whether that stupid law is repealed. That is up to the good people of North Carolina and there are many, and I am confident that they will see that the right thing will be done."
Bruce Springsteen recently canceled a concert scheduled for last weekend at the Greensboro Coliseum, with 15,000 ticket holders eligible for a refund. Springsteen said that he was canceling in "solidarity" with the protesters of the so-called "bathroom law" that requires people to use bathrooms corresponding to the gender on their birth certificates. The law is widely criticized for excluding legal protections from gay and transgender people.
Other performers with scheduled events have not commented on whether they would go on. Those with upcoming events include Boston, Dolly Parton, R. Kelly, Weird Al Yankovich, Justin Bieber and Jim Gaffigan. Cirque du Soleil also has a performance.
The Mississippi governor has also signed the so-called "religious freedom" bill that critics and business interests have said is discriminatory against gay, lesbian, bisexual and transgender people.
Bryan Adams recently canceled a show scheduled for April 14 at the Mississippi Coast Coliseum in Biloxi. The Mississippi Coast Coliseum still has scheduled shows with Rob Zombie and Alabama.
The Biloxi area also has casinos that feature big name performers, many of them from the 1980s. The Hard Rock Hotel & Casino Biloxi has concerts scheduled with Foreigner, Queensrÿche, 38 Special, Weird Al Yankovich, Skid Row, Stryper, Survivor and The Monkees.
A spokeswoman for Hard Rock Hotel & Casino Biloxi said the shows will go on. "Hard Rock Biloxi has not heard from any artists at this time in regards to changes or cancellations to their shows," she said. "We are still moving forward with business as usual here at Hard Rock."
A spokeswoman for the Beau Rivage Resort & Casino in Biloxi, which has shows scheduled with Gladys Knight, ZZ Top, Alice Cooper and Smokey Robinson, said the new law wouldn't result in cancellations of events that are "booked months or years in advance." She did note that the company had opposed the legislation.
Tom Kludt and Robert McLean of CNNMoney assisted with this story.