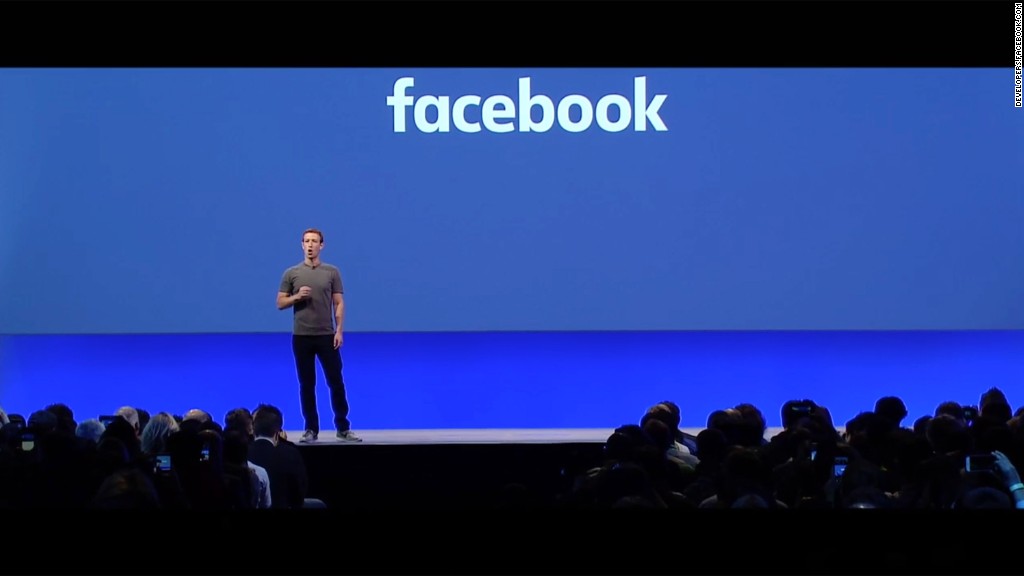 Mark Zuckerberg does not believe in building walls.
The Facebook CEO kicked off the F8 developers conference with a rousing talking about the company's 10-year plan. It involves bots, drones, virtual reality and artificial intelligence. The same technology that chooses what clickbait shows up in your Newsfeed can also save lives and change the world, according to Zuckerberg.
The talk had the feel of a political stump speech, and at times it sounded like a dig at Donald Trump and his immigration policies.
"I hear fearful voices calling for building walls and distancing people," said Zuckerberg, who spoke out against attempts to slow immigration, reduce trade and cut access to the Internet. "It takes courage to choose hope over fear, to say we can build something and make it better than it's ever been before."
Previously, Zuckerberg's immigration reform group FWD.us created a digital ad campaign slamming Trump and Ted Cruz's anti-immigrant stances.
"The two GOP frontrunners are consistently advocating for a morally and economically devastating policy of mass deportation," said FWD.us President Todd Schulte in March.
Facebook (FB) is focusing its courage on expanding the popular Messenger app and Facebook Live. Messenger and WhatsApp process about 60 billion messages a day. That's three times as many as SMS. Since we're already glued to the apps, Facebook is giving them more power.
Bots for Messenger is launching with a few dozen companies on board, including CNN, HP and shopping app Spring. Users will be able to get everything from weather updates to shopping notifications to personalized news -- all through Facebook Messenger.
But developers will also be able to build bots for the Messenger app. The idea is that these automated chat programs will eventually replace painful phone trees or costly human-staffed customer service centers. A bot shouldn't take all of your attention like a phone call, said Zuckerberg, and using bots shouldn't have to mean installing a new app.
Hello, bot: Facebook Messenger wants to become your one-stop shop
Live, Facebook's booming new live streaming option, will be opened up so that developers can integrate it into other apps and drones. Zuckerberg demoed the powers by flying a drone onstage with a live stream of the audience.
Longer term, Facebook's goal is to invest in more exciting technology to get the last few billion people in the world online (and signed up for Facebook, of course). Zuckerberg recapped the company's efforts to reach people who can't afford the Internet, who aren't close to Internet service, or who just aren't aware of all the memes they're missing. Facebook is working on projects like it's giant Internet-beaming drone Aquila or the controversial Free Basics tool to get these last people on board.
He talked about the company's artificial intelligence projects. AI can organize a Newsfeed and understand photos, but it's also the technology that's helping doctors diagnose skin cancer by analyzing a photo of a mole.
Virtual reality is the final part of Facebook's big 10-year roadmap. It recently released the Oculus Rift headset, though early shipments have been slow to roll out. Zuckerberg also did his best Oprah and announced that all attendees would get a free Samsung Gear VR Headset and Samsung phone.
Other Facebook executives also made a few announcements on stage. The social network is the latest company to fantasize about killing the password. Facebook's Deborah Liu announced Account Kit, a new tool that will let people log into the app using just their phone number or email address.
One small new feature that will undoubtedly start filling up your Newsfeed is Quote Sharing. The tool lets anyone share quotes they find in articles, books and apps.
Finally, now that it's building VR headsets, Facebook wants to improve the kind of content you can watch in virtual reality. The company built its own 3D camera for capturing 360-degrees videos. The rig, a combination of 17 cameras, isn't going to be sold by Facebook. Instead the company is making the camera open-source, releasing the design and code to anyone who wants to make their own.
Chat with us in Messenger. Find out what's happening in the world as it unfolds.