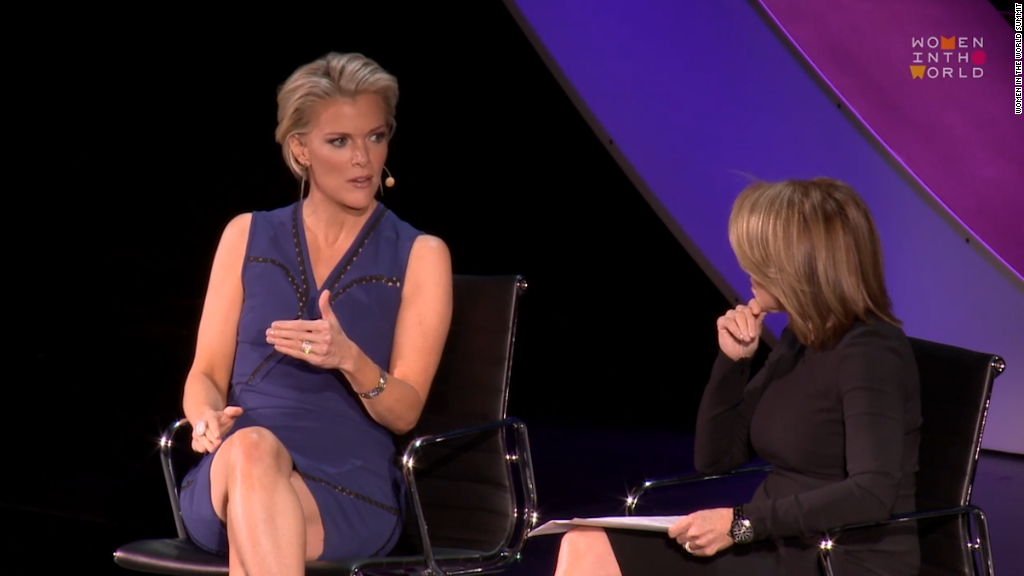 Donald Trump and the Fox News host Megyn Kelly met at Trump Tower on Wednesday morning.
"Yes, the doormen appeared a bit stunned when I walked in," she said with a laugh on her show Wednesday night.
Trump's intense dislike of Kelly -- whom he has called unfair, overrated and even "crazy" -- has been one of the subplots of his run for president.
So was the face-to-face chat a precursor to a Kelly-Trump interview in the future?
Yes -- but Trump has not committed to anything yet.
"We met for about an hour, just the two of us, and had a chance to clear the air," Kelly said on her Fox show Wednesday night. "Mr. Trump and I discussed the possibility of an interview, and I hope we will have news to announce on that soon."
Kelly is known to be seeking high-profile guests for a Barbara Walters-style prime time special on the Fox broadcast network on May 23.
Related: a timeline of the Trump v. Fox war of words
In a brief comment on her show, she confirmed that the meeting at Trump Tower "was at my request." She said "Mr. Trump was gracious enough to agree to it."
Later in the evening, speaking with Fox's Sean Hannity, Trump said Kelly was "very, very nice."
"Maybe it was time... By the way, in all fairness, I give her a lot of credit" for requesting the meeting, he said.
And he alluded to a future TV taping, saying, "Let's see what happens."
But Hannity's pro-Trump studio audience booed when Kelly's name came up.
Trump said Kelly called "last week" to schedule the sit-down.
A person with knowledge of the matter told CNNMoney it was "on-again, off-again" before the face-to-face ultimately took place.
In a statement confirming the meeting earlier in the day. Fox News concluded with a line seemingly intended to defuse tensions between the two sides.
"Kelly has acknowledged in recent interviews that Trump is a fascinating person to cover and has electrified the Republican base," Fox said.
Right after the Kelly meeting, Trump and Fox News chairman Roger Ailes met for lunch. The lunch was scheduled separately.
Fox's statement suggested that Ailes had been working behind the scenes on Kelly's behalf.
"Ailes has spoken to Donald Trump a few times over the past three months about appearing on a Fox Broadcasting special with Megyn Kelly airing on May 23," the statement said.
What a "special" that would be.
Kelly, much to her chagrin, has been one of Trump's top targets.
Trump has essentially said she started it by treating him unfairly during the first GOP debate of the season last August.
The candidate and the journalist did not speak for months afterward. In fact, he skipped the next Fox debate, in January, which she co-moderated.
But he did attend a third debate held by Fox, in March, and treated her kindly.
Later in the month, he resumed his insults, accusing her of stacking her 9 p.m. show with anti-Trump guests.
Fox shot back: "Donald Trump's vitriolic attacks against Megyn Kelly and his extreme, sick obsession with her is beneath the dignity of a presidential candidate who wants to occupy the highest office in the land."
Several weeks have passed since then. He has not attacked Kelly via Twitter since April 1.
At that time, he wrote, "Is it possible for @megynkelly to cover anyone but Donald Trump on her terrible show. She totally misrepresents my words and positions! BAD."
In an interview last week, Kelly said she has not made a formal request to interview the candidate.
"To be honest, every time I prepare an invitation to sit down with him, he attacks me on Twitter or elsewhere," she told Variety. "I had always been hoping I could reach out to him at a time when he wasn't angry. I don't think it would be a good interview if he was angry at me — but then he never stops with the attacks."
She added, "I was just about to ask him to sit down with me two weeks ago, but then he started up again out of the blue."
Correction: An earlier version of this article incorrectly said that Ailes "brokered" the meeting.