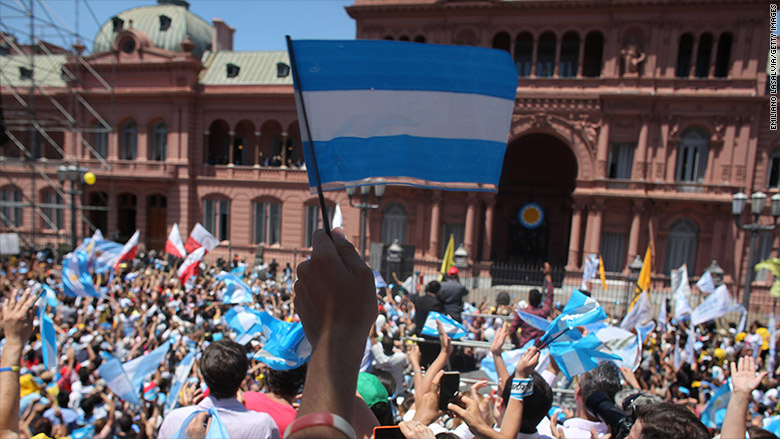 Argentina is coming back to world markets after being shut out for 15 years.
And it's gearing up for one of the biggest bond sales ever for a developing country.
On Wednesday, the U.S. Court of Appeals upheld an earlier decision that allows Argentina to issue bonds and payoff its creditors it has owed since the country defaulted in 2001.
The ruling is a major victory for Argentina, which slugged through a legal debt battle with American hedge funds known as "vultures" in Latin America.
This week, Argentina's brass is on a "road show" in London, New York and elsewhere in the U.S. to pitch investors on $15 billion in governments bonds. That's second only to Mexico, which holds the record with a $16 billion debt offering in 1996.
Related: Venezuela: the land of 500% inflation
How much appetite investors have for Argentina's bonds will depend in part on the interest rate, expected to be between 7% and 9%. Argentina could begin selling bonds as soon as next week, Argentina's finance minister said earlier this week.
Argentina says it wants at least $12.5 billion, enough to pay the holdout creditors and have plenty left over for infrastructure projects that the country badly needs.
Argentina's markets rallied on the news. Its stock market index, Merval, rose 4.7% on Wednesday, the biggest gain of any world market. The Merval is up nearly 14% so far this year as Argentina's new government, led by President Mauricio Macri, seeks to resolve the country's debt problems.
Related: Argentina ends 15-year debt saga with 'vulture' funds
In February, Argentina finally reached an agreement with hedge funds, led by billionaire Paul Singer, to pay them a total of $4.65 billion. Since that agreement, Argentina has resolved debt deals with other holdouts worth billions.
Argentina is South America's second-largest economy behind Brazil. It defaulted on $95 billion of debt in late 2001, which was a record at the time. Argentina's populist presidents, the late Nestor Kirchner and his wife, Cristina Fernandez de Kirchner, ruled Argentina from 2003 to 2015. They refused to pay the holdout creditors as a sign of patriotism.
That decision had effectively shut Argentina out of foreign capital markets since 2001, and its economy has stagnated for the last four years.
Related: Brazil: an economic collapse worse than feared
"Today's ruling is a huge triumph for Argentina," says Edward Glossop, an emerging markets economist at Capital Economics, a research firm.