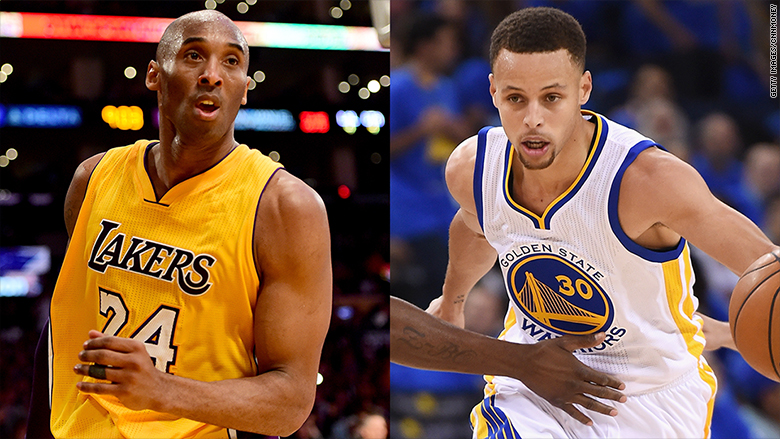 History beat out a grand finale. At least in terms of ratings.
The overnight ratings for the Golden State Warriors 73rd win, the most wins in NBA history, edged out the final game of one of the NBA's best known players of the last 20 years, Kobe Bryant.
Golden State's march to 73 brought in an average viewership of 3.6 million viewers for ESPN on Wednesday night.
That just out shot the average viewership of 3.4 million for ESPN 2, which broadcasted Bryant scoring an electrifying 60 points in his career ending appearance to help the Los Angeles Lakers defeat the Utah Jazz.
The Warriors game peaked at 4.2 million viewers at 11 p.m. to 11:30 p.m. EST, which was roughly the second quarter of the game.
The Lakers game peaked at 5.1 million viewers at 1 a.m. to 1:15 a.m. which came towards the end of the game when Bryant pushed to 60 points.
Related: Kobe Bryant scores 60 in final game
The viewership numbers for both games are decently impressive for the sports network seeing that the games didn't tip off until 10:30 p.m. on the East Coast.
Both games also set regular season records for ESPN's live streaming app surpassing an average minute audience of 100,000. Bryant and the Lakers bested Steph Curry and the record-setting Warriors 134,000 to 111,000.
Related: Warriors' 73rd win makes them best team ever
The games were also two of the most talked about subjects on social media Thursday night.
The overdrive of social chatter caused the Lakers Twitter account to crash, itself going briefly into retirement.
"Sorry about that, everybody," the account tweeted. "Kobe got too hot for the Twitter servers."