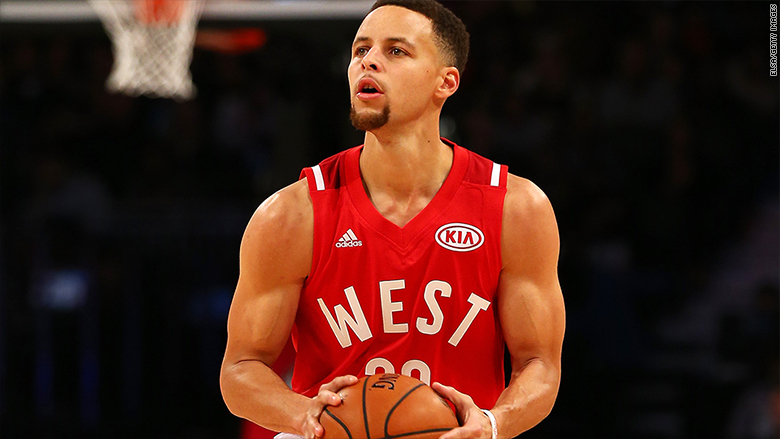 The NBA will soon allow ads on players' jerseys.
During the 2017-2018 season, players in the NBA will sport corporate logos on their uniforms, according to an announcement from the NBA on Friday.
The ad space will be sold as part of a three-year pilot program and will take the form of 2.5-inch square patches that are tailored to a sponsor's logo.
The patches will appear on the left shoulder of players' uniforms -- where the NBA logo used to be. The league's logo was moved to the back of players' jerseys two years ago.
Each team will have to sell its own ad space to sponsors. Teams will reportedly net half of the sponsorship money from the jersey ads. The rest will go to the league's revenue-sharing pool.
The four major pro sports leagues allow corporate logos on practice gear, but the NBA is the first to approve ad space on jerseys to be worn during regular season games.
The NBA's Board of Governors approved the new ad space during its spring meeting, held Thursday and Friday.
While general retailers won't be able to sell the sponsored version of jerseys, teams can choose to sell them to fans in their own stores.
Related: Warriors and Kobe in ESPN ratings shootout - who won?
Ads have already appeared on uniforms worn during the All-Star Game in February when players sported KIA logos.
"Jersey sponsorships provide deeper engagement with partners looking to build a unique association with our teams and the additional investment will help grow the game in exciting new ways," said NBA Commissioner Adam Silver. "We're always thinking about innovative ways the NBA can remain competitive in a global marketplace, and we are excited to see the results of this three-year trial."
Silver has previously said the new ad space could bring in $100 million to the league.
Related: NCAA extends March Madness TV deal with Turner, CBS until 2032
Internationally, corporate logos are regularly seen on jerseys, and in the U.S. the WNBA, Major League Soccer and NASCAR already feature them.
Major League Baseball allows the ads on uniforms worn during season openers in Japan, where jersey ads are commonplace.