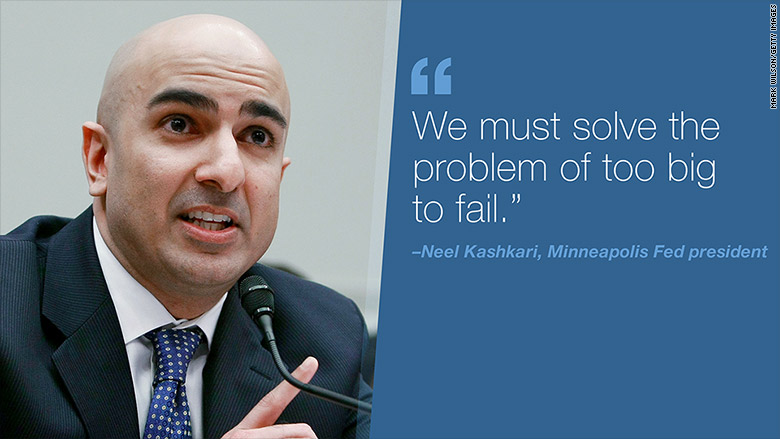 "I continue to think that the largest banks in the country are too big to fail."
That might sound like a Bernie Sanders sound bite, but it's actually from a speech that the Federal Reserve Bank of Minneapolis president gave Monday.
Nearly eight years after the financial crisis shocked the global economy and caused a massive recession, the consensus view is that big Wall Street banks are a lot safer now.
But are they safe enough?
"I am skeptical that current efforts to fix that problem will ultimately work," said Neel Kashkari, the head of the Minneapolis Fed.
It's unusual to hear someone from within the Fed be so critical of Wall Street regulation, since the Fed is one of the main watchdogs over big banks. Earlier this month Fed chair Janet Yellen defended all the ways regulators like the Fed have made the system safer.
Related: The 1st question to ask your financial adviser
But Kashkari isn't your typical central banker. He worked for Goldman Sachs and then served in the Treasury Departmenty under President George W. Bush. He ran the Troubled Assets Relief Program during the financial crisis and then made a failed bid to be governor of California.
In short, he knows more than most about the inner workings of the Wall Street bailout.
Kashkari says the U.S. is "headed in the right direction," but laws like Dodd-Frank don't go far enough. He has started an initiative to end too big to fail forever.
Sanders has taken notice and started to reference Kashkari's work. On the campaign trail, Sanders has repeatedly argued that the only way to ensure there's no repeat of the 2008 financial crisis is to break the big banks up.
Related: Janet Yellen disagrees strongly with Bernie Sanders
Kashkari believes there are actually four possible ways to prevent another financial crisis. Breaking up the banks is just one option. Here are Kashkari's ideas:
1. Break up the banks
2. Make banks hold even more money on hand
3. Put a tax on investments that banks make using borrowed money (i.e. leverage)
4. Allow institutions to go bankrupt
Related: Bernie Sanders asks if Wall Street is necessary
Experts say it's a longshot that any of these will be put into law.
"I don't know how much momentum he's going to get. I think the Fed believes that while the system may not be where they want it to be right now, they are moving in the right direction," says Sharon Stark, fixed income strategist at D.A. Davidson & Co.