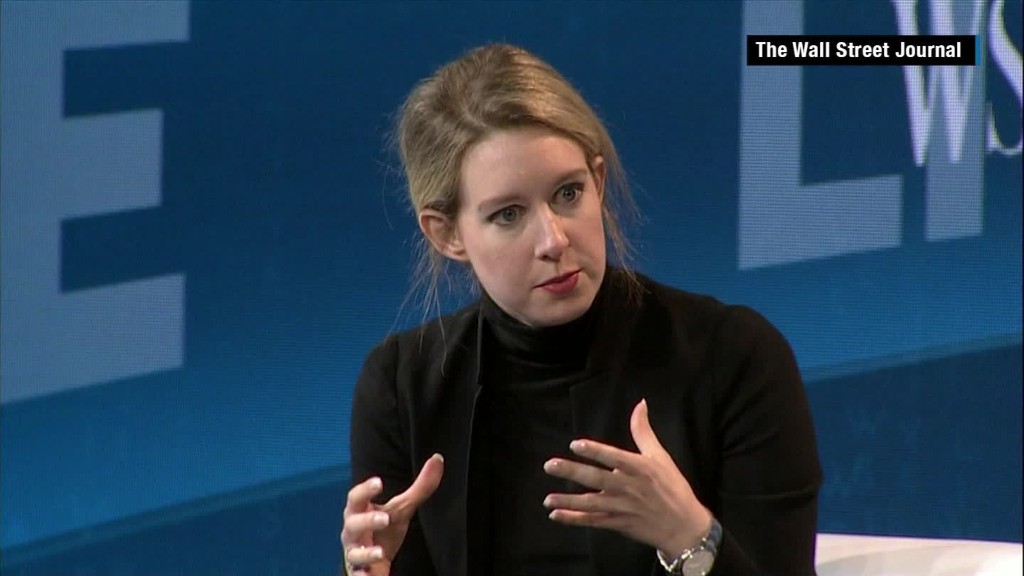 The investigations are piling up for blood-testing startup Theranos.
The company said Monday that it's under scrutiny from the Securities and Exchange Commission and the U.S. Attorney's Office for the Northern District of California.
Those probes come on top of an ongoing inspection by the Centers for Medicare and Medicaid Services (CMS).
Theranos has positioned itself as a provider of cheaper, more efficient alternatives to traditional medical tests. It claimed it could process up to 70 lab tests on just a few drops of blood. It has been valued at more than $9 billion and billed as a classic industry disruptor.
But in October, a scathing report in the Wall Street Journal called much of its technology and testing methods into question, prompting wider scrutiny.
Theranos didn't offer much in the way of details Monday on the SEC and U.S. Attorney's Office investigations. In a company memo provided to CNNMoney, it said the probes "began following the publication of certain news articles" and "are focused on requesting documents."
Related: Theranos CEO in jeopardy after regulators propose ban
The company said it "continues to work closely with regulators and is cooperating fully with all investigations."
The SEC declined to comment on the matter. The U.S. Attorney's Office wasn't available for comment late Monday.
Theranos' disclosure of the investigations comes weeks after federal health regulators proposed banning the company's CEO, Elizabeth Holmes, from its labs. Theranos said such a move would be a "worst case scenario."
In a letter dated March 18 that was obtained by the Wall Street Journal, CMS wrote that Theranos failed to adequately address critical deficiencies at the company's California lab. Theranos said last week that it had responded and was waiting for CMS to review and respond.
The company didn't give an update Monday on the CMS inspection.
But it did say that investigations by the FDA and the Departments of Health of Pennsylvania and Arizona have been "successfully closed out."
-- Sara Ashley O'Brien contributed to this report