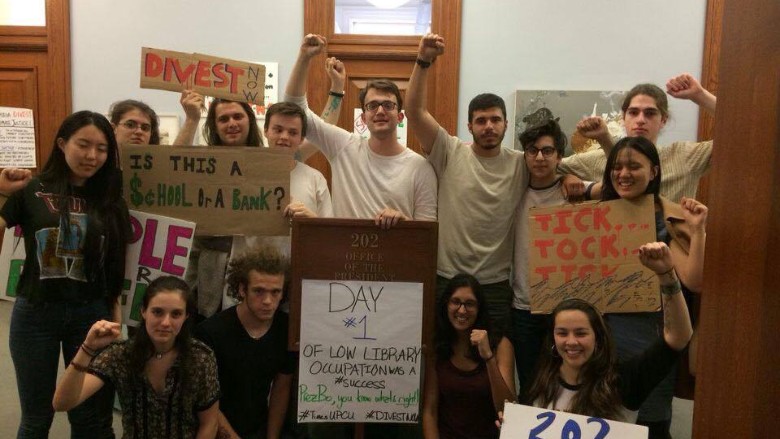 Rachel Fifi Culp is a junior at Columbia University who hasn't left the college library since Thursday.
She sleeps on chairs, eats from takeout boxes and tries to keep clean with water and paper towels from the bathroom. This isn't a frantic college study session. It's a protest, one that 2016 presidential candidate Bernie Sanders supports.
Culp is part of a movement demanding that her university stop investing its $9 billion endowment in coal, oil and natural gas companies.
On Monday, Sanders endorsed the cause.
"Let us stand in solidarity with the students at Columbia and NYU for demanding their schools divest from fossil fuels. #KeepItInTheGround," Sanders tweeted from his campaign account to his 2 million followers.
Related: The largest U.S. coal company files for bankruptcy
He followed up on Tuesday, tweeting: "It is absolutely vital that we act boldly to move our energy system away from fossil fuels. #KeepItInTheGround."
Support from the presidential candidate that so many college students revere has emboldened the students to keep going.
"This cause matters so much for our generation," Culp told CNNMoney. "The university isn't responding with the urgency that is needed."
A university official told the protesters that they may face suspension for their actions, but the students vow to camp out until Columbia President Lee Bollinger publicly endorses divestment.
The university argues that it is already taking climate change seriously and is looking into the possibility of dumping fossil fuel stocks.
"Columbia already has in place a serious, deliberative process to consider proposals for divestment," the university said in a statement.
Related: Dumping fossil fuels was great move for Rockefeller Brothers Fund
For Culp, the cause is both moral and personal. She was born in New Orleans and grew up along the Gulf Coast that was devastated by Hurricane Katrina.
Even now as she sits in the library, she calls her family in Houston who are dealing with several inches of floodwater in their house. Culp blames climate change for these extreme weather events. She says spending a few days protesting in the library is a small sacrifice compared to what many people are facing around the world.
"We're not going to let [Columbia administrators] give us a time line that doesn't allow justice to come for our families," Culp says.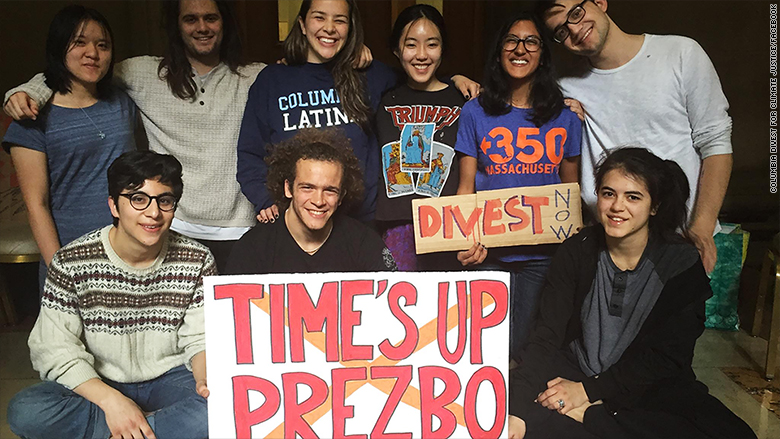 The movement to stop investing in the stocks of oil, natural gas and coal companies has gained momentum recently. In 2014, Stanford University announced it would no longer invest directly in coal companies. Last year, Syracuse University committed to divesting from fossil fuel companies.
Related: How to make money and help the planet
"Our school must own up to its moral obligation to take a stand against climate change," says Cristian Padilla, a junior from California and one of the seven students in the library.
Last year President Bollinger endorsed the plan for Columbia to stop investing in companies that run private prisons. Why not fossil fuels too? asks Padilla.
In addition to Sanders, the protesters say that hundreds of students and professors have expressed their support. Some have even tried to enter the library to join the sit in, but the area where the protesters are has been sealed off.
"Seeing all the support flood in from outside in spite of the fact that [the university] has really tried to strangle our actions has really meant a lot to us," says Padilla.