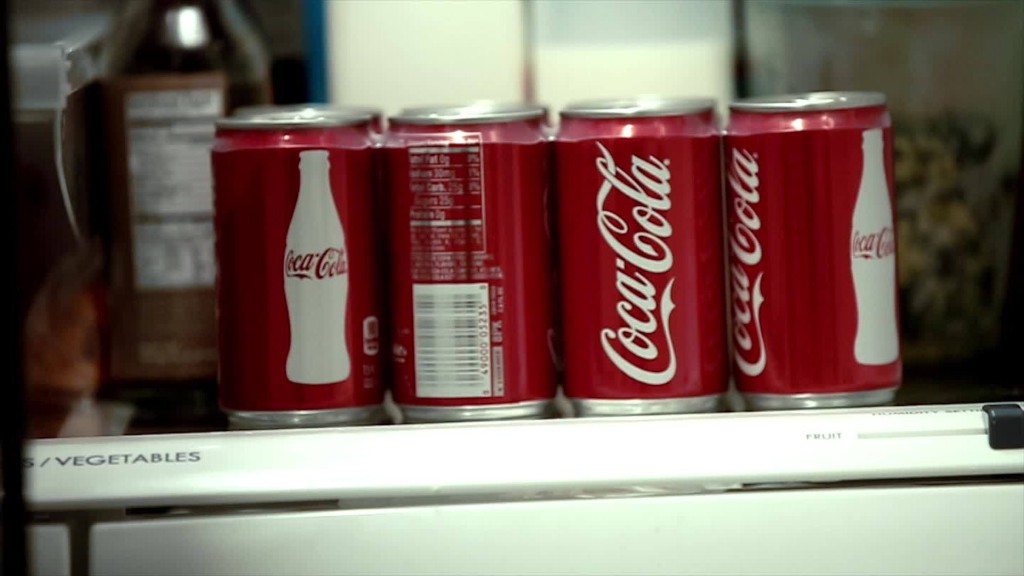 Perhaps Coca-Cola should rename itself Dasani or Powerade.
The beverage giant reported earnings and sales for the first quarter on Wednesday that were down slightly from a year ago.
The weakness was due entirely to its classic lineup of soft drinks -- brands like Coca-Cola and Diet Coke. Volume for what Coke dubs sparkling beverages was flat. (Just like that old bottle of Sprite you forgot about and left in the fridge for way too long.)
But Coke (KO) is doing a much better job with its non-carbonated beverages -- i.e. water and energy drinks. Volume for still beverages shot up 7%.
Coke recognizes that soda -- or cola or pop depending on what part of the country you live in -- is no longer a product that's going to generate huge sales growth.
That's the main reason it acquired a nearly 17% stake in energy drink maker Monster Beverage (MNST) last year. Coke is now Monster's largest shareholder.
Wall Street wasn't tasting the feeling though. Shares of Coke fell nearly 5%.
That may be an overreaction.
Related: No loser in the cola wars on Wall Street
The strong dollar hurt Coke's sales in the first quarter. But the greenback has started to pull back lately. That could help Coke going forward. Companies that generate a big chunk of their revenue overseas benefit from a weaker dollar.
And it's important to note that the stock is still up 3% this year. Investors had been embracing Coke and top rival Pepsi (PEP) thanks to their their bubbly dividends. Nothing's changed there. Coke's dividend yields more than 3%.
Warren Buffett remains a huge fan of Coke too. Berkshire Hathaway owns more than a 9% stake and Buffett is likely to be chugging cans of Diet Coke at Berkshire's annual shareholder meeting in Omaha later this month.
So Coke may still be the real thing for your portfolio over the long haul.