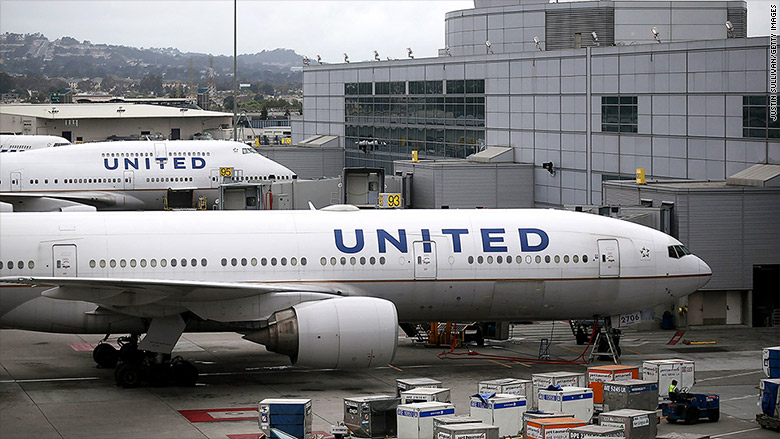 United Continental is making nice with two activist hedge funds that threatened to overhaul the company's board.
The airline announced on Wednesday that non-executive chairman Henry Meyer will step down before the company's annual shareholder meeting later this spring. Two other current board members will also not stand for re-election at the meeting.
This is a victory for Altimeter and PAR Capital, the two investment firms that collectively own a 7.2% stake in United (UAL).
The compromise between United and the two hedge funds puts an end to the possibility of a nasty fight at the company's shareholder meeting. It is also a sign that United may be stabilizing after what can only be described as a turbulent few months.
Last month, the two funds nominated a slate of six board directors -- including former Continental CEO Gordon Bethune -- and said they would push other shareholders to vote for them in order to shake things up at the airline.
Related: These investors wanted to create turbulence at United
But the hedge funds agreed to drop their plans for greater control of the board after United agreed to add PAR Capital managing director Edward Shapiro and former Orbitz CEO Barney Harford to the board. (Orbitz is now owned by Expedia (EXPE).)
United and the two funds also said they plan to name another independent director to the board within the next six months.
United CEO Oscar Munoz, who was expected to become chairman after the company's 2017 annual meeting, will now do so in 2018. Robert Milton, a former CEO of Air Canada who was named to United's board last month, will become the new chairman.
Last September, former CEO Jeff Smisek was forced out in the wake of a corruption probe. United was accused of trying to curry favor with the Port Authority of New York and New Jersey.
Munoz, who had been president of railroad CSX (CSX), was hired to replace Smisek. But he was only on the job for a couple of weeks before he suffered a heart attack. Munoz subsequently received a heart transplant and returned to his job full time last month.
Related: United CEO comes back to work two months after heart transplant
All seems lovey-dovey right now though. Munoz said in a statement that he looks forward to working with the new board members and that "we appreciate the valuable input we have received from Altimeter, PAR, and other shareholders."
And Bethune, who will no longer be running for a board seat, said that "this is another sign that things are changing for the better at United under Oscar's leadership."
The reaction on Wall Street was a lukewarm one though. United's stock was flat in early trading.
United still needs to convince investors -- and travelers -- that it can regain some of the altitude it's lost since the merger with Continental in 2010.
United has routinely finished near the bottom of several consumer satisfaction surveys during the past few years.
And the stock is down nearly 10% in the past 12 months while competitors Delta (DAL), Southwest (LUV) and JetBlue (JBLU) have all gained ground. Competition in the industry could soon become tougher too as Alaska Air (ALK) looks to buy Virgin America (VA).
United will have a chance to prove to Wall Street that the turnaround is on track later Wednesday when it releases its latest quarterly results after the closing bell. Lower oil prices should help the airline.