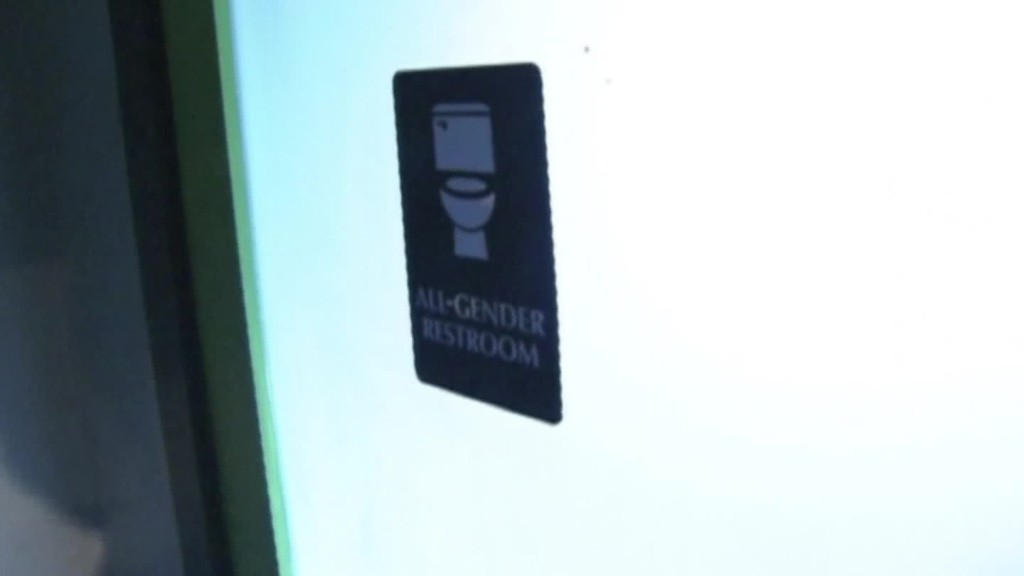 While some performers have canceled gigs in North Carolina and Mississippi to protest anti-LGBT laws, the show will go on for metal bands Anthrax and Stryper.
"We will play," said Anthrax axman Scott Ian, who has a show in Concord, North Carolina, on May 7. "Screw the politics. We're coming to entertain."
Michael Sweet, frontman for the Christian hair band Stryper, made a similar comment pledging to perform.
"We're musicians, not politicians," said Sweet. who has a show in Biloxi, Mississippi, on July 30. "Music is supposed to bring people together, not separate people. We will play anywhere, at any time, for anyone. Come one, come all. After all, it's only music, folks."
Aside from the fact that they're both metal relics from the 1980s with a penchant for groove bars, Ian and Sweet bear little resemblance to each other. In fact, they're polar opposites.
Anthrax, named after a disease, was known for its rowdy concerts back in the heavy metal heyday of the '80s. The band's symbol is a reverse pentagram, which is associated with occultism, and its newly released video "Blood Eagle Wings" is an over-the-top spectacle of torture and gore.
Stryper, on the other hand, derives its name from the Biblical passage Isaiah 53:5, which equates the torment of Christ with salvation: "With his stripes we are healed." The cover of the band's landmark album from 1986, "To Hell With the Devil," depicts muscle-bound angels casting Satan down into a chasm of fire.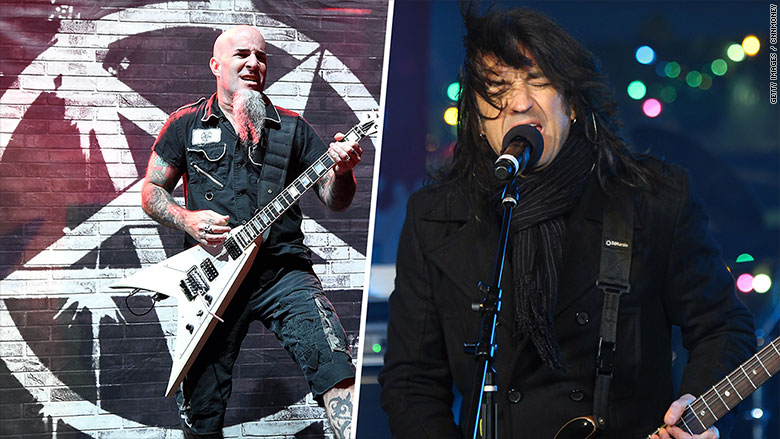 The decision of Stryper and Anthrax to rock on despite the recently passed anti-LGBT law is a departure from Bruce Springsteen and his E Street Band, who were the first musicians to cancel a North Carolina show in protest. The law excludes legal protections for gay and transgender people, and it forces people to use bathrooms corresponding to the gender on their birth certificates.
Related: Target takes a stand on transgender bathroom controversy
Since then, Pearl Jam, Ringo Starr, Cirque du Soleil and Boston, a band that Sweet was a member of from 2007 to 2011, have all canceled North Carolina gigs. Deutsche Bank (DB) and PayPal (PYPL) canceled plans to expand there, costing the state 650 jobs.
And when Mississippi passed a similar law, Bryan Adams and Tracy Morgan canceled their gigs there.
Other musicians have decided to play on, while making statements condemning the legislation. Jimmy Buffett said his Coral Reefers would play their scheduled shows in Raleigh and Charlotte despite North Carolina's "stupid law," but wouldn't necessarily perform again in the state unless the law was repealed. Cyndi Lauper said she would donate the proceeds from her Raleigh show to Equality North Carolina, an LGBT-rights group.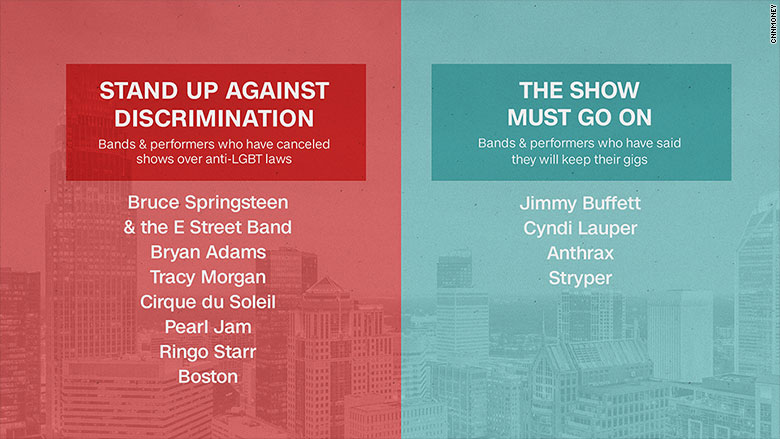 Related: NBA keeps 2017 All-Star Game in North Carolina for now
There are many more performers and entertainers with gigs in North Carolina and Mississippi who did not respond to CNNMoney.
Justin Bieber, Dolly Parton, Jim Gaffigan, R. Kelly and Megadeth all have upcoming gigs in North Carolina. The bands Alabama, Foreigner, Queensrÿche, 38 Special, Survivor and the Monkees all have concerts lined up in Mississippi. Weird Al Yankovic and Rob Zombie have shows scheduled in both states.