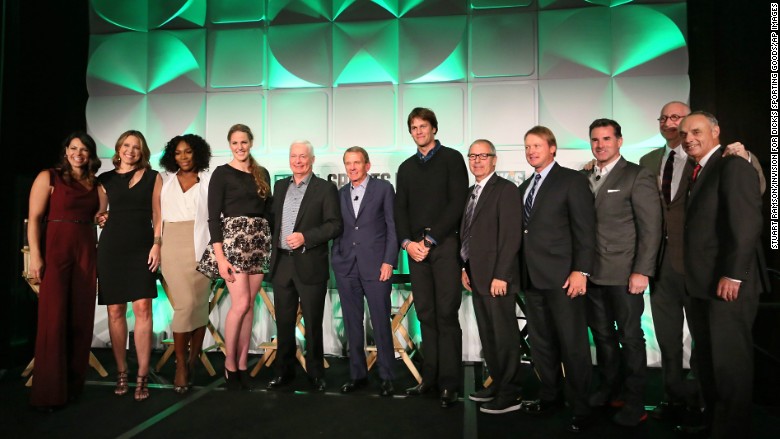 Sports legends Tom Brady and Serena Williams are worried about the next generation of athletes.
They joined some of the industry's most prominent names for a panel Wednesday night looking to draw attention to what was called a "financial crisis" facing youth sports programs in America.
According to a study from the non-profit Up2Us, more than $3.5 billion has been slashed from school athletic programs since 2009, and about 27% of public high schools won't offer any sports programs at all by 2020.
The panelists included Brady, Williams, Olympian Missy Franklin, Major League Baseball Commissioner Rob Manfred, PGA Tour Commissioner Tim Finchem, Under Armour CEO Kevin Plank, and others. They argued that the cuts are a serious problem because sports encourage kids to attend school and keep up their grades to stay eligible to play.
Brady, a four-time Super Bowl champ, recalled the character development in his early years. "I was the backup on my freshman [football team], and we were 0-8," he said.
Related: Going out of business: 57-year-old Sport Chalet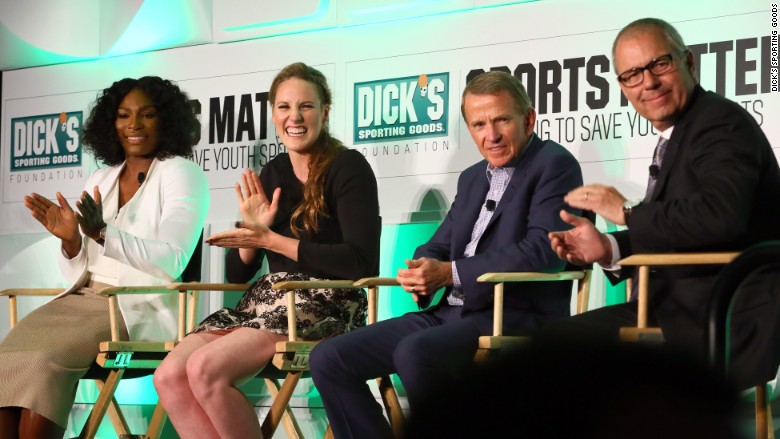 Williams said school sports can show "the strength of a woman on the inside and out...That can create a lot of confidence."
The event was hosted by Dick's Sporting Goods Foundation, which has committed $25 million to funding youth sports programs since 2014. Dick's Sporting Goods (DKS) CEO Ed Stack announced Wednesday that the foundation will put another $25 million toward the effort.
Dick's is matching donations made to youth sports programs on DonorsChoose.org, which allows coaches to crowdfund the money needed to keep their teams going.
Scott Durham, the head football coach at Andrews High School in South Carolina, currently has a bid asking for $1,385 to buy knee pads and chin straps. Andrews has about 600 students living in an impoverished rural town where Durham said it's difficult for booster clubs to raise money for sports, but he's determined to get his players the safety gear they need.
"I am not putting a child on the field in 15 to 20-year-old shoulder pads," he told CNNMoney. "It's not a cheap thing to do, but it's the right thing to do."
Other fundraisers are for a playscape and gym equipment for a K-8 school in Florida, and for soccer balls at an impoverished high school in Queens, N.Y.
Related: ESPN fires analyst Curt Schilling over anti-transgender post
Ramiro Castellanos, a special education teacher who helped form the first soccer team at Queens High School Complex, vouched for the importance of physical activity in a student's life.
"You'd be surprised how these kids act a certain way in the classroom, but when they're on the field doing something they're passionate about, something else wakes up inside of them," Castellanos said.