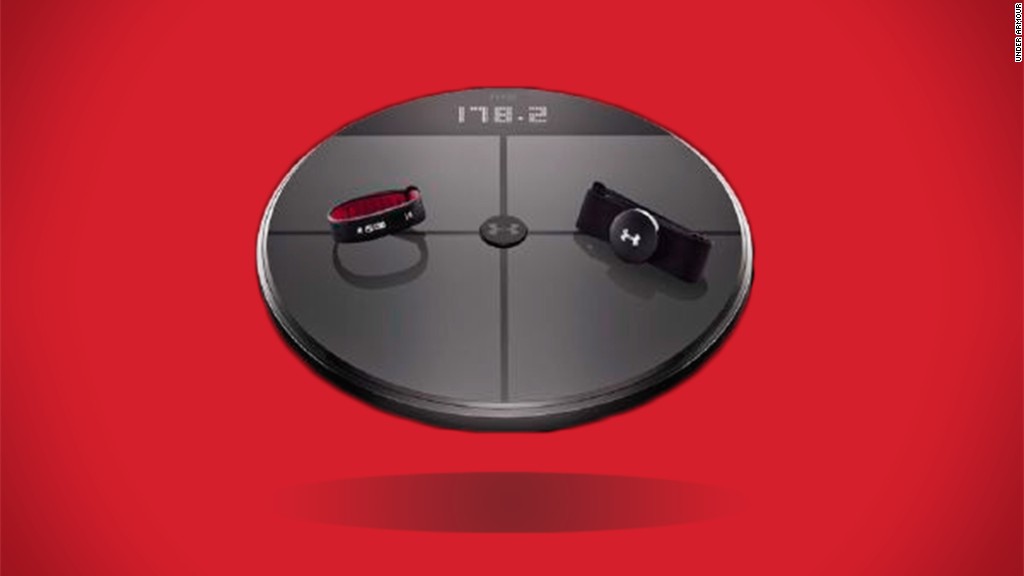 Under Armour is simply on fire these days. Call it the Steph Curry effect.
Under Armour (UA)continues to ride the hot hand of Curry, the sports apparel brand's superstar endorser who just led his team to the best season in NBA history.
Footwear sales at Under Armour surged 64% in the first three months of 2016 as sports fans gobbled up the Curry signature basketball line. Under Armour said Thursday that overall sales jumped by an impressive 30%, led by strong growth overseas.
Here's a stat even Curry, the 2015 NBA MVP, would be wowed by: Under Armour has now generated sales growth above 20% for each of the past 24 quarters.
Wall Street gave Under Armour a standing ovation, bidding its stock 8% higher on Thursday. Under Armour is now up 13% on the year and 44% since late January.
By comparison, shares of Nike (NKE), which allowed Curry to leave for Under Armour in 2013, are down 3.5% this year. Nike's sales rose 8% last quarter, but it was hurt by the strong dollar and competition from Under Armour.
"Stephen's phenomenal season has brought unprecedented attention to our overall footwear business," Under Armour founder and CEO Kevin Plank told analysts during a conference call. Plank also said the Curry brand is driving "credibility with the hardcore basketball kid."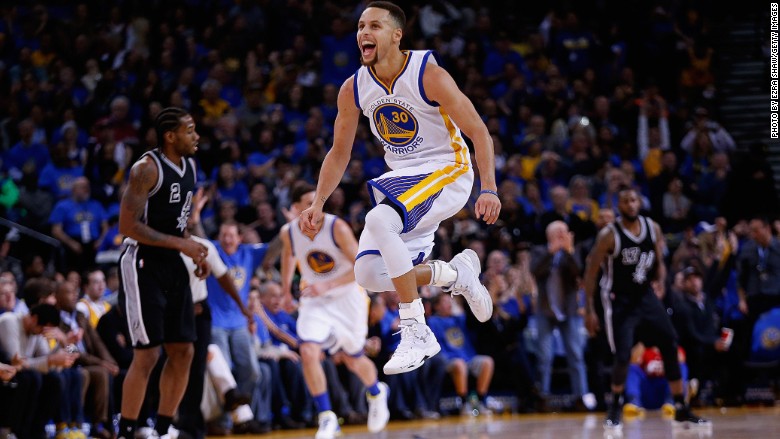 Related: Under Armour is no longer an underdog
The blowout quarter led Under Armour to elevate its forecast on Thursday for the rest of the year. Management now expects 2016 sales to rise 26% to $5 billion.
Of course, it's not just Curry. Under Armour seems to be firing on all cylinders. Accessories sales jumped 26% thanks to headwear and bag strength. Its women's business is poised to hit the $1 billion milestone this year.
Golf helped drive apparel revenue 20% last quarter. Under Armour's golf business received a huge boost from signing Jordan Spieth in 2013. Just two years later Spieth became one of the only golfers to win both the Masters and the U.S. Open in the same year.
Related: High-flying Nike gets grounded
It's a good thing Under Armour is flying high. The stock is not exactly cheap following its meteoric rise the past five years. Under Armour is currently trading at a very lofty multiple of 71 times its expected 2016 earnings. Nike, by comparison, trades for less than half that ratio.
Investors seem to be betting the Curry effect has more legs (despite the MVP's injured right ankle that held him out of Game 2 of the first round of the playoffs). Under Armour will try to keep the momentum by launching a new sneaker through Foot Locker (FL) based on the shoes Curry wore in the Warriors record-setting 73rd regular season victory.
The company will then set its eyes on the new Curry Three, which is due to be launched in the fall.