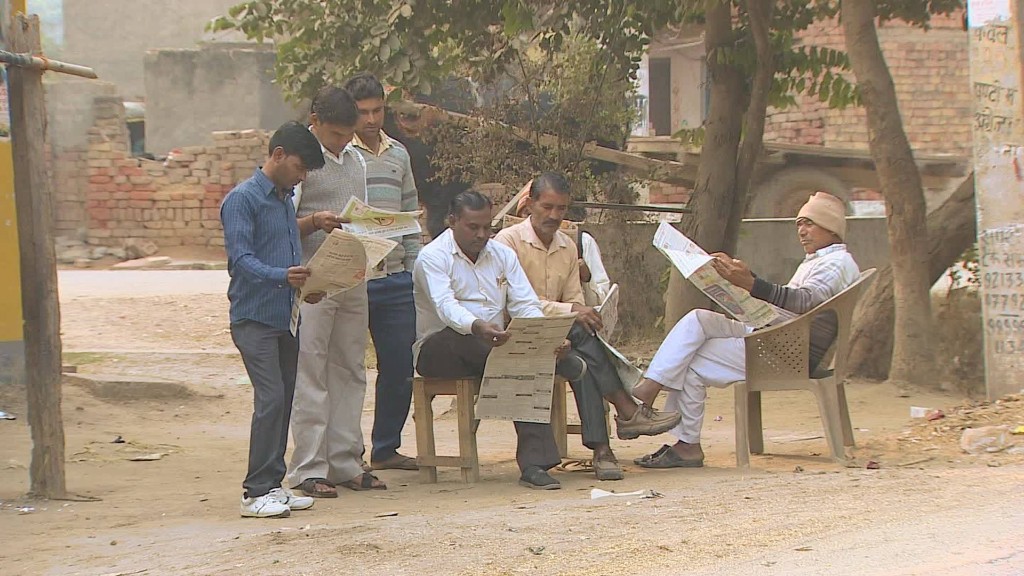 India is taking on big tobacco companies by forcing them to print scary labels on cigarette packs.
The new, larger labels -- warning of death and disease -- have been welcomed by health campaigners in a country where smoking-related illness kills about 1 million people each year.
But they say the government has to do much more -- including raising tobacco taxes, and cracking down on bidis, the thin, hand-rolled cigarettes most Indians smoke.
Known as "the poor man's cigarette," bidis are bundled together with string and sold for an average of 4 rupees (6 cents) per pack in every market, corner shop and tea stall. They account for more than 85% of all smoked tobacco in India, and are particularly popular with male laborers.
They're also terrible for your health: Smoke from bidis contain more nicotine than a regular cigarette, according to researchers, and they lead to much higher rates of lung cancer, stroke and heart disease.
Yet the lightly regulated bidi industry retains a privileged status in India. For example, taxes account for only 10% of the retail price for bidis. Thanks to intense lobbying efforts, smaller bidi manufacturers are entirely exempt from paying tax on their products.
Related: India's population explosion will make or break its economy
Taxes on branded cigarettes from companies such as ITC Limited are higher -- making up roughly 40% of the retail price. But taxes on both products are far below World Bank guidelines, which recommends a level of between 65% and 80%.
A recent study from the Bill and Melinda Gates Foundation said the best way to reduce tobacco use in India would be to raise taxes. A 10% increase in tobacco prices would cut bidi consumption by nearly 10%, and cigarette consumption by 3%.
The group also recommended that India start tying tobacco taxes to inflation. At the moment, the taxes are not adjusted as prices rise, which makes cigarettes more affordable over time.
Related: India's big move into solar is already paying off
The new labels should help. The tobacco industry fiercely resisted the regulations, which require anti-smoking messages to cover 85% of cigarette packaging. The rules went into effect April 1.
Advocates say more reforms will be needed to break the bidi industry's influence. Bidi manufacturers draw much of their political strength from their status as a major employer: more than 4 million workers, mostly women, have jobs rolling the cigarettes by hand.