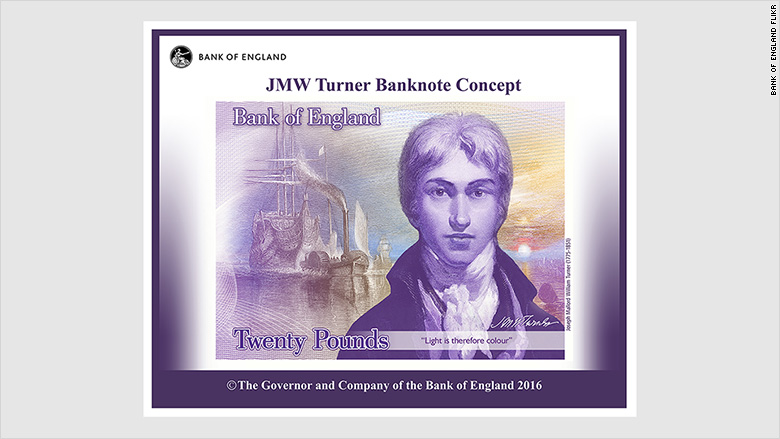 Move over Adam Smith. Here comes J.M.W. Turner.
The British painter will replace the 18th century philosopher as the new face of the £20 bill, the Bank of England announced Friday.
"Turner is arguably the single most influential British artist of all time," said Mark Carney, the bank's governor.
The artist, who died in 1851, is best known for his landscape and seascape paintings. He is widely recognized as one of the great masters, and is known for his remarkable ability to convey atmosphere using light and shade.
His famous quote "Light is therefore color" will feature on the banknote.
Related: Canada to put a new woman on its currency by 2018
Turner was one of 590 characters nominated by the British public, after the bank asked for suggestions last year. The only restriction was that the person should be a visual artist.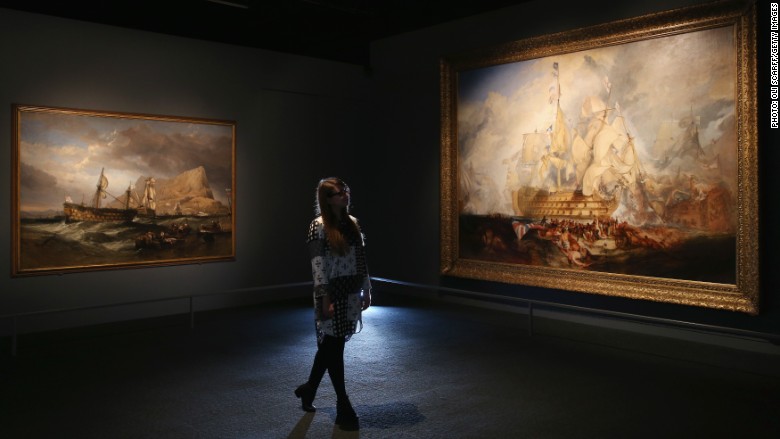 A five-strong shortlist selected by the bank included Turner, Charlie Chaplin, sculptor Barbara Hepworth, potter Josiah Wedgwood, and 17th century cartoonist William Hogarth. Carney then made the final decision.
Related: Harriet Tubman will be face of the $20
The new note will show Turner's self-portrait, painted around 1799, his signature, as well as one of his most famous paintings, The Fighting Temeraire.
"Turner bequeathed this painting to the nation, an example of his important contribution to British society," Carney said. Turner left most of his works to the nation.
The new polymer note will be issued by 2020.
Related: Social media hates Australia's new $5 note
The new £20 bill is one of a several new designs coming in the next few years.
A new £5 note featuring Winston Churchill will be issued later this year, with a £10 note depicting Jane Austen entering circulation in 2017.
Churchill is replacing campaigner Elizabeth Fry, while Austen will replace Charles Darwin.
The historical figures feature on the rear of the banknotes, with the front reserved for the Queen.