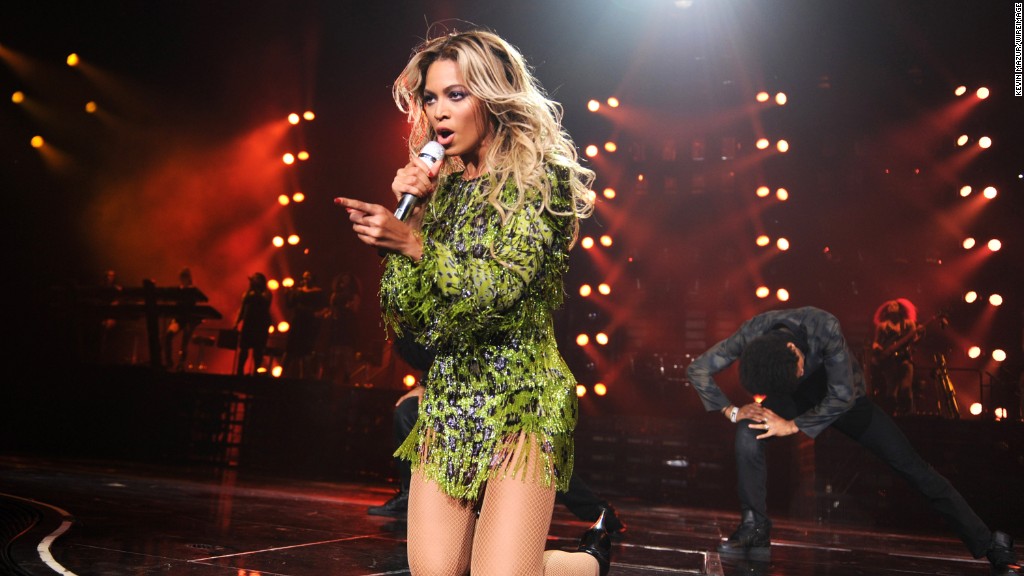 Beyonce fans who don't have subscriptions to Jay Z's streaming music service Tidal can take heart.
"Lemonade" is now for sale via Apple's (AAPL) iTunes.
The album appeared on the service during the early morning hours of Monday, and was selling for $17.99.
The much-anticipated "visual album" was released exclusively on Tidal on Saturday night, but the New York Times reported Sunday that it would soon appear on iTunes and Amazon (AMZN).
The quick release on iTunes highlights the complex dynamics at work in music distribution. Online retailers like iTunes allow buyers to download music and pay for it a la carte, while all-you-can-listen streaming services charge subscription fees.
Beyonce is a partner in the Tidal streaming service, which her husband, Jay Z, relaunched in March 2015. It was billed as "the first ever artist owned global music and entertainment platform."
The Spotify competitor is also where Beyonce debuted her album's first single, "Formation," in February.
But Tidal does not have vast numbers of subscribers like Spotify or Apple Music. Given the frenzy over the release of new Beyonce music, the singer risked angering fans who were not Tidal subscribers.
Related: Beyonce's new line of workout gear is now available
On Saturday night, Tidal promoted itself as the only place where listeners could access "Lemonade."
Even after the album is sold a la carte, a Tidal spokeswoman said its service "will be streaming the album exclusively in perpetuity" -- meaning Spotify won't have it.
Beyonce's release definitely gave the service a boost over the weekend. While exact data is unavailable, Tidal was No. 3 on Apple's chart of free apps on Sunday. The app offered a 30-day free trial to entice new subscribers.
"What a week for Tidal, right? They have, in one week, changed the entire narrative of their business, which was, 'It's not doing well, to, 'Oh my gosh, you have to go to Tidal,'" editor Janice Min, who oversees Billboard, said Sunday on CNN's "Reliable Sources."
But industry observers like Min know the period of exclusivity probably wouldn't last long.
Withholding the album from online stores like iTunes would make it much more difficult for "Lemonade" to soar to the top of charts like the Billboard 200.
Partly for that reason, when Rihanna streamed her new album "Anti" on Tidal for a week in January, she also sold it through stores like iTunes after a day.
The availability of "Lemonade" so soon on iTunes may dampen new subscriptions for Tidal in the coming days.
But some fans will be happy. Soon after "Lemonade" dropped on Saturday, Twitter was abuzz with complaints that "Lemonade" was not available on Apple Music.