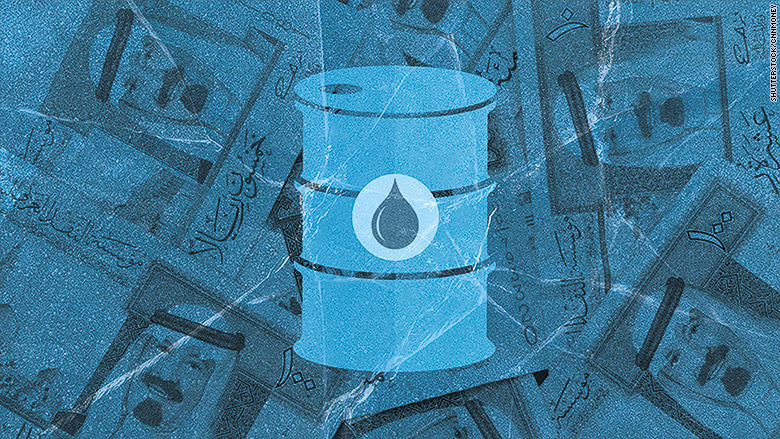 Saudi Arabia has no plans to introduce income tax any time soon, despite the damage done to its finances by the oil price crash.
The kingdom made clear Monday that taxes on income or basic goods are not part of its 15-year strategy for breaking the economy's dependence on oil.
Here are the key points of the sweeping reform plan:
The world's biggest wealth fund
Riyadh's has outlined an ambitious plan to create a huge sovereign wealth fund, which will invest at home and abroad to diversify the economy and create new revenue streams for the government.
It says the fund will be worth 7 trillion riyals ($1.9 trillion) by 2030. That's more than double the size of Norway's sovereign wealth fund, the world's biggest.
Related: Saudi Arabia tries to break 'dangerous' addiction to oil
Privatization
Saudi Arabia will transfer its giant oil company, Saudi Aramco, as well as other state-owned companies, into the fund. It is planning to sell a part of Aramco on the stock market, and wants to transform the company into a "global industrial conglomerate."
It wants the private sector to account for nearly two thirds of the economy by 2030, up from 40% at present. It's also hoping to attract more foreign investment,.
New industries
The new fund will help develop local manufacturing, technology, tourism and mining industries, the government said.
It's hoping to boost the revenue it gets from activities other than oil to 1 trillion riyals ($266 billion) by 2030 from 163 billion riyals ($43 billion).
Related: Saudi Arabia's massive money ties to the U.S.
More jobs
The economic plan aims to cut unemployment to 7% from 11.6%. The government says it also wants to increase the number of women participating in the labor force to 30% from 22% at present, but it didn't give details on how it wants to achieve that.
The retail sector has been identified as one driver of future employment growth. The government hopes to create 1 million additional jobs in retail in the next four years.
Tourism
Religious tourism is an increasingly important source of the kingdom's revenue, and the new plan aims to boost the number of pilgrims to 30 million a year by 2030, up from 8 million.