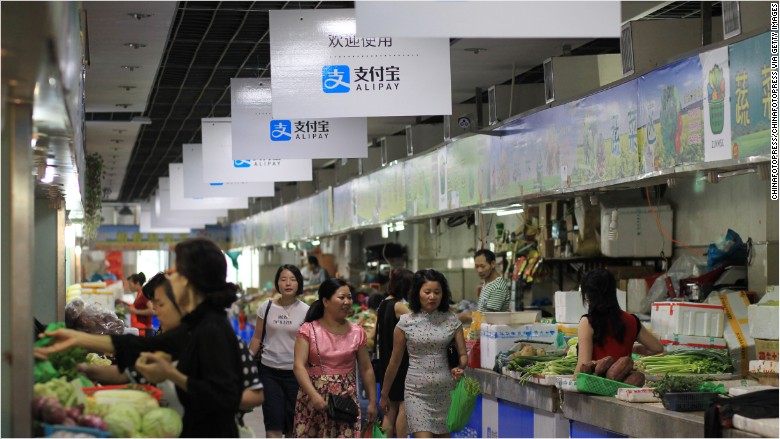 Ant Financial, the owner of China's Alipay, is now worth a whopping $60 billion. That makes it bigger than rival PayPal.
The valuation is based on a huge new fundraising round Ant Financial has just completed. Investors committed $4.5 billion in what Ant Financial said was the largest ever private placement by an Internet company.
PayPal (PYPL) is worth about $48 billion, according to FactSet data.
Ant Financial plans to use the new money to "expand access to financial services in China's rural areas, while also fueling the company's globalization."
The company is an affiliate of China's e-commerce giant Alibaba, and it hasn't been shy about its big ambitions since launching in 2014. It's hinted at a stock market listing, and has already expanded into India.
Ant Financial originally started out as Alipay, an online platform that processes payments for Alibaba websites Taobao and Tmall.
Alipay remains Ant's biggest asset, but the company has quickly added more offerings, including a credit rating service, an internet bank that lends money to small businesses, and even a money market fund.
Existing Ant Financial shareholders including insurance firm China Life, China Post Group, and China Development Bank Capital jumped on the latest funding round. Other investors include groups led by China Investment Corp. Capital, and CCB Trust, a subsidiary of one of China's largest banks.
Related: Apple and Samsung are taking on Alipay in China
Ant Financial was reported last month to be considering an acquisition of a respected Chinese financial media group, Caixin. Ant declined to comment at the time. The reports came only a few months after Alibaba announced it was buying Hong Kong newspaper, South China Morning Post.