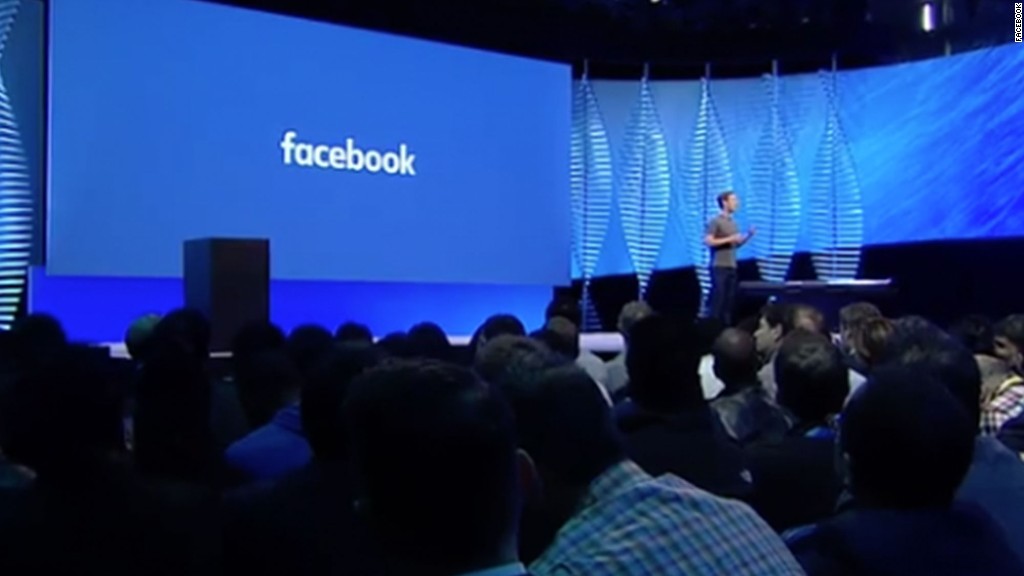 Facebook turned in another stellar quarterly report that sent shares of the company up nearly 9% in after-hours trading. Its stock hit an all-time high of over $118 a share.
Facebook reported sales of $5.4 billion -- a 52% increase year over year -- beating Wall Street's expectations of $5.3 billion.
Profits were up nearly 200%, also topping expectations.
The company doesn't seem to be slowing down at all, as it continued to add new users at a rapid clip. There are now 1.65 billion people using Facebook (FB) each month, compared to 1.59 billion at the end of last year. Mobile usage grew at an even faster pace -- monthly active users hit 1.51 billion -- up 21% from a year before.
Facebook also announced a proposal to create a new class of publicly listed, non-voting stock that would ensure CEO and founder Mark Zuckerberg maintains majority control while allowing him to fund his philanthropic goals. Shareholders will vote on the proposal in June.
Facebook has spent most of this past quarter launching and promoting its livestreaming video service, which it hopes will keep people glued to the app and website.
The company also turned its Messenger app into a bot platform so brands can chat with customers through automated software programs.
Facebook did not address shipment delay issues with its Oculus Rift headset.
Sales
First quarter 2015: $3.5 billion
First quarter 2016: $5.4 billion, up 52%
Facebook has proven that not only can it continue to attract new people to its network, but it can keep them engaged in ways that actually accelerate revenue growth.
People are now spending more than 50 minutes a day using a combination of Facebook, Instagram and Messenger, the company said on Wednesday. Users are also watching almost three times more videos on Facebook on their phones than they did a year ago. Mobile advertising revenue in particular grew 75% year over year.
Earlier this year, Facebook also rolled out new "Reactions" that people can use when they want to do more than just "like" a post, which the company hopes will also increase people's engagement.
Profit
First quarter 2015: $512 million
First quarter 2016: $1.5 billion, up nearly 200%
Facebook said that while it increased the number of ads it shows to people, it hasn't harmed the user experience because it's been able to make ads very relevant to individual interests.
Monthly active users
First quarter 2015: 1.44 billion
First quarter 2016: 1.65 billion, up 15%
Facebook added 3 million customers in the U.S. and Canada during the first three months of the year, and 60 million from the rest of the world.
More than 91% of Facebook's users access the platform through a mobile device each month.
Sales from advertising
First quarter 2015: $3.3 billion
First quarter 2016: $5.2 billion, up 57%
Mobile ad revenue accounted for 82% of total ad sales. Sales growth in Asia, in particular, was stronger than expected.
"One part of the business that has been really strong is working with China on their export business," COO Sheryl Sandberg said on the call.
There are now more than 3 million active advertisers on Facebook and more than 200,000 on Instagram.