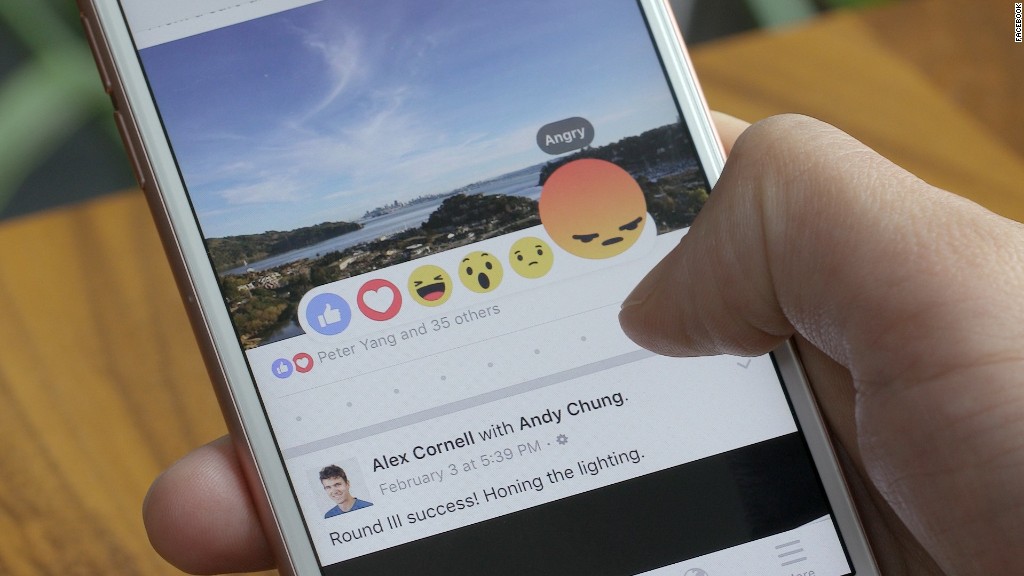 If they make a sequel to "The Social Network," Justin Timberlake's Sean Parker should say this to Jesse Eisenberg's Mark Zuckerberg.
"A $350 billion market valuation isn't cool. You know what is? $1 trillion."
Facebook stock surged nearly 10% to an all-time high Thursday following its strong earnings report. Facebook (FB) is now worth about $350 billion, making it the sixth most valuable company in America.
Only Apple (AAPL), Google parent Alphabet (GOOGL), Microsoft (MSFT), Exxon Mobil (XOM) and Warren Buffett's Berkshire Hathaway (BRKA) are worth more.
So could Facebook wind up beating Apple, Google and these other corporate giants in the race to -- cue Dr. Evil from the Austin Powers movies -- a market valuation of 1 trillion dollars?
Facebook clearly has momentum on its side. And Wall Street still seems to think that its best days are still ahead of it.
Related: Facebook's reach gets even bigger: 1.65 billion monthly users
Analysts are predicting that Facebook's profits will grow 32% annually, on average, for the next few years.
That's twice the expected earnings growth rate for Google and nearly triple Apple's estimated growth rate.
The company appears to be gaining digital advertising market share from Google -- as well as struggling social media rivals Twitter (TWTR) and LinkedIn (LNKD).
Facebook is just crushing it on mobile.
The company now has 1.51 billion monthly active users logging in on their phones and other mobile devices, up 21% from a year ago. And Facebook now gets 82% of its total ad revenue from mobile.
"It was another big beat driven by the soaring mobile ad business. User and engagement levels were at the highest levels ever," wrote Brian Pitz, an analyst with Jefferies. Pitz raised his price target to $160 a share.
Pivotal Research analyst Brian Wieser, who boosted his price target to $157 a share on Thursday, added in a report that Facebook has only scratched the surface with its many features and products.
Related: Mark Zuckerberg talks drones and bots
Most of Facebook's revenue now comes from the core plaform, but Wieser thinks Facebook will be able to generate significant revenue from Instagram, Messenger, WhatsApp and virtual reality company Oculus as well.
"We estimate the company will capture 47% of global digital advertising growth and 43% of all advertising growth outside of China this year. And this is before several future engines of growth have begun to scale," Wieser wrote.
Of course, it will take some time for Facebook to get to a trillion dollar value -- if it ever does.
The most optimistic analyst on Wall Street -- Piper Jaffray's Gene Munster -- has a $170 price target on the stock. That's about 40% higher than where Facebook was trading on Thursday.
At that price, Facebook's market value would be around $500 billion.
So Facebook would only be, in the immortal words of Jon Bon Jovi, halfway there. (And livin' on a prayer? I don't think Zuckerberg used to work on the docks.)
But Facebook is a tough company to bet against. Facebook shows no signs of slowing down -- to the dismay of all its rivals.