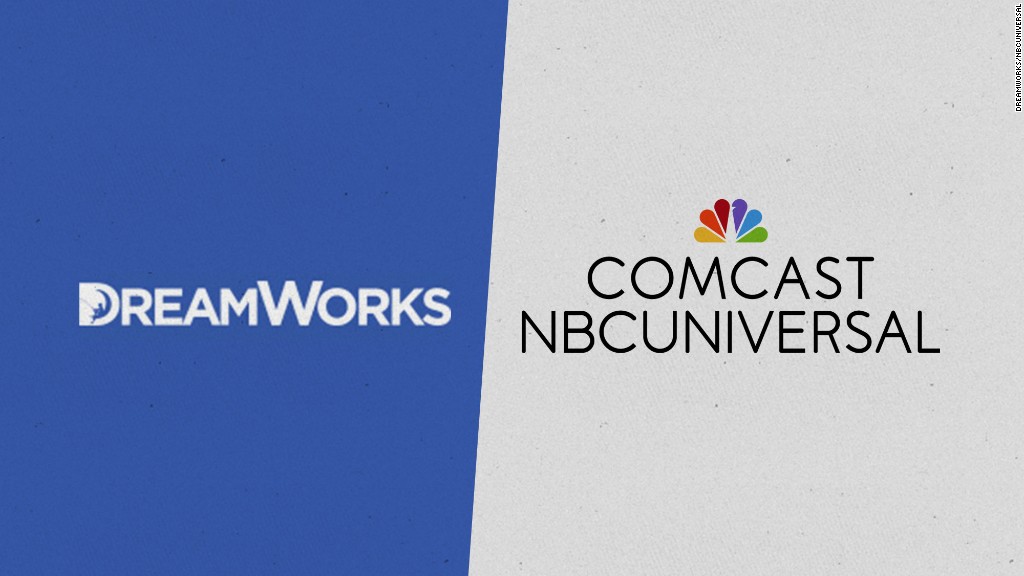 Comcast's decision to buy DreamWorks Animation is already being questioned in some quarters.
But the company's move adds a valuable source of new material it can exploit. It also reflects the nature of the very modern media giant -- less distributor of TV and movies than a voracious content-monetizing machine.
Disney (DIS) CEO Bob Iger paved the way toward Comcast's latest acquisition with its gradual collection of Pixar, Marvel and most recently Lucasfilm. Those deals were also second-guessed for their price tags, but that overlooks the wide array of benefits these companies hope to wring from them.
Related: Comcast buys DreamWorks in deal valued at $3.8 billion
Comcast, with its mix of broadcast and cable networks, a movie studio and theme parks, comes closer to approximating Disney's corporate structure than any other major player in the industry.
And Disney's success can't have been lost on Comcast's brain trust. Disney has used Lucasfilm and Marvel not merely to build blockbuster franchises like "Star Wars: The Force Awakens," but to power merchandising sales, create spin-off series and load up the theme parks with rides. (Disclosure: My wife works for a division of Disney.)
Tellingly, Comcast's Universal has enjoyed a theme-park attendance surge with its "Wizarding World of Harry Potter" attraction, which recently added a second front in Los Angeles after a successful introduction in Orlando. But Comcast (CMCSA) doesn't own that property, having licensed it, meaning it can't fully share in the bounty as all those brooms fly off its shelves.
Similarly, while Universal has already enjoyed success with animation thanks to the "Despicable Me" franchise, Disney has demonstrated that having more than one animation engine churning out family entertainment can work. That's especially true if Comcast continues DreamWorks' push into television, a medium with lower costs than movies but significant rewards in keeping children's fare top of mind with little consumers.
Related: Who will be the next CEO of Disney?
At $3.8 billion, Comcast appears to be paying a premium for DreamWorks. Nevertheless, the deal reflects a logical mind-set about cashing in on such enterprises: It's better to own than to rent.
Moreover, Comcast's NBC has already been in business with DreamWorks for some time. It airs "Shrek" animated specials, in much the same way that Disney has used ABC to keep the "Toy Story" franchise alive and selling, well, toys.
As with any corporate marriage of this magnitude, the devil is in the details, and more specifically, the creative decisions the studio makes going forward.
Yet having already made a sizable investment in the content business, Comcast has decided that bringing Shrek and company into the family is one more step toward living profitably ever after.
All told, it's not a bad bet.